Is It Legal to Smoke Weed in D.C. on Thursday?
The mayor's office attempts to clarify a sticky situation.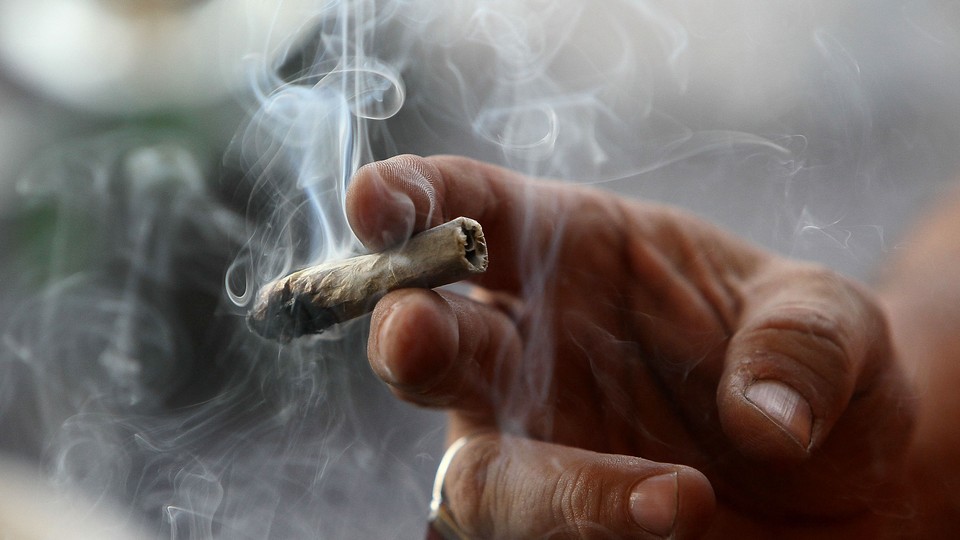 Marijuana will be legal in D.C. on Thursday—but there are a lot of strings attached.
The mayor's office is trying to clarify what will be legal under the law, which is expected to go into effect at 12:01 a.m. on Thursday, and who it will be legal for. As they interpret it, adults 21 and older can possess up to 2 ounces of pot and consume it on private property. Adults also can grow six plants and gift an ounce to someone else, provided they aren't paid for it.
The District's marijuana saga has been rife with obstacles. Part of the problem is the law itself: Initiative 71, which passed with overwhelming support in November, legalized only the use of marijuana—not its sale, taxation, or regulation.
Congress, which reviews all of D.C.'s laws before they're implemented, also stood in the way of legalization. The initiative went to Congress for a disagreed-upon review period, which the mayor's office said ends Thursday. Barring any action to stop the law before then, it will go into effect.
On Tuesday, the mayor's office released a slate of explainers on what is and isn't legal in D.C. Here's what you need to know:
If you're 21 or older, you can:
-Smoke or consume pot on private property.
-Possess up to 2 ounces.
-Grow up to six plants (only three of which are mature) inside of your primary residence.
-Give up to 1 ounce to another person, as long as you don't get anything back for it.
-Have restrained "marijuana parties" within a private residence, as long as there's never more than 2 ounces of pot per person.
What you can't do:
-Sell marijuana.
-Drive while high.
-Smoke in a public place—including in your own parked car, on a restaurant patio or rooftop bar, or inside restaurants or bars.
-Ignore your landlord's verdict on pot use in an apartment you're renting.
As the mayor's office explains: Home grow; home use. And watch out for federal land.