Inside the PAC Republicans Fear Most
ActBlue, the Democratic online donation-processing platform, has spurred the party's fundraising and scared Republicans into action.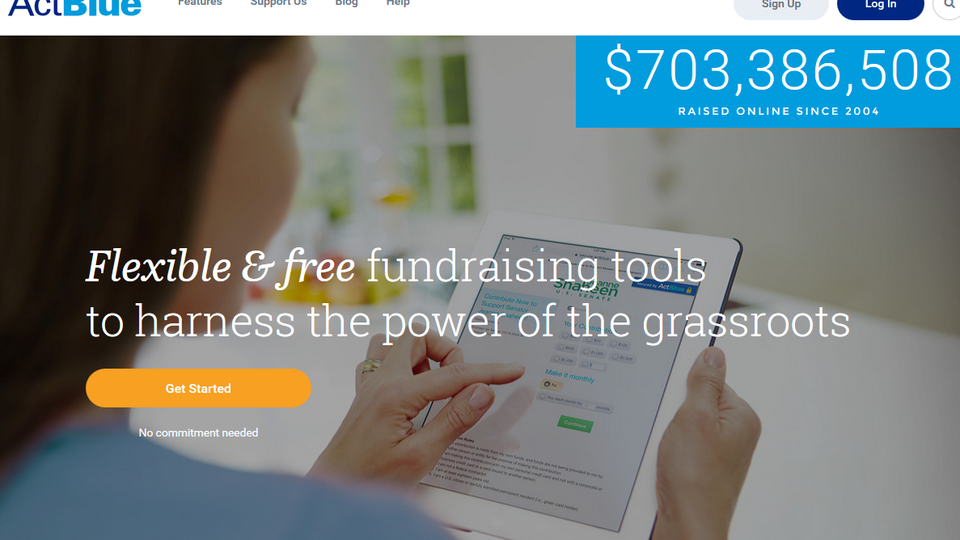 Republicans generally scoff at Tom Steyer and other big-money Democrats' efforts to swing elections against them. When it comes, however, to one group—a group that marshals millions of small-dollar donors against their candidates—they don't hide their concern.
"The power that ActBlue has is very real, and that is something that is quickly coming to the realization of not just us but members of Congress," Tom Newhouse, the National Republican Congressional Committee's digital director, said at a recent panel. "When we talk to large gatherings of some of our most hotly contested seats, these members get up and say, 'My opponent raised $800,000 from ActBlue. What are we doing about this?"
Three-quarters of Democratic Senate campaigns, more than half of Democratic House campaigns, and both caucuses' official campaign committees use ActBlue, a nonprofit vendor, to process their online donations. And the data ActBlue generates in the process has helped form an ever-growing, digital fundraising feedback loop pushing Democrats' online money-gathering to new heights—and spurring Republican efforts to catch up or be swamped.
Since its inception, ActBlue has offered a hard-to-get service—tried-and-tested online donation pages backed up by reliable infrastructure, one that had all of four minutes of downtime in 2013 and 2014—to candidates up and down the ballot, including plenty who otherwise might not have been able to afford to set up a digital donation service of their own. The donations are "bundled" through ActBlue's PAC directly to candidates.
Widespread adoption of that service lets ActBlue do two things. First, they continually test and retest their forms on a large scale so they can create products that make people more likely to contribute to candidates. With hundreds of campaigns sending emails to donors all the time, ActBlue's scale means it can use "A/B" testing (comparing the effectiveness of two versions of the same page) to figure out within hours which form will yield the best return—instead of the months it might take for a single campaign to gather that data. It "gets to statistical significance quickly," said Erin Hill, ActBlue's executive director.
Secondly, ActBlue's widespread adoption means it now has 1.2 million Democratic donors' credit card information on file, which allows campaigns to deploy higher-yield, one-click donation appeals.
It sounds like a small thing, but it's not: When donors have the option to just click, give money, and be done with it, donation rates skyrocket. Lowering barriers like the time it takes to donate makes each email a campaign sends worth much more money. "The next time you land on an ActBlue contribution page, your info just shows up and it's off to the races," said Nate Thames, ActBlue's technical services director.
The net effect is that more Democratic House campaigns, typically lower-money affairs with fewer donors, have started raking in hundreds of thousands of dollars from donors across the country—spooking Republican congressmen who tend not to raise as much digitally and have to spend more time dialing for dollars to compete.
Every Democratic campaign and committee still has to build its own email list. But when they match their saved emails against ActBlue's saved credit card information, returns go up dramatically, much like Amazon's one-click shopping function boosted sales for that company.
"When committees start using ActBlue, it's highly likely that we'll already have payment info for one-third to one-half of their donors," Thames said. "It turns out Democratic activists tend to give to "¦ lots of different committees."
The effect is even more dramatic on smartphones. "There's basically nothing worse than trying to type a 16-digit number with your phone," Thames said. Instead, previous donors' information auto-fills, and now nearly 30 percent of the donations ActBlue processes come via mobile device (versus 5 percent four years ago), further swelling Democratic candidates' coffers.
Some Democratic campaigns don't use ActBlue. It also mines the network of Democratic donors for money to keep itself on the cutting edge, meaning more competition for dollars. (ActBlue noted that its own "tips" from donors are typically in the 50-cent to one dollar range.) And higher-powered campaigns, like President Obama's two national efforts, sometimes want to customize things more using their own vendors. "Organizations sometimes choose something custom because they want to be able to create different content and asks around their fundraising," said Blue State Digital CEO Joe Rospars, the Obama campaigns' chief digital strategist. (He noted that ActBlue provides "a ton of value" to the party.) "They just want more control over their own destiny."
Plus, ActBlue's fees are higher than some other processors'. But even that isn't necessarily a prohibitive drawback. "It's about a percent more than other processors, but you end up making 20 to 40 percent more money," said Greg Berlin, a Democratic digital strategist who was at the Democratic Congressional Campaign Committee when it adopted ActBlue as its primary donation processor.
Donation data and services are more "siloed" between different private vendors on the Republican side. But GOP digital strategists and party leaders have taken notice of how ActBlue has helped Democrats turbocharge their online fundraising in recent years, and they are thinking about how to combat it.
"There's some stuff coming along," said National Republican Senatorial Committee strategist Tim Cameron, who—along with Newhouse—was speaking on a panel about what the Republican digital community needs to tackle next, hosted by the GOP consulting firm Go Big Media. "At the committee, we use Victory Passport, a Targeted Victory [one-click] product. There's more stuff in development. Tom's old colleague Gerrit Lansing is developing something along those lines." Lansing declined to comment for this story.
"There is a marketplace and a need, and we just haven't had a clear Act Blue-type solution developed," Cameron continued.