In Early Polling, Walker Stands Apart
Not since George W. Bush in 2000 has a GOP presidential candidate drawn support across so many divides.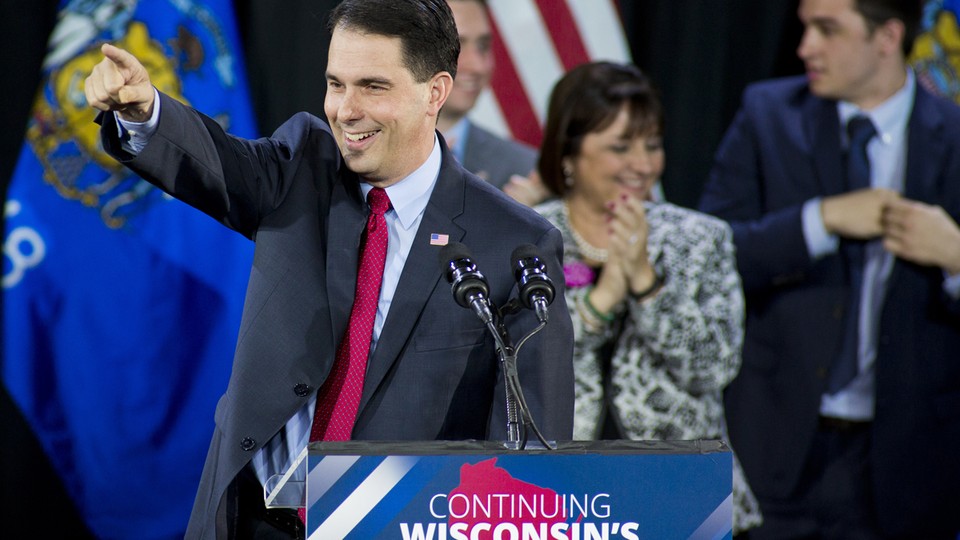 Can Scott Walker keep his balance?
That's quickly become one of the most consequential early questions as the 2016 Republican presidential race begins to take shape at gatherings like the closely-watched Conservative Political Action Conference outside Washington on Thursday and Friday.
Like other polls of early sentiment among Republican voters, a new survey of possible Iowa caucus-goers released Wednesday succinctly captured what could be Walker's best asset as a potential 2016 contender: the breadth of his appeal.
After a well-received January appearance before a high-profile gathering of conservatives there, and several recent scraps with reporters, the new Quinnipiac University Poll put Walker, the Wisconsin governor, at 25 percent among likely participants in next year's Iowa Republican caucus. That total was nearly twice as much as the second-place finisher, Kentucky Sen. Rand Paul who drew 13 percent. Former Arkansas Gov. and 2008 caucus winner Mike Huckabee (at 11 percent), fiery surgeon Ben Carson (also 11 percent), and former Florida Gov Jeb Bush (10 percent) were the only other candidates who attracted backing from more than five percent of likely caucus-goers.
But Walker's overall lead wasn't even his best news in the poll. The most encouraging result for him was that he generated consistent support across almost all of the party's central religious, class, and ideological divides. No Republican presidential candidate has demonstrated that sort of broad appeal since George W. Bush in 2000, and none of Walker's top-tier rivals in the new survey showed anything like it either.
At this point, Walker may be drawing so broadly partly because "he lacks definition" and "everybody is putting their own views into him," says John Weaver, the chief strategist for John McCain's 2008 presidential campaign. But, Weaver continues, if Walker can maintain that wide reach he "will be more than formidable" in the primaries and potentially a strong nominee.
"The real opportunity for the party is if someone like a Scott Walker can unite this populist wing with the more establishment wing. I think that's a stronger general election candidate than just going down the establishment side [for a nominee] with a lack of energy on the populist wing," Weaver says. "He has the opportunity to do so--but he doesn't have any definition yet."
In the Iowa caucus, as in many GOP presidential contests, a central fissure runs between voters who identify as evangelical Christians and those who do not. Evangelicals have been traditionally the largest group in the caucus, constituting about three-fifths of voters in both 2008 and 2012, according to the election night "entrance" poll of caucus-goers. But that also leaves a substantial block of non-evangelicals.
In the Quinnipiac survey, Walker, the son of a Baptist minister who has been defined in office primarily through his confrontations with public employee unions, is strong with both groups. According to detailed figures provided to Next America by Quinnipiac, Walker leads among evangelicals with 23 percent and also leads among non-evangelicals with 27 percent.
That's a sharp contrast with any of his top-tier rivals, each of whom draw primarily from just one side of that divide. In the survey, Huckabee and Carson each attracted an identical 16 percent among evangelicals, but only 7 percent among non-evangelicals. Paul attracts 17 percent of non-evangelicals, but only 9 percent of the evangelicals. Similarly, Bush drew 13 percent of non-evangelicals, but only 6 percent of the faithful. (No one else reached double-digits with either group.)
Walker's current balance is also a sharp contrast with the past two Iowa caucus winners. Both Mike Huckabee in 2008 and Rick Santorum in 2012 won a strong plurality of Iowa evangelicals en route to their caucus victories, according to the entrance polls. But each man trailed among non-evangelical voters. That foreshadowed a consistent weakness with more secular voters that ultimately doomed their candidacies.
It's an open question whether Walker can maintain his breadth of support as the race develops and the likely candidates start drawing contrasts. His recent scraps with reporters over evolution, Rudolph Giuliani's charge that President Obama does not love America, and whether the president is a Christian all raise questions about Walker's ability to speak to a wide range of Republicans, much less the broader public he'll need if he wins the nomination.
Walker and his supporters portray his refusal to clearly embrace evolution, renounce Giuliani's comments, or describe Obama as a Christian as evidence of his discipline in sticking to his own message and refusing to be pulled into media-fueled controversies. Others believe Walker's responses reveal that his initial instinct is always to avoid positions that antagonize the party's conservative base--an inclination that could ultimately narrow his audience in the party and beyond.
Weaver said that while Walker's answers helped him with the party's populist vanguard, they likely also raised some concerns among the establishment. "He can't have more weeks like that where he cross-pressures the non-evangelical, secular wing of the party," Weaver said. To Weaver, Walker's tumultuous few weeks prefigure a larger challenge in maintaining a broad appeal: since winning Iowa will be critical to his candidacy, and evangelicals are so important there, "there is going to be tremendous pressure on him to define himself with that one wing in order to produce an Iowa victory." Early hints of that magnetic pull may have been evident in Walker's CPAC speech Thursday when he stressed his support for concealed carry legislation, restricting abortion and defunding Planned Parenthood.
At least in Iowa, the Quinnipiac Poll found Walker's support at this point also balanced across the party's other major fissures. According to figures Quinnipiac provided, he ranks first among those with at least a four-year college degree (at 27 percent) and those without (at 24 percent). He also leads among likely caucus-goers earning at least $100,000 annually (at 25 percent) and those earning less (at 26 percent).
Walker displayed more variation across two other divides, but again registered broad support. He ranked first among possible voters older than 45 (at 29 percent) and second (at 16 percent) among the younger. Measured by ideology he drew exactly 30 percent among possible voters who called themselves "very" or "somewhat" conservative, far more than anyone else, though he fell off to 12 percent among those who identified as moderate or liberal. In 2012, though, the entrance poll found that such centrist voters comprised only about one-in-six caucus attenders, while those who identified as "very" conservative represented almost half, and the "somewhat" conservative nearly two-in-five.
Walker's support hasn't been as precisely balanced in the flurry of recent state polls showing him rocketing toward the top of the GOP field. For instance, in the Field Poll released last week that showed Walker narrowly leading among California Republicans, the Wisconsin governor held a commanding advantage among voters who identified as "strongly" conservative but trailed Bush among less ideological respondents. But generally these other surveys--like the recent NBC/Marist polls in Iowa, New Hampshire, and South Carolina--have also shown Walker with a more balanced profile than his rivals, particularly in crossing what has been a central primary divide between evangelical Christians and those who don't identify with that tradition.
In the new Iowa Quinnipiac Poll, all of the other leading candidates evidence a narrower range of support. Bush's support steadily drops as voters move away from the ideological center--from 17 percent among moderates to 11 percent among the "somewhat" conservative (who many consider the decisive swing vote in the GOP primary overall) to just 4 percent among those who identify among "very" conservative, many of whom are also evangelicals.
Rand Paul's backing follows a similar ideological track in the poll, dropping from 21 percent among the moderates to just 9 percent among the very conservative. More importantly for him, Paul holds a solid lead among possible voters under 45, drawing fully 25 percent, but tumbles to just 7 percent among the older. That strong youthful slant tracks the results of other state polls and represents a central challenge facing Paul, since voters over 50 accounted for more than three-fifths of the total primary vote in 2012.
In the Iowa Poll, Huckabee runs better among the very conservative than more centrist voters, and also is about twice as strong among those without a college degree than those holding one. Carson showed balance along the class and age dimension but falls off with less ideological voters. The larger question for each, though, will be whether they can advance beyond the excessive reliance on evangelicals that may be sufficient to make a splash in Iowa, but not to genuinely compete for the nomination.