I Underestimated Carly Fiorina. Here's How.
The Hewlett Packard CEO-turned presidential contender is unlikely to be the GOP's nominee, but she could emerge as a leading contender to be a running mate.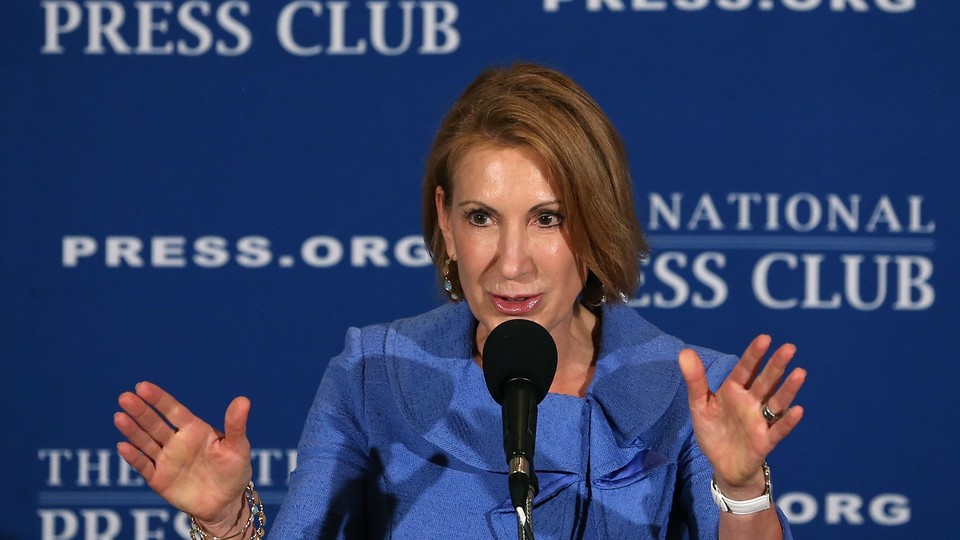 I've long hesitated to write about Carly Fiorina's prospective presidential campaign because she seemed like such a long shot in a GOP field filled with accomplished candidates. Her campaign experience consisted of a failed 2010 Senate challenge against Sen. Barbara Boxer, which was well-funded but fell far short of early expectations. She earned acclaim as the first female CEO of Hewlett Packard, but her tumultuous tenure and messy departure deprived her of the positive press that a glass-shattering role normally entails. Since losing the Senate race, she moved to Virginia, served as a vice-chair for the National Republican Senatorial Committee, and became an occasional guest on the cable news circuit.
But after watching her latest stump speech at the Conservative Political Action Conference, it's clear that she's got more potential than many have given her credit for.
She's an engaging speaker who has articulated a more cogent contrast against Hillary Clinton than any of the other prospective Republicans. She earned one of the loudest applause lines at CPAC on Thursday when she argued that Israeli prime minister Benjamin Netanyahu was speaking before Congress not to offend the president but to warn the world of the dangers of a nuclear Iran.
Most significantly, she was one of the few speakers who actually delivered a speech that was focused against Hillary Clinton—the GOP's all-but-certain opponent in 2016—rather than dwell on President Obama's shortcomings. Several speakers referred to the "Obama-Clinton" foreign policy as shorthand for connecting the president's foreign policy problems to his former Secretary of State. Rand Paul relied on attacking her handling of the Benghazi attacks, one that appeals to the base but has limited appeal to swing voters. Fiorina actually weaved a narrative that Clinton's tenure as the nation's top diplomat was all hype and little substance.
"She tweets about equal pay for women but won't answer basic questions about her own offices' pay standards—and neither will our President. Hillary likes hashtags. But she doesn't know what leadership means," Fiorina thundered. Another favorite quip of Fiorina's is: "Unlike Mrs. Clinton, I know that flying is an activity, not an accomplishment." Her advisers are convinced that jibe has gotten under Clinton's skin.
Despite her limited electoral experience, she brings unique political assets to the table. She's the only woman in the GOP's crowded field. She spoke fluently on foreign policy in her speech, touching upon her personal relationship with King Hussein of Jordan, calling on strong support for Netanyahu, and decrying the administration's feckless handling of the crisis in Ukraine. Along with Carson, she's one of only two non-politicians in the field who can tout an accomplished (though polarizing) business history. She's capable of winning support from both the party's establishment and grassroots—a necessary asset that limits many of her challengers' appeal.
Indeed, after her speech, several attendees speculated that if her campaign exceeds expectations, she could end up on the short list as the GOP nominee's running mate. She's already playing the traditional running mate role with her aggressive attacks against Hillary Clinton. She'd potentially neutralize the GOP vulnerability with women voters, one of the major concerns of GOP strategists. Asked what he thought of her speech, Adam Kwasman, a 2014 congressional candidate from Arizona, volunteered that she should be the party's top number two.
Walker-Fiorina 2016? If receptions at CPAC determined the future trajectory of presidential campaigns, that ticket would be awfully plausible. But even after the CPAC sugar high, Fiorina looks to be an increasingly plausible contender who could leave her mark on the crowded field.