How Will Jeb Bush Run Differently Than Mitt Romney?
If Bush wants to distinguish himself as the ideas candidate, he'll need to get into specifics. And that's where it will get difficult.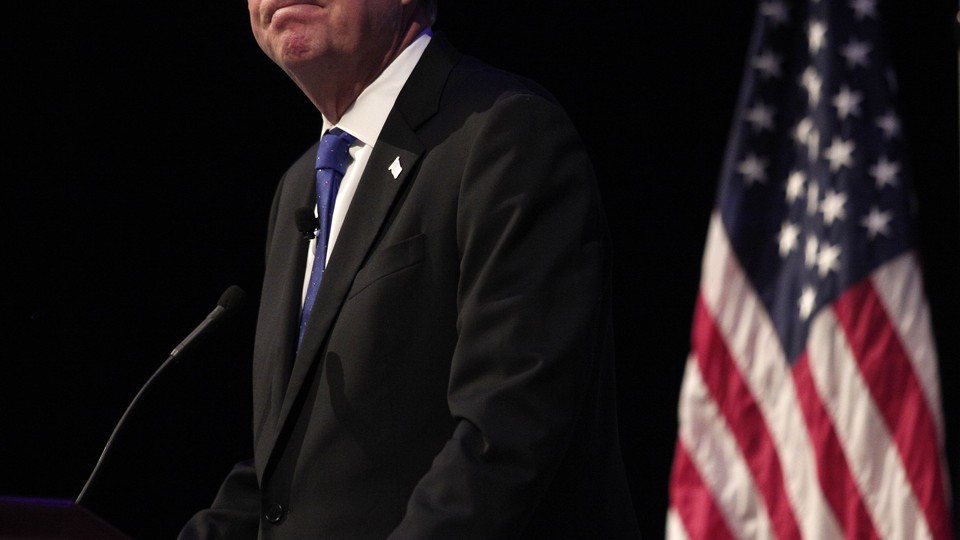 It's easy for Republican presidential candidates to make the case that they're policy-driven and have the best ideas to get the country back on track. It's smart politics to be seen as forward-looking and reform-minded. But the hard part is coming up with detailed specifics that don't alienate key constituencies within the party or the broader electorate.
Jeb Bush is as accomplished a policy thinker on education and immigration as there is in the party. But even his emerging campaign demonstrated the political limits of a "reform conservatism" message with his speech at the Detroit Economic Club on Wednesday.
The theme was intended to echo his brother's 2000 message of compassionate conservatism—a way to appeal to the center-right and coalesce establishment support behind his campaign. Compassion is a feeling, and it's easy to match with generic ideas. Calling for reforms inherently requires changes in the law that go beyond gauzy political buzzwords.
Indeed, Jeb's speech lacked the in-depth detail—the serious conversation that he pledged in his launch—and instead outlined themes of tackling working-class Americans' struggles and increasing economic mobility. "I say give Washington less and give states and local governments more," he declared. "Standing against innovation and dynamism is a losing example," he asserted. He promised to outline the specifics of his ideas at a later date.
There's nothing wrong with that approach; it's what most candidates do. But if Bush intends to distinguish himself as the ideas candidate in a crowded Republican field, he will have to go beyond the political platitudes. That's where it will get challenging.
In fact, it was only three years ago that a much-maligned Republican named Mitt Romney gave a similar speech in Detroit, also hosted by the Detroit Economic Club. Using the city's fiscal struggles as his backdrop, Romney delivered a long-forgotten policy address at Ford Field about his tax plan. It was a meaty address outlining broad-based tax cuts, advocating private-sector competition for Medicare, and touting welfare reform. The press preferred to focus on the poor imagery of the event, with empty seats in the cavernous football stadium. Romney's economic proposals later were reduced to a "five-point economic plan" that pledged to "create 12 million jobs."
It's a cautionary tale in understanding the politics, and the unintended consequences, of even the best-crafted policy reforms. Romney's campaign was a case study on how well-intended ideas take a backseat to the political whims of the moment. Romney was often criticized by the Right for running an ideas-free campaign, but in reality, he was a data-driven consultant who was very well versed in policy. (Just watch his wonky speech defending his Massachusetts health care reforms in 2011.)
Romney's problem was that he was so risk-averse he hesitated to stand on his principles when there might be political blowback. He resisted Paul Ryan's desire to campaign in urban neighborhoods, because there were few Republican voters in those neighborhoods. Instead of defending Ryan's entitlement reforms, he turned the tables on Democrats to accuse them of supporting cuts in Medicare through the president's health care law. Politics always wins out over policy—it's simply a question of by how much.
Jeb Bush's fundamental challenge is how firmly he will stick to his principles, even when they run against his political self-interest. Early on, Bush has won plaudits for pledging to stick to his beliefs on comprehensive immigration reform and the Common Core educational standards. More recently, he suggested that American officials should "politely" ask illegal immigrants who have overstayed their visas to leave—received by some as an olive branch to the Right. Asked about immigration on Wednesday, he focused on border security and criticized President Obama's executive order legalizing some illegal immigrants in the country.
And there's an internal debate within the GOP, even within the reform movement, over whether it's better policy to aggressively cut the rate of everyone's taxes or to tweak the tax code to provide benefits to certain disadvantaged groups. Yuval Levin, one of the conservative movement's leading intellectual voices, has led the charge for targeted tax breaks and subsidies for families with children and middle-class households. Marco Rubio, Bush's potential rival for the nomination, has been a leading advocate of many of these ideas. But other conservative reformers believe that focusing on targeted groups undermines the goal of a flatter, fairer tax.
In his speech, Bush mocked President Obama's now-withdrawn plan to eliminate the tax exemption for 529 college-savings accounts to pay for his plan to make community college free for all. It was one of the speech's stronger moments, drawing a sharp partisan contrast while articulating the principle that government should encourage savings and individual responsibility.
But conservative reforms, especially those focused on targeted benefits, will also have winners and losers. Obama learned that lesson the hard way last month, and Mitt Romney avoided talking about those tough choices and trade-offs in his last presidential campaign.
Bush himself has seen the conservative backlash from his engagement in education and immigration policy. Now he faces the task of being the candidate of reform without making any more enemies.