Campaign finance regulation is a maze. It's a labyrinthine system with seemingly ever-changing rules for disclosure, donation limits, and what qualifies as "independent expenditures."
A super PAC set up solely to support one candidate would swear that, no, it has no specific interest in one candidate over the other. This type of smoke-and-mirror show is exactly why trying to understand how campaigns are financed can be so vexing. Even campaign finance lawyers we spoke with for this story — people who deal with these regulations every day — have disagreements about how exactly to interpret, well, anything.
Here, we break down that system to show the many ways individuals can donate — directly or indirectly — to benefit the presidential candidate of their choice. How much can one well-heeled philanthropist spend to influence the outcome of a presidential election over the course of a year? Below is our answer, and an exhaustive guide to all of the groups hoping to vacuum up donors' money over the next year and a half.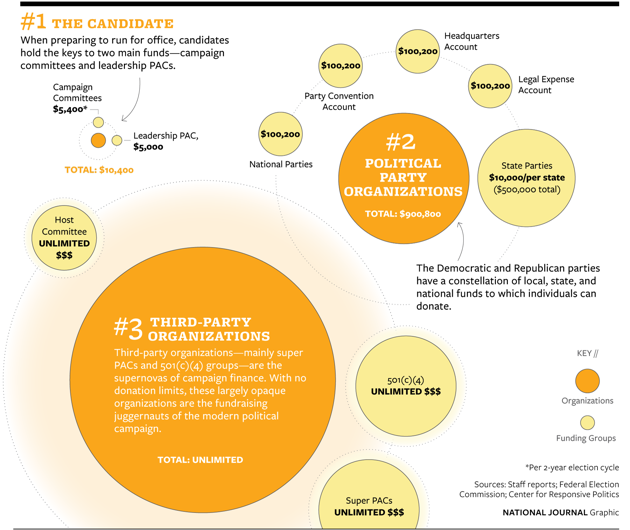 THE CANDIDATE
Leadership PACs
A helpful way to think of leadership PACs is as proto-campaign funds. Before a politician announces a presidential run, she can set up a leadership PAC to start collecting money and laying the groundwork for an eventual campaign. Individuals can donate up to $5,000 a year to a leadership PAC, but the PAC's beneficiary cannot turn around and use that money on her own campaigns — at least, not directly.