How to Spin a Government Shutdown
It will be a) Democrats' fault; b) not that bad; or c) quickly forgotten.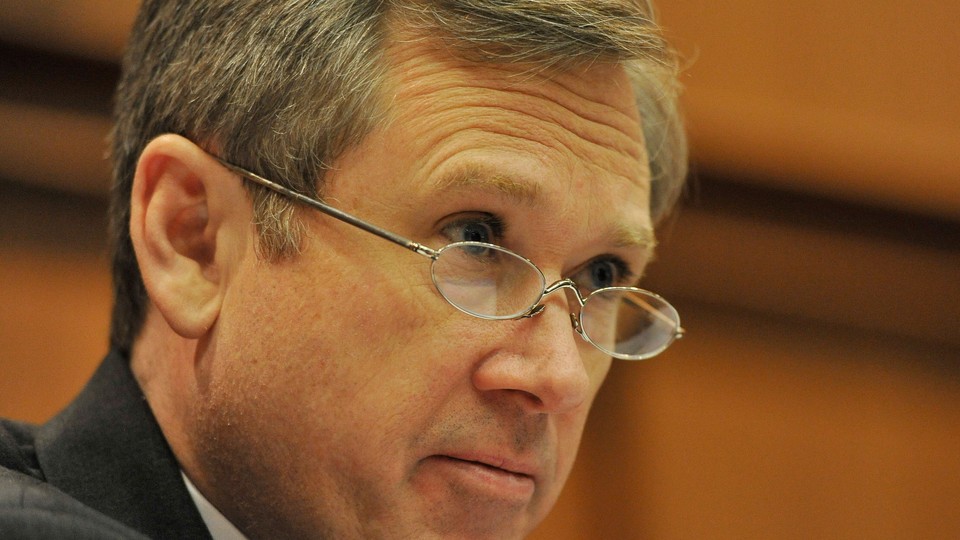 Congress has packed its bags and gone home for the week, leaving lawmakers with just five legislative days to find a way to keep the Homeland Security Department open. Senate Democrats remain intractable in their filibuster of legislation to fund the department, just as House Republicans refuse to bring up a clean bill, leaving open the real possibility that Congress will allow part of the federal government to shut down for the second time in two years.
Republicans are banking on a very different reality this time around, and they've already offered glimpses of the arguments they'll deploy if Feb. 28 arrives without a funding deal.
DEMOCRATS WILL BE BLAMED.
During the last shutdown, a majority of Americans blamed the GOP and the party's approval rating fell to an all-time low of 22 percent in a Wall Street Journal poll at the end of October. But if the Homeland Security Department shuts down on Feb. 28, Republicans believe Democrats will get the blame.
"Well, the Democrats are filibustering. I don't know how we get blamed for that this time," Senate President Pro Tem Orrin Hatch said last week.
As Sen. Mark Kirk of Illinois chillingly put it: "If they're cynically trying to restart the government shutdown battle, they should be blamed directly. It's a very dangerous game if we have a successful terrorist attack "¦ all the dead Americans from that should be laid at the feet of the Democratic caucus."
Of course, for Republicans to make that argument successfully, they'll have to convince voters that this shutdown is different, though the battle lines look very much the same. In 2013, House Republicans attached a repeal of the Affordable Care Act to the federal funding bill then, when the Democrat-controlled Senate removed that provision, refused to pass a clean bill. Now, House Republicans have attached language defunding President Obama's executive action on immigration to the DHS funding bill and Democrats, no longer holding the Senate majority, are instead filibustering.
The difference, Republicans say, is the way the Senate now operates under Majority Leader Mitch McConnell. If Democrats don't like the bill—and that's an understatement—all they need to do is agree to move forward and try to amend it. Left unsaid, of course, is that Democrats would need 14 Republicans to agree to take out any of the immigration language on the bill, which appears to be extremely unlikely.
"I think their viewpoint is the polling data for them was so good when Republicans took us to a shutdown," Kirk said of Democrats. "We've got to explain to the American people that just because something is good for Democrats, doesn't mean it's good for the country."
But Republicans are increasingly cognizant of the media campaign they will have to employ to get that message across. More and more, Republican members are beginning to sound like journalism professors, instructing reporters in person on several occasions over the last week on how to report out the story. Sen. Ted Cruz, for example, put his editor cap on for a moment during a press conference on Thursday.
"I would suggest to our friends in the Fourth Estate," Cruz said, "that every one of those Democrats when they walk off the Senate floor, you should be asking them: 'If DHS funding is so important, why are you filibustering funding for DHS?' "¦ I would suggest to each of you in the Fourth Estate another question that would be entirely appropriate to ask them: 'Were you telling the truth or were you lying when you said you opposed the president's unconstitutional executive amnesty? Because if you were telling the truth, why then are you filibustering?' "
On Friday, 170 House Republicans sent a letter to Senate Minority Leader Harry Reid complaining that he has "repeatedly obstructed even debating this bill in order to protect President Obama's unconstitutional acts and shield Senators of your party—many of whom have publicly stated that they oppose the President's unilateral actions—from voting on the substance of the House-passed bill."
A DHS SHUTDOWN WON'T BE THAT BAD.
Compared to a two-week shuttering of the entire federal government, a brief shutdown of the Department of Homeland Security wouldn't necessarily be very damaging, some members argue. No children would be barred from the National Zoo, and no veterans would be forced to break into the WWII memorial.
The truth is, the vast majority of DHS workers—including those responsible for protecting the country —will stay in their jobs. More than 85 percent of DHS employees continued to work throughout the shutdown of 2013, according to a Congressional Research Service report.
"Democrats are saying, 'You're putting our national security at risk.' The American people don't see this as who cares about national security. "¦ We will always win that message," one Republican Senate aide said.
The thinking goes that a short-term shutdown could spook enough Democrats into supporting the House's DHS bill without doing much real damage.
Of course, some members disagree. Kirk, who has recently pushed for his leadership to bring a clean funding bill to the floor, told The Hill of a possible shutdown: "It's not livable. It's not acceptable. When you're in the majority, you have to govern. You have to govern responsibly. And shutdowns are not responsible."
And McConnell vowed upon earning his title as majority leader that there would be "no government shutdowns" in the Republican Congress, though as the Washington Post reported, some in his circle believe that a brief funding lapse at just one department wouldn't constitute a shutdown.
IT DOESN'T MATTER ANYWAY.
Some members are merely keeping their heads down, cognizant that whoever Americans blame for a shutdown, this too shall pass.
Not long after the 2013 government shutdown, Republicans' approval ratings rebounded—helped by a focus on the Obama administration's disastrous rollout of healthcare.gov. Despite predictions that the shutdown would ruin the party's chances in the 2014 elections—just over a year after the government shuttered its doors—Republicans won even more seats in the House and took over the Senate.
"Democrats claiming that Republicans are going to take all the blame turned out to be nonsense. "¦ We lost the messaging war for 21 days. Ok, who cares? Who cares?" the Senate Republican aide said.
The 2016 elections are even further away. And for now, it may not be a bad strategy to keep firing up the base, Republicans argue. That includes pushing back on Obama's executive action—and voting for the 56th time to overturn the Affordable Care Act.
But there's an even more important point. "As long as we're talking about this, we're not talking about what the Democrats want us to talk about," the aide said.
The issue has completely overtaken the policy proposals Obama outlined during his State of the Union last month. "No one gives a rat's ass about what [Obama] said," added the aide. "Everything is about what Republicans want to talk about. As Newt Gingrich used to say, there's value in noise."