How Many Times Can Republicans Vote on the Same DHS Bill? Until Democrats Cave.
The GOP digs in, but a united Democratic front won't break its filibuster on Homeland Security funding. The clock is ticking until a department shutdown.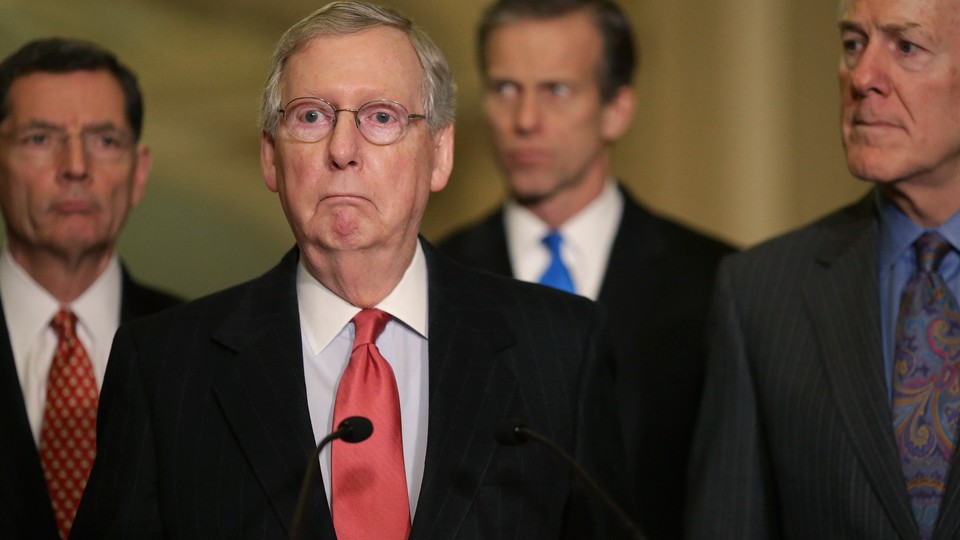 The House-passed Department of Homeland Security funding bill, which includes language rolling back and blocking President Obama's immigration orders from 2012 and 2014, was blocked for a second time Wednesday after again failing to pass a procedural hurdle, 53 to 47. Democrats voted in solidarity against it. One Republican, Sen. Dean Heller of Nevada, crossed the aisle once again and voted with Democrats to block the bill from coming forward.
Two failed votes later, most Senate Republicans remain committed to their strategy: Keep putting Democrats on record supporting the president's executive action on immigration and then blame them for a filibuster that could inevitably lead to DHS shutting down. Democrats, meanwhile, are also dug in as the minority and are prepared to vote on only one thing: a clean funding bill to keep the lights on at the Department of Homeland Security.
A repeat performance from Tuesday, Wednesday's vote is not expected to be the last. Senate Majority Leader Mitch McConnell's office says that another vote could happen as soon as Thursday, catapulting the Senate into a weeklong game of deja vu.
Many conservative Republicans are firmly behind their leadership's decision to keep bringing the same legislation up for a procedural vote. On Tuesday, House Speaker John Boehner argued that if Senate conservatives wanted to make a stand against Obama's immigration action, they would be the ones on the front line to fight. Many of them are pleased with McConnell's commitment not to back down.
"[McConnell] has moved this bill forward; he has stood firm that we should bring it to the floor, that we should pass it," said Sen. Jeff Sessions of Alabama, who has been known to rally conservatives in the House around immigration causes. "He's done the right thing."
Republicans lament that while Democrats want to whine about what is in the legislation, they are not willing to vote to move the bill forward where amendments would be possible.
"Is there anything wrong with just discussing it?" asked Sen. Chuck Grassley of Iowa. "I think that the public has to know that the Democrats don't want to discuss what the president did last November."
But patience among some of the more moderate members of the caucus, those who want to exhibit the party's propensity to govern, may be starting to wear thin.
"Is that the definition of insanity? Voting for the same bill over and over again?" Sen. John McCain asked.
Sen. Jeff Flake of Arizona, who worked on the bipartisan immigration bill that passed the last session of Congress, says it's up to McConnell, but he's not sure the DHS funding bill is the best time to have an immigration debate.
"My preference has always been to address Obama's action with legislation," Flake said. "I think we see the end of this movie."
Sen. James Inhofe of Oklahoma does not expect to find resolution with this tactic. At some point, he says, Republicans will have to find a new way forward.
"I think three is enough," Inhofe said. "There is going to be an effort to keep bringing it up and keep the issue alive, and as you know there is division within the conference on this."
In upcoming days, McConnell may find himself beginning to be boxed in as he has to continue to quell the conservatives without risking more defections from the moderates in his conference. Some say that the repeated votes may be nothing more than a way for McConnell—who has a reputation for making deals—to show his right flank that he's willing to go to the mat for legislation, but he may also end up making a point to some in his caucus that even with a new majority, the party cannot get exactly what it wants.
"We understand what the House did, but we hope they understand our constraints as well. But we cannot shut down the Department of Homeland Security, with the threats that we have from ISIS and overseas," McCain said.
As the deadline looms, Sen. Susan Collins of Maine was trying to find a way to break the Democratic filibuster. She offered an amendment Wednesday to strip the House bill of the contentious repeal of the president's 2012 executive action, hoping it might get some Senate Democrats to vote to move onto the bill. But Democratic moderates were not interested.
"DHS is something that should be a clean bill. I have always said that," said Sen. Joe Manchin, a Democrat from West Virginia who has been known to cross the aisle on key votes, when he was asked whether he would support moving forward with the DHS funding bill if the Collins amendment was promised. He said he'd take a look at it, but that he believed it needed to stand alone. "I am willing to debate immigration or anything else separate, but not under these circumstances."
But Rep. John Carter of Texas, chairman of the House Homeland Security Appropriations Subcommittee, said that he would be open to a DHS funding bill that targeted only the latest executive action.
"Politically, [McConnell] needs to make a lot of noise. Because the constituency is very upset about that November surprise," Carter said. "If we have to compromise, the fight is on November."