How Bobby Jindal Is Trying to Separate Himself From the CPAC Pack
The Louisiana governor went after Washington Republicans in his speech at the conference Thursday.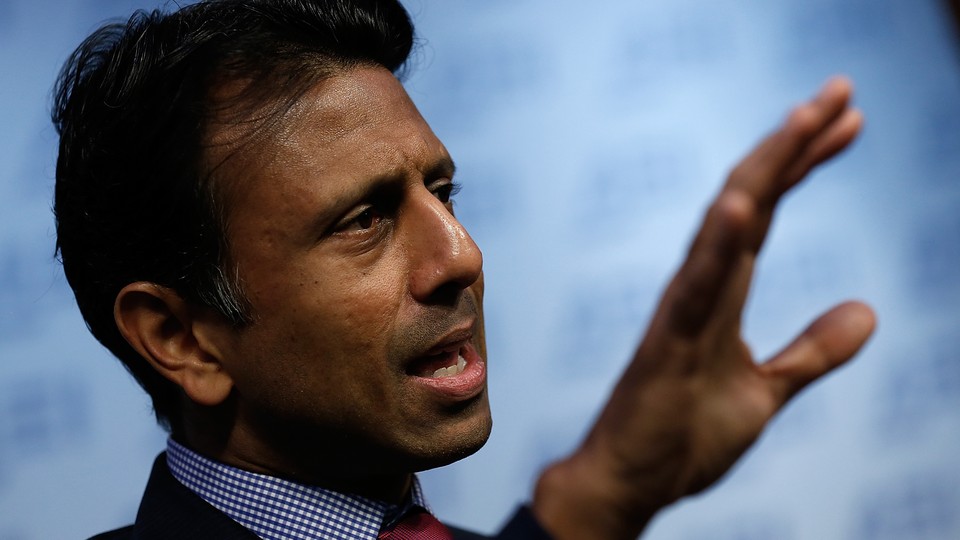 Bobby Jindal, like every other Republican presidential hopeful, has spent the early days of the nascent 2016 race criticizing President Obama. But at his appearance Thursday at the annual Conservative Political Action Conference, the Louisiana governor aimed at all of Washington.
In what sounded like a move to separate himself from the senators running in the 2016 pack, Jindal quickly ran through a list of Washington Republicans' failures.
"Republicans are about to wave the white flag of surrender on amnesty," he said, starting his slightly overlong speech on the debate over immigration and funding for the Homeland Security Department.
He swung at Republicans who claimed "they would repeal and replace every single word of Obamacare," but haven't been successful doing so. (The House passed for the fourth time in four years a standalone bill to repeal the legislation earlier this month.)
"It's time for them to govern the way they campaigned and get rid of Obamacare," he said.
Jindal's in need of an offensive jolt. Going into today's CPAC appearance, he's had popularity issues to contend with, as budget problems in Louisiana have plagued his image. And in one recent poll asking likely Republican Iowa caucus attendees which GOP candidates they prefer, Jindal is near the bottom of the list.
Obama, of course, didn't slide through Jindal's speech unscathed, with the governor repeating in his speech comments he's made recently about the president being soft on the Islamic State. His criticisms are part of a larger, sometimes controversial effort to enhance his foreign policy profile by talking tough ahead of his presumed presidential run.
He echoed phrasing from a Fox News op-ed he published this week during his speech, saying, "President Obama has disqualified himself. He has shown himself incapable of being our commander-in-chief."
Jindal's sticking point, like that of many of his fellow Republicans, is that Obama hasn't used the right phrasing to describe terrorists involved in recent attacks worldwide: "There are many of us that are very concerned about the president's unwillingness to call out radical Islamic terrorism and the threat we face as a country," Jindal said outside of the White House Monday after a meeting between several governors and Obama.
Jindal was criticized last month for comments he made during a visit to London—a trip no doubt designed to show voters and donors that he can play across the pond. He alleged there are "no-go zones" in Western countries where anti-assimilationist Muslims establish their mini-governments, with little regard to established democratic law.
The backlash against his comments was swift, with some accusing Jindal of being anti-Islam. On Thursday, he aimed to correct that accusation, saying the United States is at war with radical Islam, not the religion itself. And as for those who fight for radical Islam? The United States must "hunt down and kill these radical Islamic terrorists," Jindal said in a major applause line, without really getting at a deeper strategy for how to do so. "That's how you know you've won a war."