How Bernie Sanders Would Run Against Hillary Clinton
The progressive independent is more realistic about his prospects for the White House than you might expect.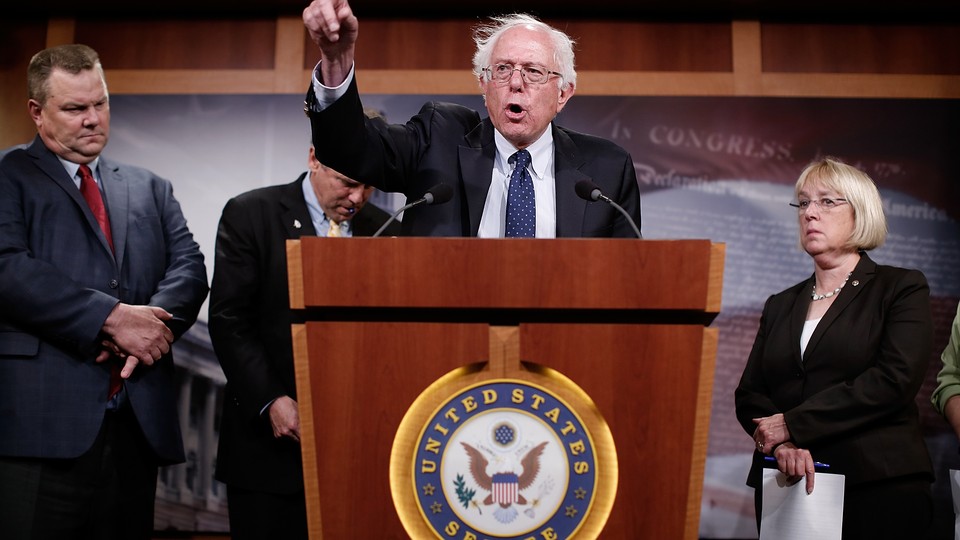 Sen. Bernie Sanders has a clear view of what he will be up against if he runs for president in 2016: billionaires, Wall Street, Hillary Clinton, and a less-than-stellar name ID. But while the Vermont senator once received single digit-support for statewide elections in Vermont, he has shown himself to be a pragmatic campaigner with keen insight into what it takes to spark a grassroots movement.
Whether he can mobilize enough people in 2016 to make the race worth his while is still a question even he has not answered.
"I don't want to run a futile campaign," Sanders said during an appearance at the Brookings Institution on Monday.
In recent months, Sanders has traveled around the country, hitting early-primary states such as New Hampshire and Iowa. He's confident, in talking with voters, that there is an appetite for a straight-talking candidate in the Democratic primary who can articulate a clear vision to reduce income inequality and isn't afraid to call out Wall Street as a business model built on "fraud and deception."
If he does run, Sanders said, he's not looking to be a "spoiler" in the mode of Ralph Nader. He's instead considering shedding his "independent" label and jumping into the race for the Democratic ticket, where he fully recognizes he'd likely be going head-to-head on the debate stage with the Democratic Party's presumptive candidate, Hillary Clinton.
Sanders sees running against Clinton as an opportunity not to tear her apart politically, but to distinguish himself and force the party to have a serious policy discussion on issues as diverse as income inequality and foreign policy.
"This is a woman I respect, clearly a very intelligent person who I think is impressive on issues, by the way," Sanders said. "I think we have a debate about how you rebuild a crumbling middle class, a debate about how you reverse climate change, a debate about the foreign policy ... a debate about Wall Street, and that would be, I think, good for the American people, to be honest with you."
On Monday, Sanders began by distinguishing himself on foreign policy. He reasserted his opposition to more troops in Iraq, a conflict on which Clinton initially voted in favor of authorizing military action during her time in the Senate. Sanders also said he feared the United States was entangling itself in an "endless war" in the Middle East. Instead of the U.S. spending its resources and developing the lead strategy, he said, countries like Saudi Arabia, for example, needed to step up. Sanders also announced he would not attend Israeli Prime Minister Benjamin Netanyahu's planned address to Congress, an issue Clinton has yet to weigh in on.
Sanders emphasized that, despite pointing out contrasts, he won't run negative ads against Clinton. He didn't during his mayoral races, Senate races, or House contests, he said. And he is not going to start now.
"It is not my style to trash people," Sanders said.
While Sanders said he doesn't expect fellow progressive Elizabeth Warren to jump into the presidential fray, he didn't miss an opportunity to highlight her vision and accomplishments before the audience at Brookings.
"We brought Senator, well, Elizabeth Warren to the town meetings, and she blew me away with her ability to deal with complicated economic issues in a language that people could understand," Sanders said. "I'm a fan of Elizabeth Warren."
Clinton may not be the only big obstacle for Sanders, however. Part of running a successful campaign is filling campaign coffers. And, in a cycle where the billionaire Koch brothers have already pledged to spend almost $900 million, Sanders will have to do better than merely relying on his engaged network to make small donations. That remains a stumbling block Sanders is not confident he can overcome.
"If you had 2 million people putting in 100 bucks, that's $200 million, that is 20 percent of what the Koch brothers themselves are prepared to spend," Sanders said. "Can you take that on? I don't know the answer. Maybe the game is over. Maybe they have bought a United States government. Maybe there is no turning back. I don't know. I surely hope not, but we have to look at that reality."
If he is going to run, Sanders says, he has to be sure he is going to make a serious impact on the race.
"I want to do it well, and it's important not just for my ego I do it well. It's important for millions of people who share the same set of beliefs that I hold," Sanders said. "To do it well, we would have to put together the strongest grassroots movement in the modern history of this country, with millions of people saying, 'You know what? Enough is enough. We are going to take on the billionaire class.' "