House Votes to Repeal Obamacare, Again
The fourth time will not be the charm, but that's not the point.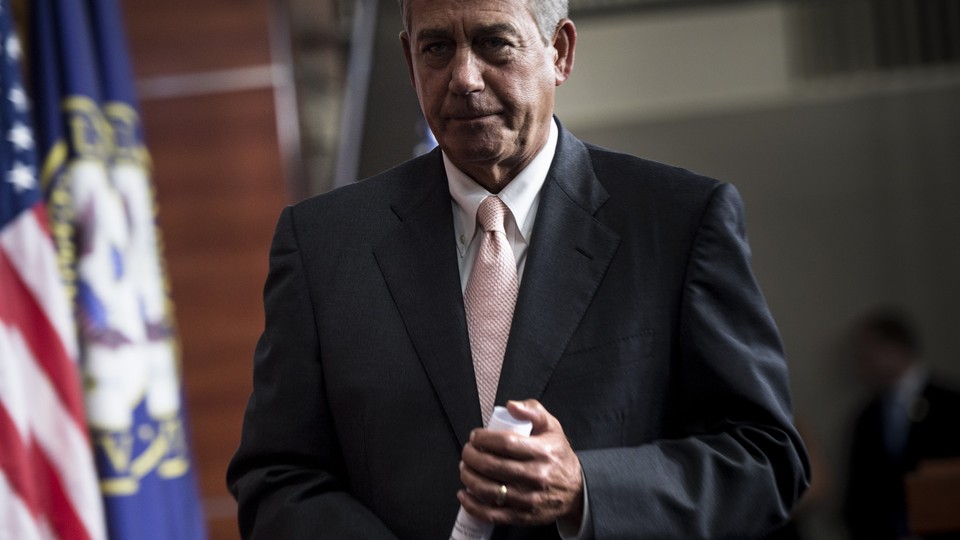 The House voted 239-186 on Tuesday to repeal Obamacare—y'know, in case it wasn't clear where the Republicans stood on that issue.
It's the fourth time in four years the GOP-led House has passed a stand-alone bill to fully repeal Obamacare—or the sixth time, if you count budget resolutions, which include full repeal but are nonbinding. Including bills to defund or repeal parts of the law, the House has held more than 50 anti-Obamacare votes since Republicans took control in 2011.
President Obama has signed some of those smaller measures, but Tuesday's full-repeal bill stands as strong a chance as its predecessors: none whatsoever. Just as unsurprising as the House bill's passage was the White House's veto threat, which went on at great length about the law's progress. Obama counterprogrammed Tuesday's vote by meeting with 10 people who have been helped by the Affordable Care Act.
As a political issue, no one is changing their minds about Obamacare at this point. Republicans hate it. Obama loves it. The public is divided but leans against it.
But the point of Tuesday's vote wasn't to legislate: It was to give freshman Republicans a chance to take an easy, politically beneficial vote, which fulfilled a campaign promise for many of them. More experienced members don't have anything to lose by reiterating their support for repeal, even if they already did so in 2011, and/or 2012, and/or 2013.
And for the party's leadership, giving the rank and file a fresh chance to declare their support for full repeal might also come in handy if Republicans find themselves trying to patch up the law this summer.
Republicans are forever working on the "replace" part of their "repeal and replace" agenda. But the Supreme Court could force the party's hand in June, when it's expected to rule on whether Obamacare's insurance subsidies can be made available in all 50 states. If the Court sides against the administration, it'd be a big blow to Obamacare—but one that would put Republicans in a tight spot.
Policy experts say millions of people would lose their coverage and premiums would begin to climb significantly even for people who don't get coverage through Obamacare. All this would happen mostly in red states and 2016 swing states. So, although Republicans could probably pin the political blame on the law's authors, they still might have to do something to stop the bleeding in their states and districts.
It's unclear what that "something" would be; lawmakers, as always, say they're working on it. One option would be to restore some of the law's subsidies in exchange for other concessions. Another would be to temporarily restore the subsidies in full, giving Congress some time to figure out a set of Obamacare changes that both Obama and House Republicans could agree to.
Either one would be a tough sell for conservatives, who have campaigned on full repeal and would be voting not only to "fix" Obamacare, but also to restore its biggest chunk of new spending.
Leadership would have a hard time selling its caucus on that no matter what—voting to fix Obamacare's spending is a ready-made ad for a primary challenger. But many members might feel more comfortable if they've had a chance to support full repeal before signing on to what would be a big and expensive fix.