House to Take Up Keystone Bill Next Week
Vote sets up first chance for Obama to wield veto pen against new Congress.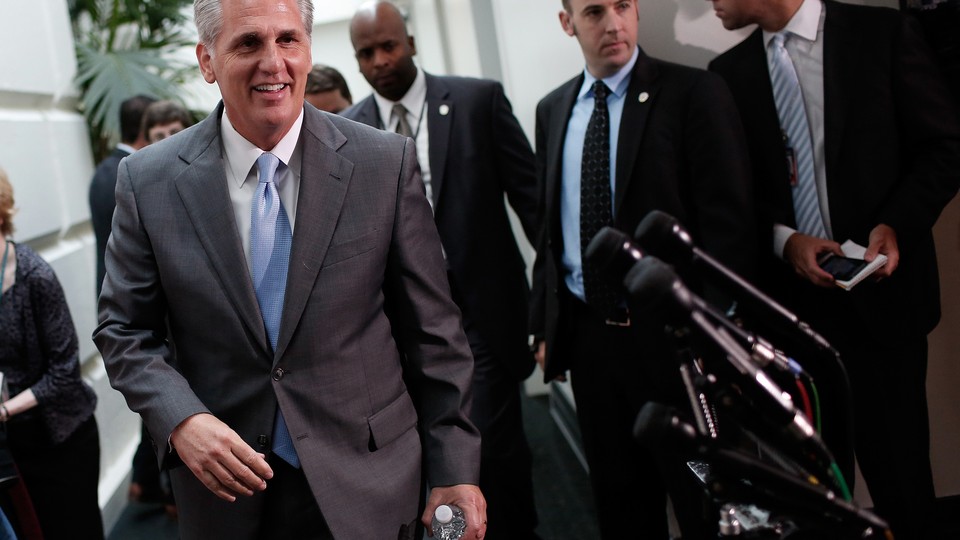 The House will vote on the Senate-passed bill approving the Keystone XL pipeline next week, setting up a showdown with President Obama over the oil-sands pipeline.
Majority Leader Kevin McCarthy told reporters Tuesday morning that the House would bring up the Senate bill, which includes amendments on climate change and energy efficiency, although he did not specify what day the bill would see a vote.
"Passing this measure will send the bill right to the president's desk after years of uncertainty and delay," McCarthy said. "Finally, we will know if the president will side with American jobs and North American energy security or not."
The bill that passed the Senate last week by a 62-36 vote included language that states climate change is not a hoax that drew support from all but one Senate Republican, which will force the House to go on record with the same sentiment. The bill also includes a handful of energy-efficiency proposals that passed the House last year and were easily approved by the Senate.
The House had already passed a clean bill approving the Alberta-to-Gulf Coast oil-sands pipeline in January in a 266-153 vote, short of a veto-proof majority.
Obama has vowed to veto the bill, saying that it circumvents the administration's pipeline-approval process. In public statements, Obama has also questioned the merits of the project, saying he would have to evaluate whether it's "not adding to the problem of climate change." The State Department has also restarted its review process, although Secretary of State John Kerry has not given a time line for when a decision would come.
McCarthy said he hoped Obama would "look at how Republicans and Democrats worked together to pass this bill and will reconsider his veto threat."