House Democrats Finally Figure Out How to Stick Together
The party avoided past splits and damaged the GOP in the process.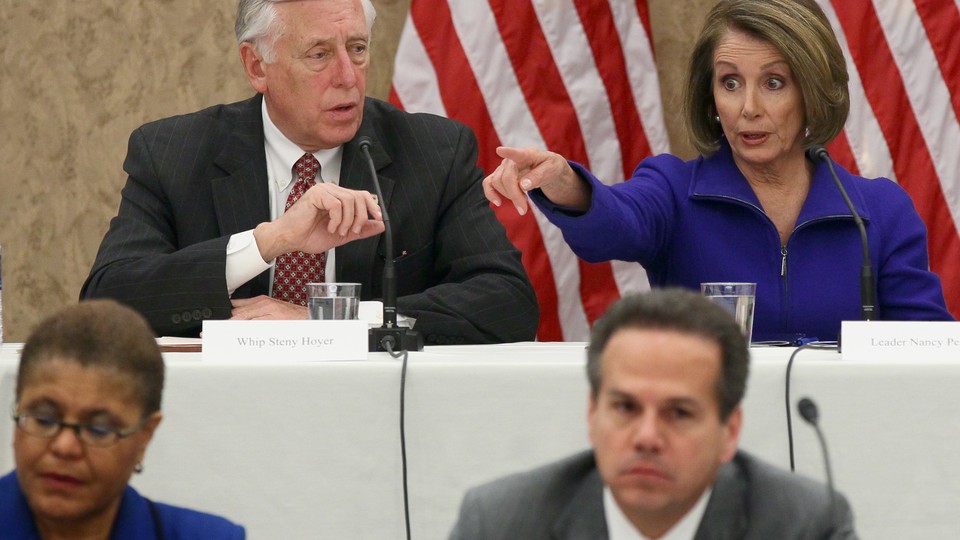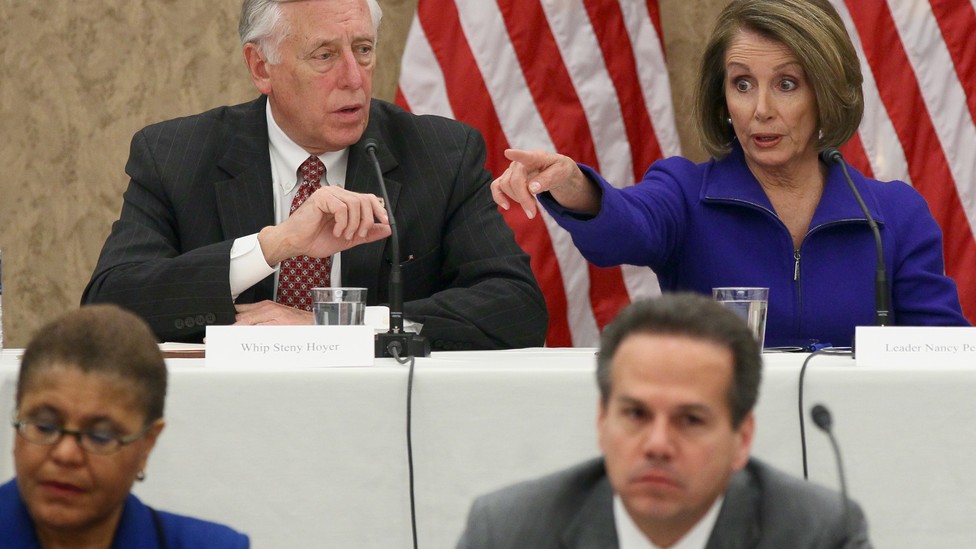 House Democrats finally held together. And it worked.
Time and again, the outnumbered caucus has given fractured Republicans the votes they needed to pass spending bills with shutdowns imminent. While some in the party have urged members to make the GOP pay if they can't come up with votes on their own, large numbers of the caucus have consistently broken off to get bills across the finish line.
Until now.
At the public urging of House Minority Leader Nancy Pelosi and Minority Whip Steny Hoyer, Democrats largely stuck together, and Republicans—facing dozens of defectors on their own side—failed to pass a three-week funding bill to keep the Department of Homeland Security open before a midnight deadline.
The strategy appeared to be paying dividends later Friday night. Republican leaders came back with a one-week funding bill, which Democrats supported so they can hopefully get the vote they want next week -- on a clean, long-term DHS funding bill.
Only 12 Democrats voted with Speaker John Boehner's three-week funding plan, with the rest holding out for a full-year bill—one Democrats now believe they have the leverage to get. That's a sharp contrast from December, when Hoyer led a contingent of 57 Democrats to help pass a "CRomnibus" bill to keep the government open.
Since then, some Democrats have called on their leaders to stop giving assists to divided Republicans. "If you're going to need 40, 50, 60 Democrats to get legislation passed that doesn't cripple this government, then that template's set for compromise," Rep. Raul Grijalva, chair of the Congressional Progressive Caucus, said earlier this year.
His co-chair, Rep. Keith Ellison, agreed. "If [Boehner] wants to pass new legislation, he's going to have to talk to some people who are here to actually legislate on behalf of all of the American people," he said. "That means if he comes our way, we obviously have a perspective on all these things. I just hope that we don't allow threats and stuff like that to guide our decision-making."
Democratic leadership listened. This time, they not only declined to lend support to the shutdown-aversion plan, they actively whipped against it. One member who did vote with Republicans, Rep. David Scott, was excoriated by his colleagues in full view of reporters. Rep. James Langevin, a probable yes vote Thursday night, had changed to a maybe by Friday. He ended up voting against the bill.
Arguing the short-term plan would only prolong the crisis, Pelosi and Hoyer said killing the CR would force Boehner to bring up the Senate's long-term funding bill, a move that could pass with Democratic support but further damage his standing within his caucus. "I do believe that if this were to fail, they would have no choice but to take up the Senate bill," Pelosi said.
Added Hoyer: "The only reasonable alternative they would have would be to bring the bill passed out of the United States Senate. "¦ I don't think we'll leave here without funding the Department of Homeland Security for a period of time."
Whether or not Boehner takes that route remains to be seen; early reports suggest the GOP is considering shortening the CR to one week, though there's no indication even that vote could earn the necessary support.
If neither option gets through, DHS will shut down at midnight, and the GOP messaging machine will surely pin the blame on Democrats for blocking the CR. That's a political risk Democrats acknowledged, but given the GOP's own internal struggles and the full-year bill already passed in the Senate, it was one they were willing to take.
Pelosi acknowledged Friday morning that it would be a tough vote for her members, but added, "I don't want Democrats to give them the victory." They didn't.