Hillary Clinton's Play for Pennsylvania
Obama lost ground in the traditionally-Democratic state in 2012. But with the convention in Philadelphia, Democrats are confident they will extend their winning streak.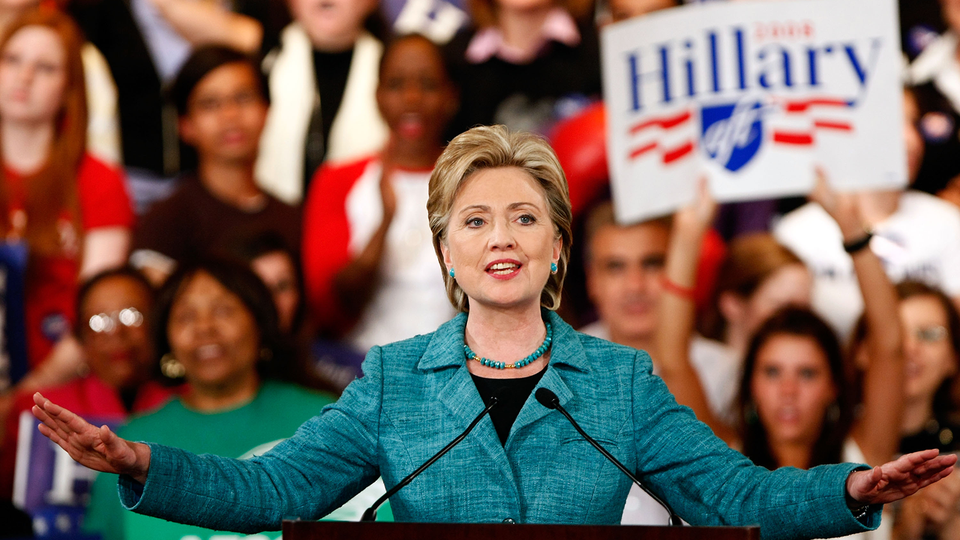 Democrats face two major demographic challenges in the 2016 presidential campaign. First, can Hillary Clinton, assuming she's the party's nominee, win back the white working-class voters who have drifted toward Republicans in recent years? And second, will she be able to maintain the Democratic coalition that twice elected Barack Obama president—including the sky-high turnout among African-American voters his campaign spurred?
Those questions will be partly answered in Pennsylvania, where Democrats have just announced they're holding their 2016 convention.
As Philadelphia's selection for the 2016 Democratic convention spurs headlines about the symbolism of Independence Hall and the Liberty Bell, the importance of the state goes far beyond that. It's a microcosm of the challenges Democrats face in putting together a winning coalition.
Pennsylvania is the GOP's perennial white whale: Every four years, Republicans puts money and time into a last-minute effort to mine the state's electoral votes—and every time since 1988, they've been unsuccessful. Though it's still early, Democrats and observers in the state say that with Democrats' presidential-year electoral advantages there, there's little chance that dynamic will change this time around.
"It's a state that has become solidly blue in presidential politics and now, in many ways, is a cornerstone of the Democratic electoral coalition, along with other big states—along with New York, Illinois, and California," said Chris Borick, a veteran Pennsylvania pollster at Muhlenberg College, adding that winning Pennsylvania is "almost a given for Democrats."
A February Quinnipiac poll found Clinton starting out strong in Pennsylvania with high favorability ratings and double-digit leads over all her would-be GOP challengers. Fifty-five percent of the state's voters viewed her favorably, compared with 38 percent who viewed her unfavorably—far better than any of the GOP hopefuls fared. In hypothetical head-to-head matchups, Clinton bested New Jersey Gov. Chris Christie by 11 points (50-39), former Florida Gov. Jeb Bush by 15 points (50-35), Sen. Rand Paul of Kentucky by 19 points (53-34), and both former Arkansas Gov. Mike Huckabee and former Sen. Rick Santorum of Pennsylvania by 20 points (54-34).
But Pennsylvania is a geographically and demographically diverse state—and how Clinton fares there among the state's electorate will be an indication of her ability to shape a winning national coalition. Victory for Democrats now largely hinges on the southeastern part of the state, where they need to draw a strong turnout in Philadelphia proper and to win a majority in the four suburban counties (Montgomery, Bucks, Chester, and Delaware) that surround it. At the same time, a significant chunk of the state—the southwestern part near Pittsburgh and the northeastern part surrounding Scranton—is full of white, working-class voters whom Democrats have struggled with in recent years.
Pennsylvania Democratic operatives and observers say Clinton has a track record of connecting better with the state's working-class electorate than Obama did in 2008 and 2012—but that African-American turnout drop-off is certainly a concern. In an interview with BuzzFeed, Obama said he didn't "think any president inherits a coalition," adding that "any candidate has to win over people based on what they stand for, what their message is, what their vision is for the future."
Back in the 2008 Democratic primary, when Clinton defeated Obama by just under 10 points, the former secretary of State did well among exactly those kinds of voters. Exit polls found Clinton ahead of Obama among Pennsylvania's white voters, low- and middle-income voters, and those without a college degree.
"Her father came from Scranton, so she's always had a strong base there in the same way that Joe Biden has," said Charlie Lyons, a veteran Democratic strategist in the state. "And I think she comes out of that area strong, and in the southwest I think she has the potential to come out perhaps even stronger than the president did."
As a surrogate for now-Gov. Tom Wolf in Philadelphia last fall, Clinton came out swinging with what observers say is the closest indication she's given of the kind of message her campaign could have—one heavy on economic fairness, equal pay, and education funding. These are the kinds of issues that play well among both minority voters and working-class whites.
As for African-American voters in Philadelphia, observers in the state say it would be tough for Clinton to match the kind of turnout Obama drew among that demographic—but that the drop-off wouldn't be enough to affect her chances in the state. In 2008, exit polling data showed Obama winning 95 percent of African-American voters in Pennsylvania, compared with just 5 percent for Republican nominee John McCain; even if turnout among that demographic decreases, the margins will likely be similar.
"She clearly has room to build on voters that Obama didn't have—while being challenged to make sure she has the same or close levels of turnout in the Democrat-rich Philadelphia city limits," Borick said.
Even if Pennsylvania seems unlikely to top 2016's list of presidential swing states, it will undoubtedly be home to one of the most competitive Senate campaigns on the map this cycle: the race to unseat GOP Sen. Pat Toomey, who rode into office on the Republican wave of 2010.
And while party conventions rarely have an effect on the presidential electoral outcome in a state, they're known for energizing the party base and drawing attention to in-state candidates—which, for Philadelphia, could have a positive effect on turning the city's African-American voters out to the polls that fall for both Clinton and Toomey's Democratic challenger.
"Pat Toomey is going to be seriously challenged," said Dan Fee, a veteran of both of former Pennsylvania Gov. Ed Rendell's gubernatorial campaigns. "This is a year, and this is a race, in which there will be significant turnout in areas that will never vote for Pat Toomey."