Here Are Seven Things in Obama's Budget That Are Never Going to Happen
These presidential wish-list items will be scoffed at by Republicans.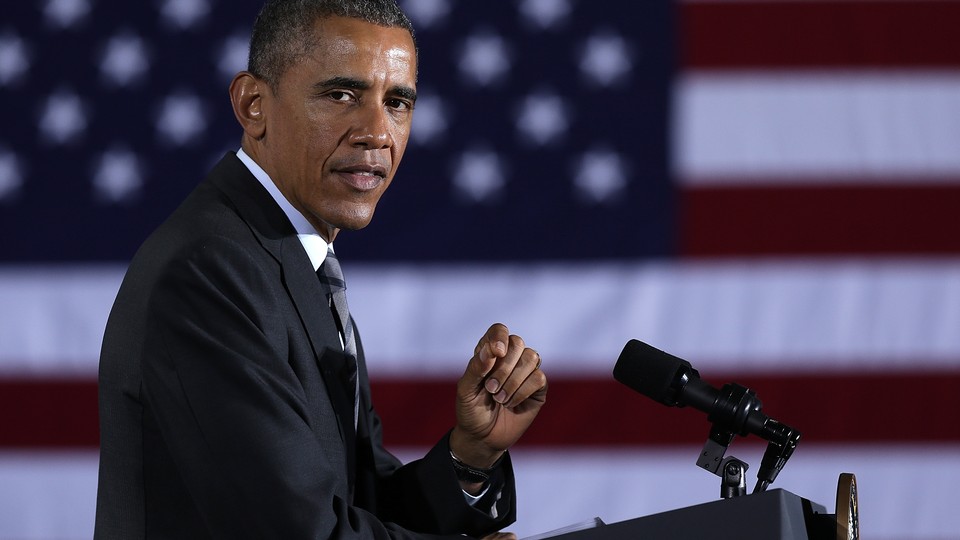 The president's budget is his opening argument, an offer, a blueprint and, in the end, a liberal wish list that is likely to be brushed off or ignored by the Republican-controlled Congress. But in the budget, not all items are created equal. Here are some of the president's proposals that are most likely to be dismissed on the spot by the GOP.
1. $1 Billion to Stop the Root Causes of Illegal Immigration: Obama wants to send $1 billion to Central America, including El Salvador, Guatemala, and Honduras, to develop a "long-term strategy" to halt illegal immigration before it starts. In his plan, the money would be used to enhance "economic opportunities" and build "more democratic, accountable, transparent, and effective public institutions" in countries where the U.S. has seen large numbers of migrants in recent years. The money would also be used to crack down on human smuggling.
Why it's a pipe dream: Trust between the White House and the GOP has deteriorated substantially over the last year when it comes to how to tackle immigration. After thousands of unaccompanied minors fled over the border and spilled into southern Texas, Republicans used the influx as an example of how uncontrolled the border was. They passed a border bill in August that increased border-control spending. The legislation also included $40 million to help Central American countries repatriate children and halt the exodus of young people from their borders. However, $1 billion is substantially more than $40 million. After Obama announced in November that he would block the deportation of millions of immigrants already here illegally, it's unlikely the president will find a willing partner to touch anything related to immigration.
2. An Investment to Combat Climate Change: With a changing climate, Obama argues it is time for the U.S. to start getting prepared before natural disasters strike. His first line of action is to continue aiming to cut carbon emissions. In his budget, the president has marked $7.4 billion to invest in clean-energy technology. Obama also proposes giving states more money to incentivize them to take action against carbon emissions. The president proposes spending money to help coastal communities plan for shifts in local ecosystems, and he wants to invest an additional $175 million in the Federal Emergency Management Agency's Pre-Disaster Mitigation Grant Program, as well as to continue spending on water-conservation programs. While the White House admits in its budget that "it cannot be said with certainty that any individual weather event is caused by climate change," it argues that the "costs of climate change add up." Over the past 10 years, the federal government says it has spent $300 billion on natural disasters from fires to drought.
Why it's a pipe dream: While a majority of Republicans recently voted to acknowledge climate change is real, many are still dubious about whether humans are responsible for it. In 2014, Republicans criticized the president for setting reduced carbon emissions goals with China. It is unlikely they will suddenly embrace them now. Although the president's plan is meant to save money in the long run—an idea Republicans have often voiced support for—halting climate change is not considered a GOP priority.
3. Ending Veteran Homelessness: The president announced in 2009 that he intended to end chronic veteran homelessness by the end of 2015. And, according to the Obama administration, the number of homeless veterans has declined by a little more than 30 percent in the last several years. To continue toward his goal, Obama is upping the budget for the Housing and Urban Development Department's Homeless Assistance Grants and ensuring that there are 67,000 new housing vouchers available for veterans of any discharge status, young people who are ineligible for foster care, and survivors of domestic abuse, to name a few.
Why it's a pipe dream: Republicans have fought against upping the number of vouchers for homeless veterans in the past. While Democrats argue that the GOP is leaving homeless veterans out on the street, Republicans contended in 2011 that the vouchers were rolled back merely because there was a surplus from previous years that had gone unused.
4. Obama Assuming Funds From Immigration Reform: In his budget, the president plans to reduce deficits by enacting comprehensive immigration reform. According to his plan, Obama expects that allowing immigrants in the country to come out of the shadows would reduce the deficit by nearly $1 trillion over two decades.
Why it's a pipe dream: Republicans have repeatedly said that Obama "poisoned the well" on immigration reform when he announced his executive action allowing millions to stay in the country without fear of deportation. And, even as Republicans weigh passing their own border-security bill, there are deep divisions within the conference making even the initial step difficult. If Republicans cannot agree on border security, there is little expectation they would be able to pass a series of bills including one that would legalize the 11 million immigrants already living in the country.
5. Increasing the Capital-Gains Tax: To pay for many of his proposals, the president has to streamline the tax code. His first order of business is to increase the "porous capital-gains tax." Obama plans to increase the tax from 23.8 percent for top earners to 28 percent. The White House has tried to garner GOP support for the proposal by reminding congressional Republicans that was the rate President Reagan agreed to in a tax deal in 1986.
Why it's a pipe dream: The White House and the Republican-controlled Congress have said repeatedly that tax reform is one area where they can work together, but House and Senate leaders have already told Obama that hiking taxes on the wealthy is a nonstarter.
6. Free Community College: The president's plan is to make two-year colleges free for Americans looking for more education. The White House argues that investing in community college creates more skilled workers and cuts down on social safety net costs over time. The budget also includes an additional $200 million to invest in career and technical training for interested students.
Why it's a pipe dream: The president has said he plans to pay for the program by increasing the capital-gains tax for top earners and closing other corporate tax loopholes. There is just one problem: Republicans have already made it clear they are not willing to budge on capital gains and they aren't willing to move forward with a program that drives up the federal deficit.
7. More Money for the IRS: The president proposes giving the Internal Revenue Service $12.9 billion so the agency can modernize and better target corporations and individuals who are not properly paying taxes.
Why it's a pipe dream: There may be no more loathed federal agency than the IRS. After the agency was accused of targeting conservative groups applying for nonprofit status, Republicans are increasingly unlikely to boost the agency's budget. The GOP has cut the IRS budget by 10 percent over the past five years.