Frenemies: The U.S. and Israel Clash. Again.
The current fight is only the latest between leaders of the two nations.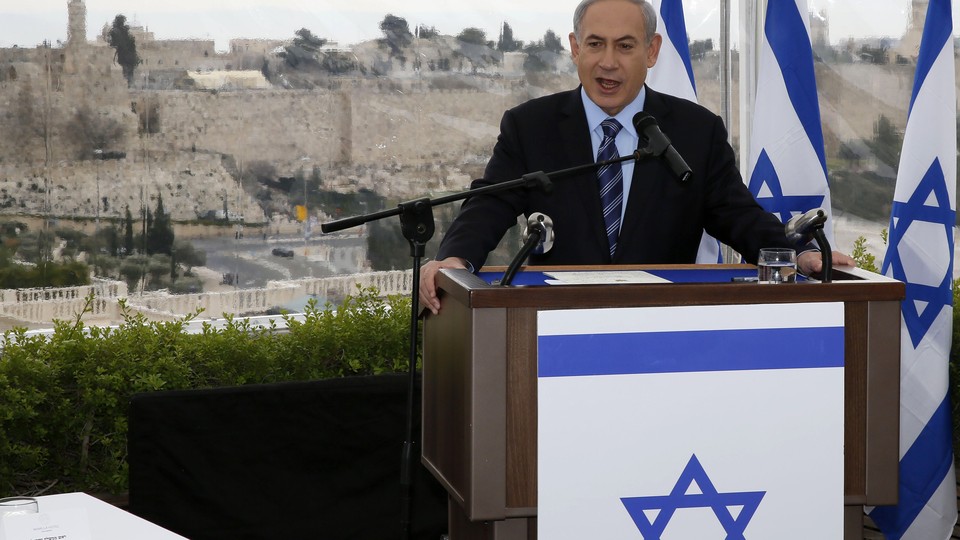 When Benjamin Netanyahu first visited the White House as Israel's prime minister in 1996, things didn't get off to such a great start.
Undeterred by the razor-thin nature of his upset victory, Netanyahu was on the offensive from the start against President Bill Clinton, trying to reshape American policy. Clinton was so vexed after that first meeting that he vented to aides, "Who's the f—ing superpower here?"
The famously thin-skinned Netanyahu even tried to get Clinton to fire his press secretary, Mike McCurry. "He didn't like how I was describing the meetings between the two leaders," McCurry told National Journal. "When we went into the Oval Office for one session, he saw me against the wall, pointed at me, and told the president, 'That one, over there, is one of your problems.'"
Clinton later emerged from a private session with Netanyahu and said the prime minister again lobbied for the spokesman to be fired. "He wants you out," a bemused Clinton told McCurry, who stayed at the White House until 1998.
Now, almost two decades later, Netanyahu has set his sights higher. This time, he'd like to replace the president.
Netanyahu left no doubt in 2012 that he wanted his old friend Mitt Romney to beat President Barack Obama. And his decision to blindside Obama by accepting Speaker John Boehner's invitation to speak to a joint meeting of Congress is a clear slap at a president who has a different policy toward Iran's nuclear program. His persistence in giving the speech has sparked a round of stories declaring U.S.-Israeli relations at an all-time low.
But clashes between the leaders of the two staunch allies are more common than it seems.
Some of the differences are simply political. Les Francis, who was deputy chief of staff to Democratic President Jimmy Carter, recalls a meeting of high-level Carter aides when Menachem Begin, representing the hard-line Likud Party, won election in June 1977. "When it was clear that Likud was going to win, a pall went over the room," Francis told National Journal.
Sometimes the differences come from above. Late in the Yom Kippur War in 1973, National Security Adviser Henry Kissinger placed a desperate call from the White House Situation Room to Israeli Ambassador Simcha Dinitz. Kissinger was furious that all White House messages to Labor Party Prime Minister Golda Meir were being blocked and Israeli troops were ignoring U.N. cease-fire resolutions and American calls to stop their drive into Egypt. "Jesus Christ," yelled Kissinger into the phone. "Don't you realize how important this is?"
According to Presidents in Crisis, a new history just out by Michael K. Bohn, who ran the Situation Room for several years, Kissinger suddenly became subdued at the ambassador's quiet reply: "Henry, my government might be more persuaded if you invoke the name of a different prophet."
Presidents Ronald Reagan and George H.W. Bush were often frustrated by Prime Minister Yitzhak Shamir. Perhaps the most public crisis in the relationship came in 1991 when Bush and Shamir clashed over the one topic that has divided almost every president from almost every prime minister—Israel's construction of settlements in occupied Palestinian territories.
Unhappy over the impact the settlements were having on the peace process, Bush held up $10 billion in loan guarantees for Israel. Bush was blasted by one Israeli Cabinet minister as a "liar" and an "anti-Semite."
No such rhetoric has been aimed at Obama in the current showdown. But the obvious personal enmity between Obama and Netanyahu is almost certainly the worst ever seen between any U.S. president and any Israeli prime minister. Aaron David Miller, who worked on Middle East issues at the State Department under both parties and six secretaries of State, said this is different from those earlier periods of conflict or argument.
"This is, if not the low point, then something that comes pretty close," Miller said. "That is because it has lasted since 2009, and it has proven to be singularly unproductive." Even when earlier presidents fought with or shouted at earlier prime ministers, they still were able to reach agreements and make progress.
"Clinton and Netanyahu had all kinds of disconnects," he said. "But they still managed to produce significant achievements by cooperating with one another. Here, you have dysfunction without production."
The situation is made more dire by what seems to be a politicization of the relationship, Miller added. "Republicans are aligning more often than not with Likud hard-line politicians. Democrats, with more centrist or left-wing Israeli views and politicians," he said. "That completes the dysfunction."
The most recent public poll supports that contention. A Pew Research Center survey conducted February 18 through 22 and released Friday shows a wide gap between Democratic and Republican approval of Netanyahu. Fully 53 percent of Republicans view Netanyahu favorably compared with only 28 percent of Democrats. Independents fall in between the parties, with 38 percent viewing him favorably. Unfavorable views of Netanyahu were registered by 21 percent of Republicans, 26 percent of independents, and 35 percent of Democrats.
Miller lamented what he called "a perfect storm" of factors that, combined with the personal enmity between the two leaders, brought Netanyahu and Obama to this week's clash over the speech to Congress just two weeks before the Israeli election. "Three things brought this on," he said. "First, the endgame on Iran is approaching with a fundamental divide between Netanyahu's view of the risks and uncertainties of the deal and the president's view. Number two is a Republican-controlled Congress that is determined to assert itself and hates the president's Iran policy. And number three is the Israeli election."
But Miller warned against those who fear that this clash between Obama and Netanyahu will redefine or ruin the relationship between the two allies. "I never believe in the sky-is-falling theory of the U.S.-Israeli relationship. As worried as Israel's supporters are and as pleased as Israel's detractors may be, this relationship is going to survive and remain resilient. Because there is no place else for these two to go," he said. "A fundamental breach? I just don't see it."