For Years, The Washington Post Tried to Interview a Cow
During the Taft administration, the paper covered the White House cow like a tabloid would a Kardashian.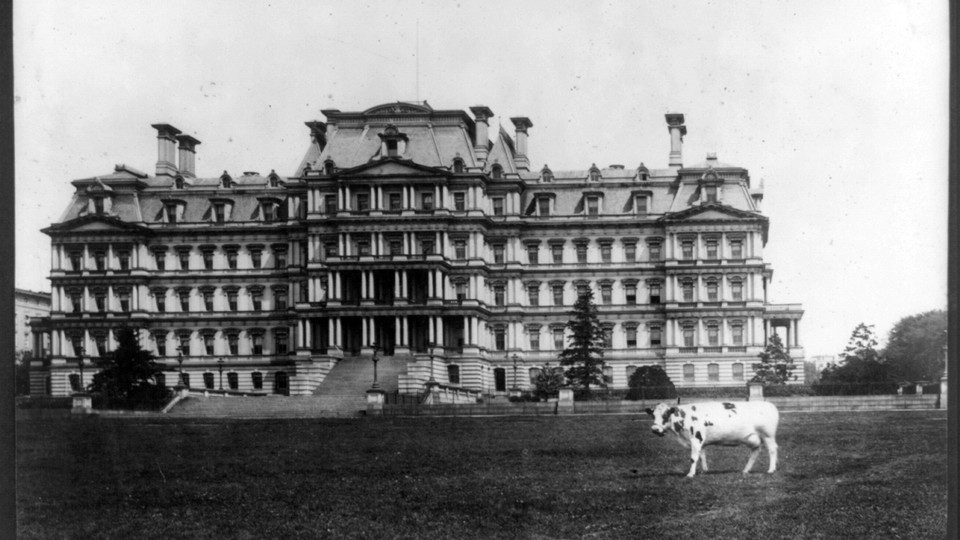 In 1912, an unnamed Washington Post reporter asked Pauline Wayne, President Taft's cow, if she was milked by a stranger without her consent, as had been reported. "It is true, Miss Wayne?" the reporter asked the 1,500-pound bovine.
And to each query, modest Pauline returned from her soft, brown eyes a glance bespeaking reproach and indignation, and a whisk of her tail, which is to say in bovine, with business hauteur: "He did not."
Unaffected by her soft eyes, the reporter asked the question again. (A bit cruel, if you ask me, if she really was a victim.) "I wasn't milked on the White House lawn by a strange man," The Washington Post—the venerable institution that would later come to break the Watergate scandal and win 48 Pulitzers—quoted her, a farm animal, as saying.
The exclusive interview might have been a low point for The Washington Post. Either Pauline could speak English or The Post's reporters inauspiciously discovered LSD. Or perhaps the paper committed a huge journalistic sin: fabricating quotes.
Between 1910 and 1912, The Post had something of an obsession with Pauline, covering her like Us Weekly would a Kardashian. A search of its archives reveals more than 20 stories mentioning Pauline between 1910 and 1912. In at least one instance, Pauline was referred to as the "provider-in-chief [of] the finest milk and butter."
Two years earlier, in 1910, Taft's previous cow, Mooly Wooly, died after eating too many oats. "She had never been instructed by experts that oats are for horses," The Washington Evening Star explained to grief-stricken readers. In White House history, it had been fairly common for first families to keep cows on the White House grounds for fresh dairy production.
Pauline, a gift from a Wisconsin senator, arrived in the fall of 1910 as Mooly Wooly's successor. She reportedly could produce 25 pounds of butter a week, and 9 gallons of milk a day—plenty of dairy for the famously girthy president.
A Nov. 4, 1910, article appears to be the first in which The Post spoke to Pauline. The paper asked her for her take on America's obsession with celebrities like herself.
"I have been much amused, and I confess, rather bored by the omnipresent photographers," she said (again, really doubting The Post's reporting here). "Civilization has developed so many irritating conditions."
Miss Wayne, as she was often called, had complicated politics. While calling herself a "progressive," she also said, "I do not believe in muckraking." On the record, she said she did not support the suffrage moovement.
As the nation's most important cow, Pauline often hit the road to connect with her fans at livestock shows across the country. Ordinary citizens could get a taste of presidential milk in souvenir bottles for 50 cents, according to the Presidential Pet Museum. On one such trip to Milwaukee, tragedy almost stuck. Pauline was accidentally put on a standard cattle car instead of her usual private coach. "The president's cow was lost en route to the Milwaukee Dairy Show and narrowly escaped death in the Chicago stock yards," The New York Times reported in October 1911. Pauline must have been outraged traveling like a common cow. After all, this was a cow who was once offered a part in a stage production of "Way Down East."
The Chicago incident wasn't the first time Pauline had gone missing. On her initial trip from Wisconsin to Washington, Pauline's railcar had a missed a connection in Pittsburgh, disappointing the throngs of reporters and onlookers who came to the D.C. railway station to greet her. A parade from the railway to the White House had been planned. Seriously, the Pauline Wayne years were a weird episode for Washington.
After Taft's defeat in the November 1912 elections, The Post again interviewed Pauline. The reporter asked her whether she could stand to live at the White House under Woodrow Wilson, a Democrat. She wouldn't rule it out completely.
"You see, I have had a rather trying time," said Pauline, again somehow crossing the interspecies language barrier. "Some of the animals here were on hand when President Roosevelt was in office, and when he started a party all his own I had many lengthy debates." At the very least, Pauline confided to The Post, she would not let President-elect Wilson taste her milk or butter.
The Post analyzed her predicament. "She realizes that she is the personal property of President Taft, and not of the nation, and that if he orders [her to stay or leave], she must obey," the paper explained.
Taft was not the last president to bring livestock to the White House. His successor, Wilson, purchased some sheep to graze on the lawn. They suffered through many troubles, including disease and being struck by newfangled automobiles. After Wilson took over the White House, Pauline returned to Wisconsin. Away from the lights, camera, and reporters, she lived in peace.
CORRECTION: An earlier version of this post misidentified the party of Theodore Roosevelt.