For Undocumented Immigrants, Court Ruling Creates a Dream Deferred
Immigrants slated to apply for the new programs instead find themselves back in uncertain territory.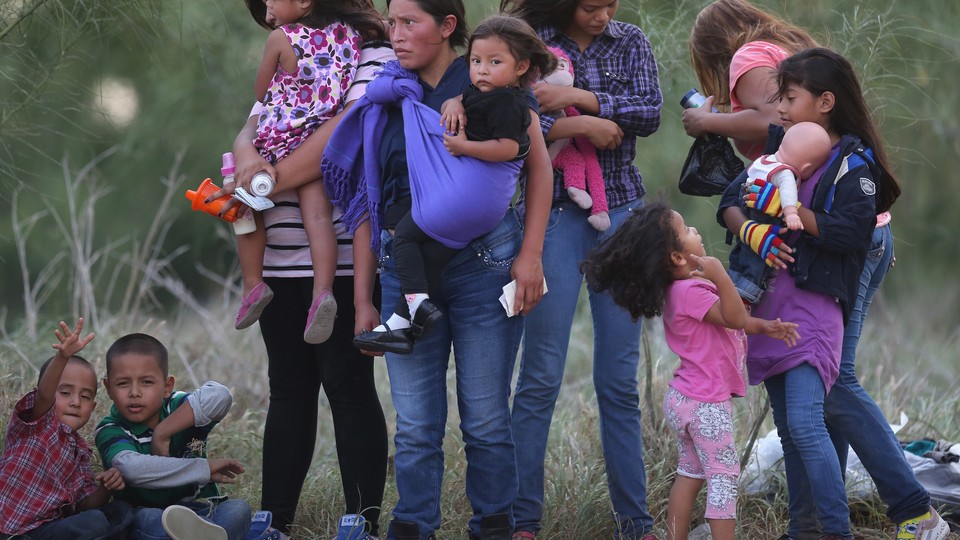 Immigration activists and aid workers thought they were prepared for Wednesday. Across the country, the groups had set up meetings where undocumented immigrants could fill out applications that could win them temporary work permits and relief from the fear of deportation.
Wednesday was supposed to be the day that a part of President Obama's executive orders on immigration would take effect. The Deferred Action For Childhood Arrivals (DACA) program was to begin taking a larger pool of applicants who came to the U.S. at a young age. Coupled with a program for parents of citizens and lawful permanent residents (originally set to begin in May), the programs could have provided three-year work permits and deportation deferrals to more than four million undocumented immigrants.
But none of that came to pass. Instead, a federal judge late Monday night temporarily blocked the implementation of Obama's actions, and activists now are scrambling to send a new message to immigrants: keep waiting, and don't give up.
For potential recipients of the permit, "waiting" means continuing to gather the needed paperwork to prove that they have been living in the U.S. continuously for the past five years. It also means continuing to hold together the $465 it likely will cost to apply for the program. The groups also worry that some applicants will give up, either out of confusion or fear of court decisions to come.
"My biggest concern, what keeps me up at night, is more the confusion that this is going to generate and the fear that people are going to have to apply and thinking, 'Oh, they're just attacking us,'" said George Escobar, senior director of human services for Casa, a Latino and immigrant advocacy organization. "It will dampen enthusiasm for going out and being the first to register."
Judge Andrew Hanen ruled Monday that there is initial reason to believe the Obama administration did not comply with the Administrative Procedure Act, a law that governs how regulations can be made. His ruling includes an immediate stay on implementing the actions.
The ruling comes from a suit filed jointly by 26 state governments seeking to block the order.
The Department of Justice will appeal the temporary injunction, but comply with the order in the meantime, Homeland Security Secretary Jeh Johnson said in a statement Tuesday.
On the ground, the gatherings that immigrant rights groups had planned for accepting applications are now slated to be informational sessions, where community workers, lawyers and advocates plan to re-explain the program and explain what has and hasn't changed due to the Texas ruling.
The judge's ruling complicates an already byzantine set of guidelines on eligibility for the temporary work permits and deportation relief. The DACA program launched in 2012. Undocumented immigrants who arrived in the U.S. before their 16th birthday and have been present since June 15, 2007, were eligible to apply. Obama's executive order, which he announced in November, expanded the applicant pool to those who have lived in the U.S. since Jan. 1, 2010.
Obama's November actions also created a program geared for parents of American citizens and lawful permanent residents, which was previously scheduled to receive applications mid-to-late May.
"We're expecting a lot of fear, a lot of frustration, a lot of confusion," Julieta Garibay, United We Dream's deputy advocacy director, said, adding "we're ready to keep on fighting for this."
Activists, lawyers and community workers are telling undocumented immigrants to go ahead and collect the paperwork to prove they've lived in the country continuously for the last five years, a criteria of the DACA and DAPA programs.
For the programs' critics, the ruling was a shot-in-the-arm at a time when it looked like the executive actions were going to go forward despite strenuous objection from Republicans and some Democrats, and they touted the judicial rebuke of Obama as evidence for their side of the argument.
"We live in a nation governed by a system of checks and balances," Texas Gov. Greg Abbott said in a statement in the Houston Chronicle, "and the president's attempt to by-pass the will of the American people was successfully checked today."
Other governors of states that participated in the lawsuit, such as Mississippi Gov. Phil Bryant, lauded the ruling. "Time and time again, the president has refused to enforce federal immigration law and has instead circumvented Congress and directed federal agencies to grant amnesty to illegal immigrants," he said in a statement. "Enough is enough."