Few Privacy Limitations Exist on How Police Use Drones
Only 14 states require law enforcement get a warrant to use drones for surveillance.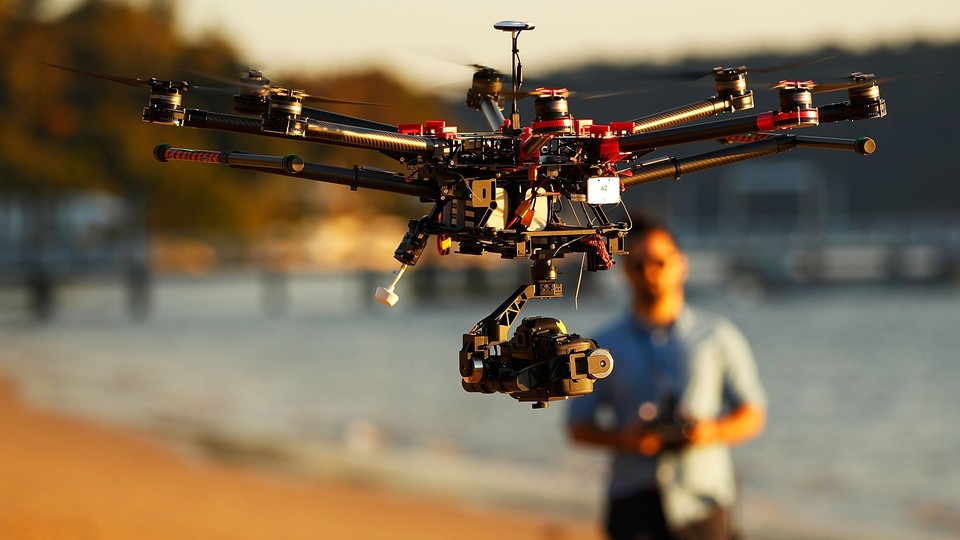 As drones become cheaper and more capable, more police departments across the country are asking for and getting federal approval to use them for law enforcement.
But the Federal Aviation Administration only takes safety into consideration when it grants a law enforcement agency approval to use drones, leaving privacy protections to legislation—which, depending on the state in question, may or may not exist.
Agencies as large as the Michigan State Police and as small as the Grand Forks County [N.D.] Sheriff's Department have received FAA approval to use drones. Most departments use them for missions like search-and-rescue or for photographing a crime scene or an accident site.
But unless a law enforcement agency is within one of the 14 states that have passed privacy legislation limiting how police can use drones, there's little in theory keeping it from using a drone for a less innocuous end—such as surveillance without a warrant. "While the federal government retains responsibility for the airspace, under most circumstances a state/local government can impose restrictions on the agencies for which it's responsible," an FAA spokesperson said in an emailed statement.
Members in the House and Senate introduced bills in the previous Congress that would have required police everywhere in the country to obtain a warrant before using drones for surveillance, but the bills died at the end of the year.
"In the states that don't require warrants, it's pretty much a Wild West" in terms of what's allowed, says Jay Stanley, senior policy analyst at the American Civil Liberties Union. "There's nothing stopping a police department from using [drones] in all kinds of ways to spy, except for the Constitution."
Within that unregulated "Wild West," police have very different approaches to their drone programs. One of the longest-running law enforcement drone programs is at the Mesa County Sheriff's Office in Colorado. Ben Miller, its director, says the department has a 17-page policy that outlines when and how it can use drones and for how long it retains data.
The department has never run a surveillance mission with its drones, Miller says, which are generally used for search-and-rescue and crime-scene photography. "If we had a need to look into an area where someone would have a legitimate expectation of privacy, we'd get a warrant," he says.
Colorado is one of the states without any legislation about drones at all, according to the National Conference of State Legislatures, which means that the limitations on the Mesa County drone program were instituted at the department's prerogative.
Unlike the Mesa County Sheriff's Office, some law enforcement agencies have been less than forthcoming with their drone programs. Last year, the San Jose Police Department in California secretly bought a $7,000 drone, and was faced with uproar in the community when freedom-of-information requests brought the purchase to light six months later.
The police department said the drone was meant for helping bomb technicians access hard-to-reach places, but left the door open for using the drone to address "dangers such as active shooters, hostage taking, or other such tactical situations where lives might be in immediate danger."
And this December, the sheriff in Alameda County, Calif., revealed that he spent $97,000 of his own department's money to buy a pair of drones after he was barred from using federal funds to make the purchase. The sheriff told the San Francisco Chronicle that the drone won't be used for surveillance "in any shape, manner or form," but California, like Colorado, has no state law that requires warrants for surveillance.
The California state assembly passed a bill last year that would have required police to obtain a warrant to fly drones in any event other than an "emergency situation." But Gov. Jerry Brown vetoed it in September, because he said the exceptions the bill allowed "appear to be too narrow."
While advocates are worried that law enforcement could use drones in ways that violate citizens' privacy, there's little fear that they're being abused yet. "Safety restrictions are so strict that most police departments are still using them in quite limited ways," the ACLU's Stanley said. "This is still an issue of looking down the road to what we know is coming."
The technology is new enough that police groups are still grappling with its implications and limitations. "We're doing some research right now to come up with some model policy," said John Thompson, deputy executive director of the National Sheriffs' Association. "We don't have a statement or opinion on it at this point."
Miller, who runs the drone program at the sheriff's office in Mesa County, says he often hears from other law enforcement agencies who need help getting their drone program off the ground. But there's no formal coordination: "It's all very word-of-mouth," he said, and suggested that others find him simply by searching the Internet.
For the time being, privacy advocates are not focusing on fighting for federal legislation. "For activists, it's generally easier to do things at the local and state level," says Nadia Kayyali of the Electronic Frontier Foundation, a privacy and free speech advocacy organization. "Any fight at the local level is more likely to see results, but also does take a much more significant investment in time."