Farenthold Denies Harassment, Discrimination Claims
Texas lawmaker says lurid allegations by a former aide are untrue.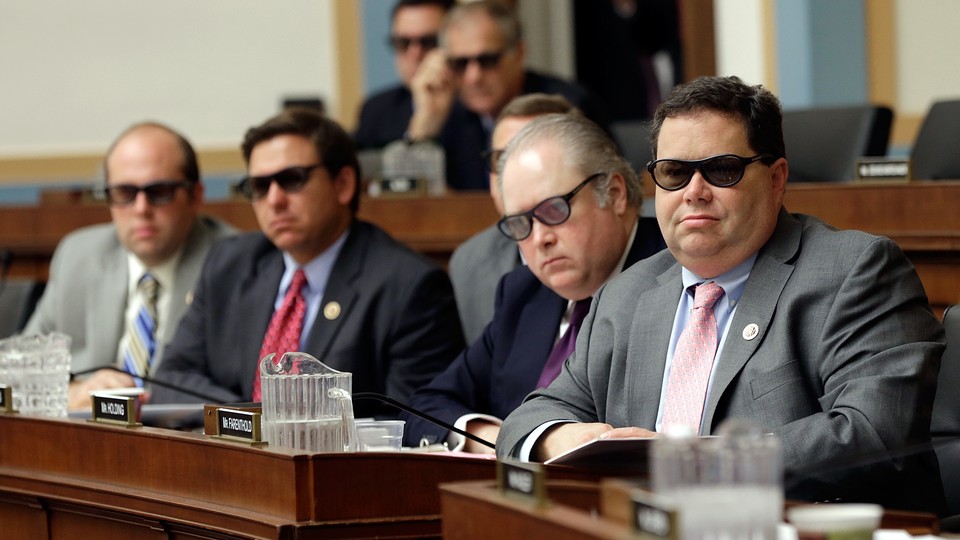 Rep. Blake Farenthold has formally denied allegations that his former communications director was sexually harassed and discriminated against, telling a court instead that she was fired for undue absences.
In a response filed on behalf of Farenthold in a D.C. federal court on Thursday, his office denied that he made sexually tinged comments to Lauren Greene, who worked for the Texas Republican from 2013 until the summer of 2014.
In a lawsuit filed late last year, Greene claimed she was fired after bringing attention to a pattern of discriminatory behavior. But the court filing on behalf of Farenthold's office claims that "she was terminated for poor performance and failure to report to work and appear for multiple media events" and "lied about the circumstances of her absence."
The answer to Greene's complaint denies "that Rep. Farenthold was 'attracted' to Plaintiff, that he had 'sexual fantasies' about Plaintiff, or that he had 'wet dreams' about Plaintiff." The document also states that although Farenthold did occasionally compliment Greene and others on their attire, he did not do so with any sexual undertones, and "denies that Rep. Farenthold stated 'either implicitly or explicitly' that Plaintiff appeared to have semen on her clothing, or that a 'reasonable person' would infer the same."
Instead, the answer notes that a staffer in Farenthold's office had to inform Greene that she was inappropriately dressed after she "reported to work in a shirt and bra that were made of such flimsy fabric that Plaintiff's nipples were visible, and that such attire was inappropriate for the Communications Director for a Member of Congress."
The office did admit, however, that Farenthold was once propositioned to engage in a threesome, but notes that the propositioner was not a lobbyist. It also states that staff in the office did occasionally joke about Farenthold's attraction to redheads.
In her suit, Greene is asking to be awarded back pay as well as financial compensation for economic and emotional damages she says she suffered at the hands of Farenthold, including "embarrassment, humiliation, loss of enjoyment of life, sleeplessness and feelings of depression and anxiety."