FAA Proposes New Rules for Commercial Drones
President Obama also released a memo that orders federal agencies to create drone policies that would protect citizens' privacy and civil liberties.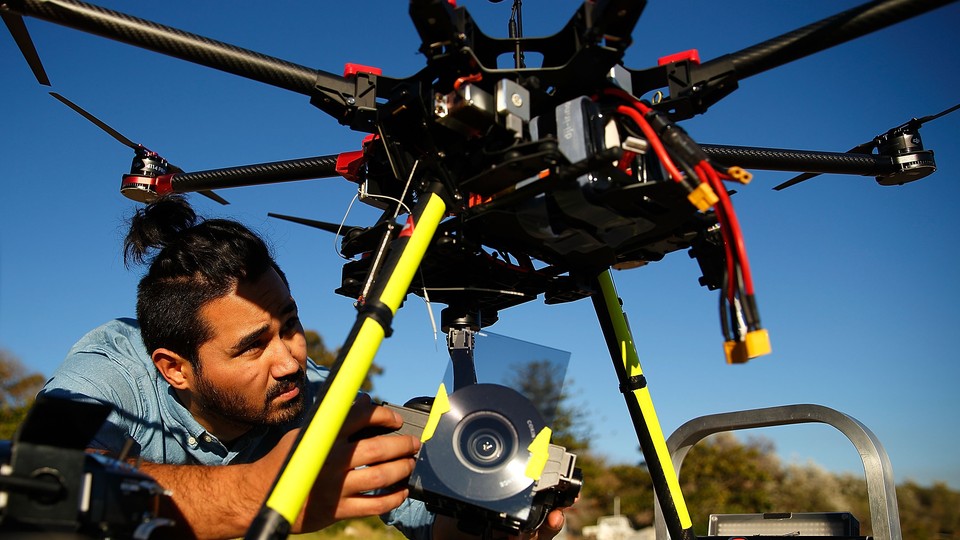 After months of delay, the Federal Aviation Administration on Sunday proposed a set of rules and regulations for flying commercial drones.
The rules, which would allow commercial users to fly drones that weigh less than 55 pounds, require operators to fly the devices within their sight during daylight hours only. The drones would have to stay within 500 feet of the ground and fly at speeds below 100 miles per hour, according to the regulations.
Officials had cited "significant technological barriers" to explain the delay in releasing the rules.
According to the proposed regulations, drone operators would have to be over 17 years old and would need to complete a test to obtain a certificate from the FAA before they could fly commercial drones. Operators would need to retake the test every two years to remain certified.
The proposal also says that drones cannot "drop" objects, perhaps taking aim at the idea of drone delivery services like one Amazon has put forward. The FAA's proposal also makes no mention of autonomous flight, without which drone delivery schemes likely cannot exist. But the proposal did mention the possibility of more flexible rules for a class of "micro" drones that weigh less than 4.4 pounds, which could allow for delivery by drone.
"We have tried to be flexible in writing these rules," FAA Administrator Michael Huerta said in a press release. "We want to maintain today's outstanding level of aviation safety without placing an undue regulatory burden on an emerging industry."
The public can comment on the proposed rules for 60 days, and the FAA plans to hold meetings to discuss the proposal before it's implemented.
"This proposed rule is a critical milestone in the UAS integration process, and one that is long overdue," said Brian Wynne, president of the Association for Unmanned Vehicle Systems International, a prominent drone lobby. "UAS technology has largely remained grounded while many prospective users wait for the regulatory framework to catch up."
UAS, which stands for "unmanned aircraft systems," is another term for drones.
Existing restrictions on commercial drone flights remain in place until the rules are finalized. That means commercial drone flights are still banned, except for a handful of organizations that applied for and received special exemptions from the FAA.
Only 28 companies have received permission to fly drones for uses as varied as industrial inspections, filming over closed movie sets, and even newsgathering.
Also on Sunday, President Obama sent a presidential memo to the heads of all federal agencies, ordering them to draw up and publish policies for drone use within a year. The memo outlined privacy and accountability protections that agencies would have to take into account as they create their policies.
The memo also ordered the Commerce Department to begin working on rules concerning "privacy, accountability, and transparency" for private and commercial drone users. The FAA regulations proposed Sunday only address safety.
Access, a nonprofit organization that focuses on technology and human rights issues, wrote in a blog post that "it is not yet clear that the rules will adequately account for the potential harms or benefits of commercial drone use. It will be critical for the multistakeholder process to be truly open and incorporative for the development of rights-respectful drone rules."
Sen. Edward Markey, an outspoken privacy advocate, said the FAA and White House did not go far enough with their rules. "While this proposal is a step towards ensuring Americans' safety and security are protected as drones take to the skies, it stops short of ensuring that the strongest safeguards are in place to protect privacy and promote transparency," the senator said in a statement.
Markey said he would reintroduce legislation that would make sure drones "cannot and will not be used to spy on Americans."
The American Civil Liberties Union echoed Markey's concerns in a Sunday statement. "This proposal is an important step in restricting how the government uses this powerful surveillance technology, but falls short of fully protecting the privacy of Americans," said Neema Singh Guliani, a legislative counsel with ACLU's Washington office. "For example, the proposal allows the use of data gathered by domestic drones for any 'authorized purpose,' which is not defined, leaving the door open to inappropriate drone use by federal agencies."
Congress first asked the FAA to develop regulations for small commercial drones in 2012, setting a September 2015 due date for completing a framework of drone rules. The Transportation Department earlier this month said the FAA is unlikely to finish its work by then.
The FAA's proposed rules for flying commercial drones were revealed briefly Saturday when the agency mistakenly posted an economic analysis online that referred to the regulations.
This article was updated to include statements from Sen. Edward Markey and the ACLU.