Emails Show Jeb Bush Sought to Boost Keystone XL's Predecessor
A 2006 email shows the then-Florida governor pledging to help an engineering company get faster action on an oil-sands pipeline from federal officials.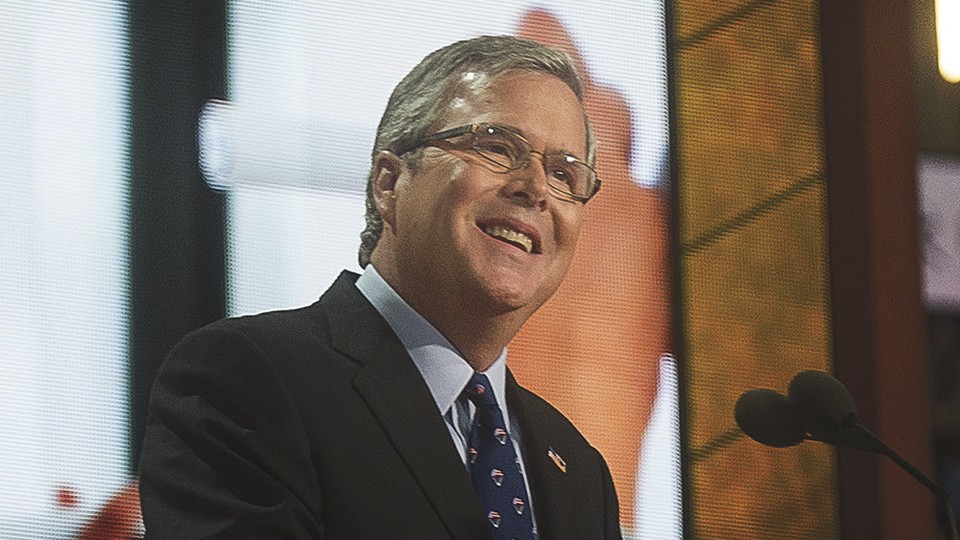 Jeb Bush, who is weighing a 2016 White House run, pledged to help get TransCanada's Keystone pipeline system going long before the final phase of the project became a high-profile battleground over climate change and energy security.
Newly released emails from Bush's time as Florida's governor include a 2006 exchange with an engineering company working on the first phase of TransCanada Corp.'s Keystone system, which brings crude from Alberta's oil sands to U.S. markets.
The official with the company Trow (which is now called Exp), in a July 12, 2006 email, complained that the State Department was dragging its feet on launching environmental review of a permit request for the pipeline filed in April of that year.
The Trow official, Mike Koski, emphasized that the project was bringing work to the company's Tallahassee office and that they hoped to bring more workers there.
"We have had numerous meetings with the DOS and have filed a presidential permit application and supporting Environmental Report to initiate the [National Environmental Policy Act] review. This was filed April 20th. To date there has been virtually no action from the DOS on the matter," he wrote in the message to Bush.
The same day, Bush replied: "I don't know how to get them to get moving but I will get our DC office to find out."
On July 21, Koski replied that Bush appeared to have gotten results.
Koski wrote back to Bush: "I don't know what you and your staff did, but after 2 months of trying everything we could do, the process seems to have started. We have a meeting with DOS Monday to initiate the [Environmental Impact Statement] process. Thank you!!" Koski added that he already thanked Bush's Washington, D.C. office.
Later that day Bush replied with one word: "Great!"
The Keystone messages are part of a massive trove of email correspondence from Bush's two terms as Florida governor, covering 1999 to 2007, that he released Tuesday.
The first phase of the Keystone pipeline system, which brings hundreds of thousands of barrels of oil each day from Alberta to refineries and terminals in Illinois and Oklahoma, was approved in 2008 and began operations in 2010.
But a separate phase of the project, a new pipeline called Keystone XL that would also bring oil-sands crude into the U.S., is still under Obama administration review. Exp has also worked on Keystone XL.
Keystone XL is at the heart of a huge, ongoing political and lobbying battle. Environmentalists are fighting the project, contending that adding hundreds of thousands of barrels per day in new pipeline capacity out of Alberta will hasten expanded development of carbon-intensive oil-sands projects.
Oil-industry groups and a number of unions contest the claims and are pushing hard for the project, which they say is a way to boost energy security and create jobs.