Democrats, United
Senate Democrats learn the value of sticking together and adjust to life in the minority.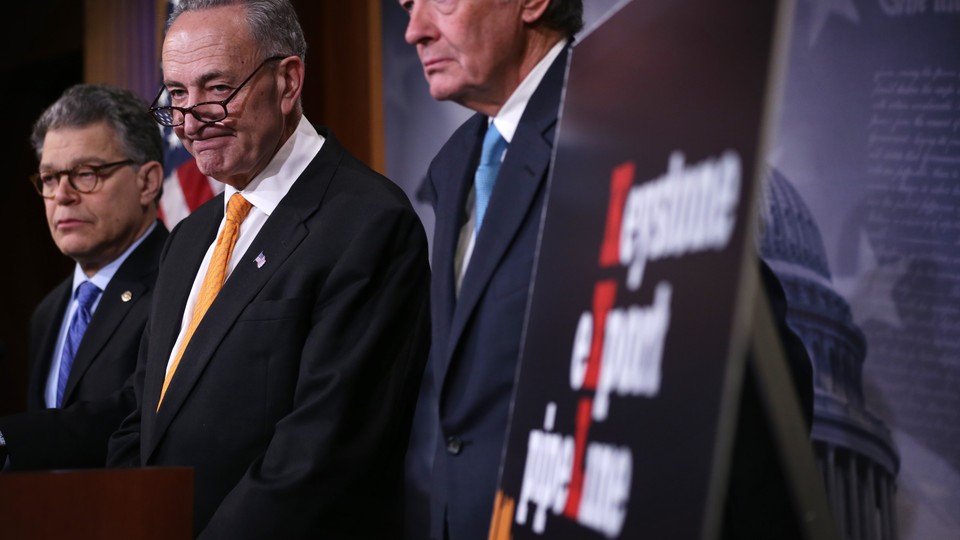 Senate Democrats are quickly learning how to make the most of life in the minority.
Democratic leaders knew they couldn't stop their colleagues from siding with Republicans to pass the bill approving the Keystone XL oil pipeline, but when new Majority Leader Mitch McConnell sought to cut off debate and amendments, the party came together.
With Minority Leader Harry Reid manning the phones from his Ritz-Carlton apartment, Democrats showed a united front and prevented McConnell from getting the 60 votes he needed and eventually secured votes on more amendments.
Nine Democrats ultimately voted for the Keystone bill, and it passed last Thursday. But with Republicans in the majority in both chambers, the outcome is almost less important than how the minority plays the game.
If they have any hope of influencing the legislative agenda this year, Democrats will have to follow the example of Keystone and stay united, especially on procedural votes, which often require 60 votes to pass and present the best opportunity to secure concessions from the GOP leadership.
"Democrats stuck together and said "¦ 'Whatever our views are on the specific amendments or the pipeline bill, we're going to protect our colleagues' right to offer amendments,'" said Sen. Chuck Schumer, the No. 3 Democrat. "So we're pretty proud and pleased with the way our caucus held together during this pipeline vote. I think it augurs well for the future."
This week, Democrats are preparing an all-out assault on the House-passed funding bill for the Homeland Security Department that includes language overturning President Obama's executive actions on immigration, including the Deferred Action for Childhood Arrivals program.
Minority Whip Dick Durbin said Democrats would use as many of the procedural tools available to the minority as they can to prevent the DHS funding from expiring, while ultimately killing the House immigration provisions. That could include taking full debate time on the bill, which will delay its passage and could keep members in Washington longer than they'd like to be next week. But ultimately, Democrats will not offer the 60 votes required to end debate on the bill, effectively killing it.
The irony, of course, is that while in the majority, Democrats complained about GOP filibusters and even used the so-called nuclear option to make it easier to approve President Obama's judicial and Cabinet nominees. Now that they're in the minority, the often arcane Senate procedures could become their friends.
McConnell called Democrats' decision to filibuster the Keystone bill "disappointing," reminding members that he had given them more amendments than he'd given Republicans and even "more amendments than all of last year combined."
Last year, Republicans were incensed when Reid wouldn't allow amendment votes on legislation in an effort to keep several at-risk Democrats from having to take painful votes. McConnell has promised regular order, allowing the minority to offer amendments of all stripes.
At the first opportunity, Democrats tested the new majority leader. Liberals sought to use the Keystone pipeline debate to force all sorts of potentially embarrassing votes on climate change and energy policy. Obama has promised to veto the pipeline legislation, making the symbolic measures Democrats were offering all the more important.
But it wasn't an easy sell to everyone, Durbin said. More than one-fifth of the caucus, largely red-state Democrats, wanted to see the Keystone bill passed quickly. Liberals didn't want to see it come to the floor at all. "Initially, the people who didn't want this bill on the floor were trying to dream up any way to stop and derail it," Durbin said.
Leadership convinced the Left that having the opportunity to add policy amendments -- including one that put Republicans on the record on climate change -- had more value than delaying the inevitable. "I think they decided it was better to go forward. And I think that was the right choice," Durbin said.
It should be somewhat easier for Democratic leaders to keep the club together with fewer red-state members around worried about taking tough votes or appearing to side with Reid and Obama. Mary Landrieu, Mark Pryor, and Kay Hagan are gone, and Democrats lost open-seat races in Montana and South Dakota.
Still, tensions in the party's conservative wing grew higher as the debate dragged on last week. The new minority faced its first real test Monday night, when McConnell pushed to end debate after tabling a series of Democratic amendments the week before and, Schumer noted last week, "not even letting venerated senators like [Patrick] Leahy or Jack Reed have a minute on the bill" for debate.
Leaders persuaded Sens. Thomas Carper, Robert Casey, and Jon Tester -- who eventually voted for the bill to allow the pipeline -- to stick with them on the procedural vote, handing McConnell the first failure of his tenure as leader. Most significantly for Democrats, they earned time to debate and vote on another dozen amendments from their members.
Tester said his vote against cloture early last week was mutually beneficial for his leadership who wanted to get more Democratic amendments on the bill and for supporters of Keystone like himself.
"I wanted more amendments to try to get more votes to get enough for a veto override. So that's why we did what we did. That's why I did what I did," Tester said.
Sen. Joe Manchin, D-W.Va., parted with his caucus to vote for cloture; it was, after all, his own bill. But Manchin didn't seem to be holding any grudges with his leadership for adding an extra week of debate time on the bill. "I understand they wanted amendments, and they wanted to make a point. They got more amendments [Thursday] and we're having more, and I think it's a good process," he said.
Durbin said it was significant that Democrats stuck together on strategy but only held up the bill as long as was necessary. After voting on a series of amendments Thursday, Democrats relinquished their floor time and allowed for final passage on the Keystone bill. "We decided we would not go to the extreme that Republicans did in the minority. We didn't enforce the 30-hour and 60-hour requirements. "¦ I'm very proud of our caucus. I think they handled their role in the minority in a very constructive way," Durbin said.
As he often has in the first month of this Congress, Durbin had words of praise for McConnell as well. Although he called the majority's attempt to table seven Democratic amendments the week before a "disaster," Durbin said, "At the end of the day, you know, we feel we were treated fairly. I do. I feel that Democrats who had their amendments had their chance. And we may not like the outcome on any amendment, but we can't argue with the process."
That process is likely to look drastically different this week, with Democrats refusing to play ball on the DHS bill. All 46 members (including both independents) signed a letter to McConnell last week pressing the majority to bring up a clean bill funding the department before current funding expires at the end of February.
"We're not going to play games on amendments, on immigration when our security's at stake. We have a pretty clear, unified stand in our caucus: pass the DHS bill, debate immigration at a separate time," Schumer said.
Asked whether Democrats would present a sufficiently united front to kill the House bill in the Senate, Schumer told reporters to watch what happens when McConnell tries to get 60 votes to move forward with the bill Tuesday. When asked to clarify, Schumer grinned, offering a typical Schumerism: "What do you think?"
---
Jason Plautz contributed to this article