Democrats to the Rescue: Congress Averts Shutdown for One More Week
Republicans could not muster support for the three-week bill and had to move a one-week measure instead.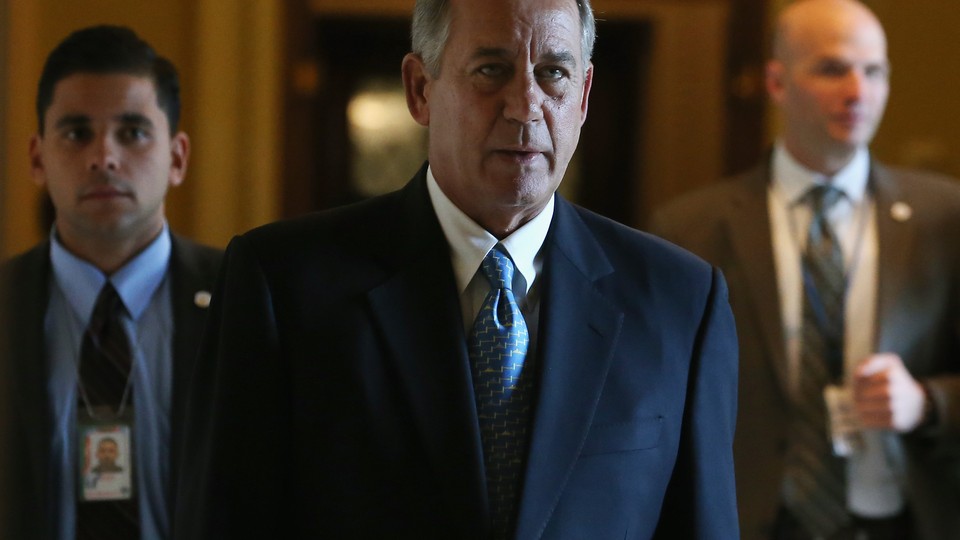 It was Democrats to the rescue—again.
A huge bipartisan coalition came together Friday night to approve a one-week funding bill for the Homeland Security Department, preventing a partial government shutdown with just a couple of hours to spare.
Nearly every House Democrat joined most Republicans to pass the measure 357-60 after GOP leaders failed to squeeze out a short-term victory earlier Friday when the chamber rejected a three-week funding bill amid fierce opposition from conservatives, who were angered that the bill didn't include provisions defunding President Obama's immigration executive orders.
Democrats now hope the chamber will get to vote by March 6 on the Senate-passed long-term clean DHS funding bill, though Republican leaders claim no promises have been made on that front. But Speaker John Boehner will still have to cope with fallout from his own GOP troops, who are furious that he has not been able to sufficiently battle back against Obama on a variety of fronts.
The dramatic 203-224 vote on the three-week bill, held open for several minutes to no avail, came after a day's worth of intense lobbying by the leadership of skeptical members across the conference, particularly in the end. In total, 52 Republicans joined all but a dozen Democrats in voting against the measure, which was supposed to go to the Senate so it could be approved later Friday. White House spokesman Josh Earnest indicated that Obama would sign it, even though he would still prefer a full-year clean bill of the type the Senate passed Friday morning.
Rep. Mike Simpson, a Boehner ally, suggested that the House could pass some version of the long-term Senate funding bill with the votes of "Democrats and a few of the adults" on the GOP side. That may well happen after the one-week funding measure was approved.
House Minority Leader Nancy Pelosi sent a letter to colleagues Friday night urging them to support the seven-day bill. "Your vote tonight will assure that we will vote for full funding next week," she wrote. Because the measure came up under suspension of the rules, two-thirds support was required to pass.
But Republicans quickly pushed back on the notion that they had struck an agreement with Democrats. "No such deal or promise was made," said Boehner spokesman Michael Steel.
Yet some Democrats certainly went to the floor believing there was a deal.
"I think what changed was there was a commitment given that if we passed the one-week extension that they would agree next week to bring up the Senate clean funding for DHS, so I believe there was an agreement that was made," said Rep. Janice Hahn. "We took [Republicans] at their word, so I hope it's true."
And a senior House Democratic aide, requesting anonymity to share internal discussions, said he was told both by Democratic leadership and the White House that Boehner had agreed privately to allow a clean funding bill next week.
Not every Democrat was convinced of the wisdom of Pelosi's strategy.
"She also assured Democrats who she whipped to vote no this afternoon that in the event of the failure of the three-week clean CR, Mr. Boehner would have 'no choice' but to bring up the Senate bill tonight. How'd that work out?" asked Rep. Gerry Connolly.
And a supposed deal, Connolly said, is "an awfully thin reed on which to decide to vote for a one-week extension after you whipped Democrats to vote against a three-week extension."
Just before 8:30 p.m. on Friday night, the Senate passed a one-week continuing resolution under unanimous consent. The move means that now that the CR has passed the House, the Senate automatically deems that it has passed in the upper chamber as well. With that, the Senate recessed for the week.
At an earlier meeting of the House Freedom Caucus, a new coalition representing the chamber's most conservative members, Rep. Raul Labrador said the group had made a legislative proposal to leadership. They suggested leaders put on the House floor the same three-week CR, but with a provision mandating that it expires in a week if the Senate refuses a conference committee.
Even a win for House GOP leaders may be fleeting, as they and their Senate counterparts will have to find a lengthier DHS funding solution that can clear both chambers by March 6, the new-and-improved shutdown deadline. House conservatives are insistent on blocking Obama's immigration policies, but Senate Democrats say they won't give the necessary 60 votes to anything but a clean funding bill.
Republican leaders' search for votes for the DHS bill became serious enough that they decided to scratch from Friday's schedule the other bill set to be considered—a rewrite of the No Child Left Behind education measure. It also was proving to be a tough sell within the GOP conference: Conservatives objected to reauthorizing a large federal program, while state interests were putting significant pressure on members, particularly those from Florida, New Jersey, and New York.
Though members were cautiously optimistic about the DHS measure coming out of a conference meeting Thursday night, the long delay portended trouble for the stopgap bill. Leaders knew they'd lose a sizable contingent of conservatives, who believe that Obama's executive action on immigration has plunged the nation into a constitutional crisis and who refuse to vote for any measure funding the agency tasked with implementing the action.
"I don't know how I go home and tell people that the outcome would have been different if Harry Reid had still been in charge" of the Senate, complained Rep. Mick Mulvaney.
And Rep. Steve Pearce said he was angry at the way the entire week was handled, as the House had to act at the very last minute.
"This is a protest vote on the way the whole thing is working," Pearce said. "This is not a way to govern."
But lawmakers aligned with leadership were frustrated by the conservatives' move.
"They're caving into Obama's recklessness by not showing they know how to tactically get three more weeks to continue the fight. "¦ You can't say you want to fight and not understand tactically how to fight," said Rep. Devin Nunes, another close Boehner ally.
A larger circle of disillusioned members—including some centrists—emerged as well, and leadership sources found the target number of votes to pass the bill elusive. Democrats did not make the task any easier for their GOP counterparts.
If House Republicans couldn't pass a short-term funding bill for the Homeland Security Department, Democrats thought they'd have the leverage to force Boehner to fund the agency for the full year. The problem: Their plan relied on the logic of the House Republicans whose judgment they've questioned all week.
House Minority Leader Nancy Pelosi told her members to vote against Republicans' three-week bill to fund DHS, a rare step to oppose a "clean" shutdown-aversion measure. That's because the Senate has passed a full-year funding bill—one Democrats much prefer—and Pelosi thought Boehner would be forced to take up the Senate bill if his short-term CR went down. "If this were to fail, they would have no choice but to take up the Senate bill," she said in her Friday press conference.
Passage of the long-term bill would come with largely Democratic votes, and the ire of much of Boehner's caucus.
Rep. Steve Israel said every one of his fellow Democrats would help GOP leaders pass the Senate's long-term funding bill. "We have consistently bailed them out," Israel said.
But Democrats were convinced that the speaker can't afford to let the agency shut down, and they put that theory to the test. "If the [CR] goes down here, I think there will be great pressure and justification for Speaker Boehner saying to his people, 'We tried and it went down, and we're now going to pass [the Senate] bill,' " House Minority Whip Steny Hoyer said in an interview.
Before the Democratic whip operation sprung into action, members sounded torn on whether to support the bill. "I don't want to see it shut down, but I think that running the Department of Homeland Security for two months, three weeks at a time is absolutely irresponsible," said Democratic Rep. Cedric Richmond. "Teachers do lesson plans longer than that."
Across the Capitol, Sen. Chuck Schumer had some simple advice for the GOP.
"The vote this afternoon means only one thing: Speaker Boehner, follow Leader McConnell and put the Senate bill on the floor now. It will pass and DHS will not shut down," Schumer said.
Senate Republicans, meanwhile, were largely unwilling Thursday to criticize the House's strategy, but establishment members and conservatives alike acknowledged that it is unlikely to get them anywhere. Sen. Kelly Ayotte of New Hampshire called the three-week CR "delaying the inevitable."
Sen. Ted Cruz said he is hopeful that the standoff will work out in conservatives' favor, but warned that the party's strategy since December has been one that was always "doomed to failure."
"In funding virtually the entirety of the federal government [in December], leadership deliberately gave away virtually all of our leverage, putting us into a box canyon where the predictable result was what just happened: leadership caving, joining with Harry Reid and Obama and giving in entirely. That was a mistake. We shouldn't have given up the leverage in the first place," Cruz said, adding that he "eagerly await[s] leadership's next steps".
Senate Republicans praised the idea of a conference, bringing members of both parties from the House and Senate into a room to discuss the issue, "rather than having this ping-pong back-and-forth," as Senate Majority Conference chairman John Thune put it.
But Senate Democrats have said they will not give the majority the six votes they need to get into a conference. Now that the Senate has passed a clean bill, the Democratic thinking goes, the only purpose of a conference would be to fill it up with poison-pill amendments. Democrats could filibuster whatever the conference reports out, but not amend the deal—meaning that if Republicans are successful in adding immigration provisions to the DHS bill in conference, Democrats couldn't get back to a clean bill. All they could do is shut down DHS.
The Senate will return to Washington at 5:30 on Monday to vote on cloture to proceed to a conference with the House. With 60 votes needed and Democrats balking, that measure is expected to fail.
Thune said he's hopeful that pressure will build on Democrats to accept a conference deal from the House. "They're clearly trying to make this as difficult as possible. It's hard to figure how they can depend on not going to conference with the House because that's the way the whole process is designed to work. ... The House will obviously call for a conference and we'll see what Senate Democrats decide to do."
But Democrats proved over the last several weeks that they won't budge on passing anything but a clean bill, ultimately forcing Senate Republican leadership to cave on the issue. And they don't seem to be showing any signs of movement now.
---
Rachel Roubein contributed to this article