Democrats Say a Short-Term DHS Bill Would Be Terrible. They May Vote for It Anyway.
Despite the dire consequences of a stopgap funding measure, it would be hard for Democrats to oppose.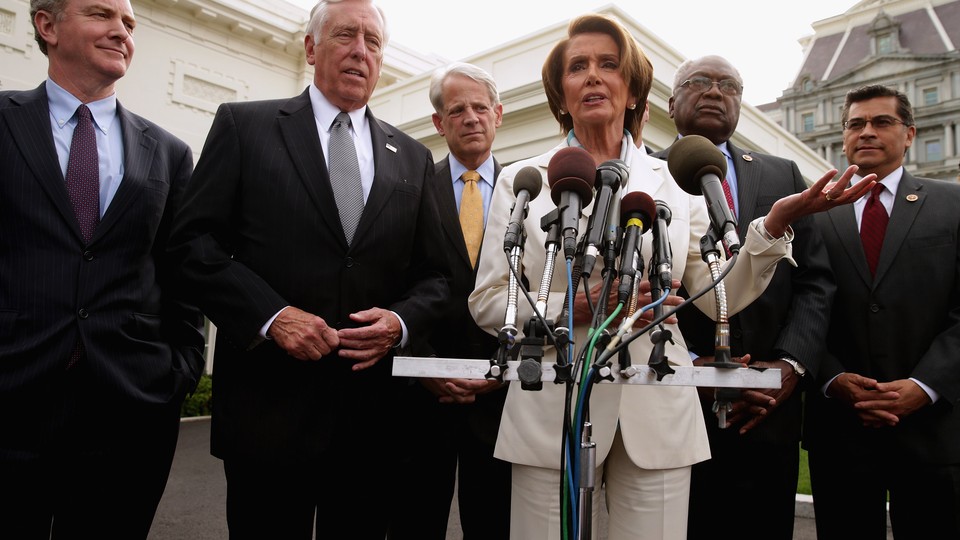 For weeks, Democrats in Washington have warned that any short-term funding measure to keep the Homeland Security Department open would be irresponsible—and even dangerous. But they may well vote for it anyway.
With just days until the agency's funding expires, some lawmakers have privately floated a short-term continuing resolution as a means of averting an immediate shutdown while keeping the debate alive.
And if that measure comes up for a vote, it will likely get the Democratic support it needs to pass, according to a senior House Democratic aide who requested anonymity to discuss party strategy. The aide characterized a CR as "consistent" with the minority's message of passing "clean" funding—minus the polarizing immigration plans the GOP has sought to include.
"It would be a complete cave on the Republicans side. Any clean funding would be," the aide said. "When Republicans completely cave like that, it would be very hard to not validate that caving by voting for it."
The idea of a short-term clean DHS funding bill has gained some credence in the wake of a federal judge's recent move to halt President Obama's efforts to defer deportation for millions of undocumented immigrants. It may have become even more likely Monday night, when Senate Majority Leader Mitch McConnell announced he would move a separate bill to defund Obama's orders in his chamber.
It's not that the short-term funding plan has many fans on the Democratic side of the aisle. Leaders, rank-and-file members and even Cabinet officials have warned that using a CR as an escape hatch would not be without consequences. Such a bill, whether it stretched for weeks or months, would preserve DHS funding at existing levels, while prolonging uncertainty within the agency over whether a shutdown is imminent.
"This is not a question of just, 'a CR is harmless,'" House Minority Whip Steny Hoyer said earlier this month. "It will impede effective things that the Department of Homeland Security needs to do to keep America secure. "¦ A CR would not be a way that responsibly this ought to be handled. The Republicans, if they make such a deal, it will be a very cynical deal which undermines the security of America."
Meanwhile, Homeland Security Department Secretary Jeh Johnson has issued a series of statements outlining the programs that would be put on hold if Congress funds the agency with a CR instead of a full-year bill. "As long as DHS is funded by a CR, there are a whole series of activities vital to homeland security and public safety that cannot be undertaken," he said.
But despite those qualms, Democrats may not get the chance to vote on an alternative. "I think we're going to have a CR," Rep. Henry Cuellar said in an interview last week. "I think that's going to be the endgame, unfortunately."
If and when the GOP resorts to that option, Democrats will at least be able to say they protected Obama's immigration order from being rolled back as part of the agency's funding.
Left unsaid is that Democrats have spent the past few months claiming that a DHS shutdown would make the country vulnerable to terrorist attacks, so voting against a bill that would avert that shutdown—even if only briefly—would be a risky political move.
Asked earlier this month about the possibility of a CR, House Minority Leader Nancy Pelosi declined to give her position, instead questioning why Republicans would resort to such a tactic. "You're asking if I could support a CR; I don't know what the CR is," she said. "But if it preserves the president's prerogatives and funds Homeland Security, why are they going that route?"
While Democrats may claim incredulity at the GOP's strategy, they see political advantages emerging for themselves. "Even though [a CR] does have an awful impact, it does have the additional benefit of putting them in another bad place at another date certain," said the senior Democratic aide.
That's because Democrats believe the public will blame Republicans if and when the funding fight comes to a head, as it did during the 2013 government shutdown. Under that mindset, allowing the debate to rage again when the CR nears its expiration date forces the GOP to again confront a politically damaging issue.
"History would tell us that Republicans would get more blame than Democrats," Cuellar said. "The Democratic message is going to be the winning one.