Democrats' Mississippi Dilemma: Great Candidates Who Refuse to Run
The party's brightest lights are passing on the state's biggest races.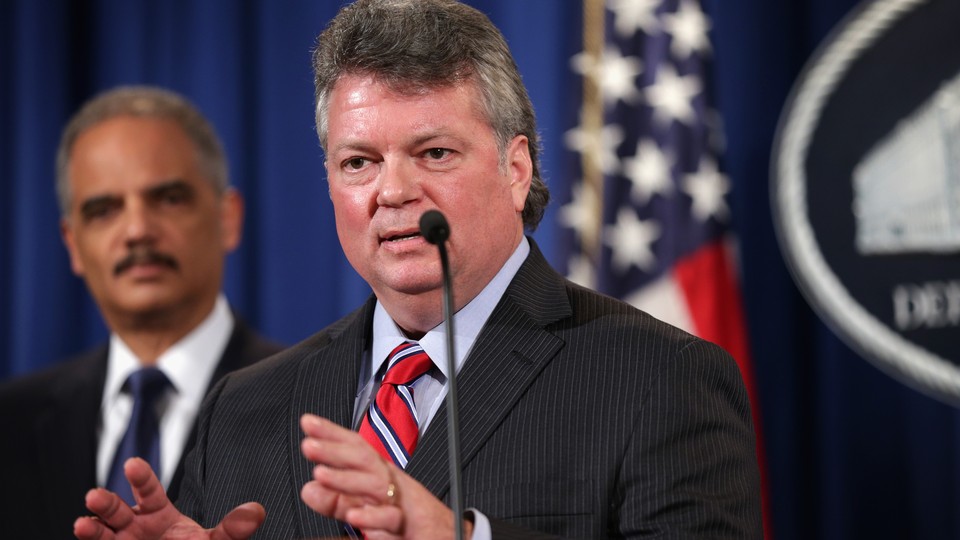 Democrats have been decimated in the Deep South, having lost control of nearly every legislative chamber and statewide office—and falling even deeper after the last two midterm elections saw the Dixiecrats obliterated and Republicans cementing states like Alabama, Georgia, and South Carolina as seemingly impenetrable GOP strongholds.
But Mississippi is different. The state's Democrats have an unusually strong bench of potential candidates—including the party's only statewide elected official in that region, a sizable minority in the state house, and a cadre of midsized-city mayors. "We're not at the numeric disadvantage that some of our fellow Southern Democrats are," said state Democratic Party Chairman Rickey Cole.
But for now, the party's stars are unwilling to risk running in the state's biggest race: the governor's election that will take place this November. The party had two strong, potential challengers to Republican Gov. Phil Bryant: Attorney General Jim Hood and Public Commissioner Brandon Presley. But both declined to challenge Bryant and are instead running for reelection to their current jobs.
Ultimately, the unfriendly landscape in Mississippi may have dissuaded the party's top-tier prospects. Republicans have held the governor's mansion since 2003, and the state has favored the Republican presidential nominee by at least 10 points in every White House race since 2004.
Nevertheless, both would have made formidable candidates. Hood won 61 percent of the state's support in his 2011 run for reelection. And since 2003, during his first successful run for attorney general, he has raised over $5 million, according to the National Institute on Money in State Politics.
But Hood says he is not looking to make the leap to higher office. His plans before deciding to seek reelection? "I was going to retire," he told National Journal, saying he's only running again because of "unfinished business" and ongoing litigation with power companies and Google.
Presley also burnishes strong credentials. He represents the northern third of the state, a territory split between the solidly Democratic (and majority-minority) northwest and the more Republican and white northeast. He has reportedly raised over half a million dollars ($182,000 of that from his own pocket) during his political career. But he declined to run either for governor or the open congressional seat following Rep. Alan Nunnelee's death. "I believe that public officials should strive to do the best job they can where they are," Presley said, "and if doors open in the future, they open, but we'll see where that goes."
With the party's preferred picks opting out, Vicki Slater, a trial attorney from the Jackson suburbs, is now the front-runner to be the Democratic nominee for governor. Democrats tout her ability to fundraise (and donate to) other candidates; she has given at least $215,000 to political campaigns and groups since 2002, according to records compiled by the Federal Election Commission and the National Institute on Money in State Politics. But she has never held public office or even campaigned before. The closest Slater came was in 2012, when she toyed with challenging Republican Rep. Gregg Harper before backing out.
As frustrating as it is for the state's Democrats to see their brightest lights pass on their biggest races, the state party's position is preferable to its peers in the region—who largely lack viable statewide candidates to begin with. So how have Mississippi Democrats kept a strong crop when their neighbors couldn't?
For one, Mississippi has the largest black minority of any U.S. state, with African Americans making up 37 percent of the population. That bloc has helped elect Democrats in local jurisdictions and in Bennie Thompson's black-majority congressional district. "One of the things that makes local government different ... is that politics break down racially," said Parker Wiseman, the Democratic mayor of Starkville, a town with a similar demographic makeup to the rest of the state.
Additionally, Democrats' current state-office exile is relatively recent; they lost the state House in 2011 by a narrow margin. Hood has been able to hold firm against repeated Republican waves using the power of incumbency and a significant fundraising advantage.
And finally, some candidates have successfully untied themselves from the national party.
Their message succeeds even in deeply Republican homes because they focus on local issues and service to their constituents, the Democrats say. Hood has developed a reputation as a fighter for the little guy, taking on everything from tech giants to the Ku Klux Klan. And Presley has bipartisan appeal as a hard worker who genuinely enjoys getting into the weeds on consumer-protection issues.
"You don't have to talk about Washington, D.C.," said Ronnie Musgrove, the last Democratic governor of the state. "You can talk about Washington County, Mississippi. You can talk about Washington, Mississippi, in Adams County. You talk about our local schools and our local communities. "¦ You just talk about what's happening in Mississippi."
But even as they distance themselves from national Democratic figures, the state party is looking for help from the national party apparatus, with some members saying they aren't getting the support they need. If Washington helped local Mississippi Democrats, they'd be able to launch statewide bids. But Democrats in D.C. likely won't be interested in sinking money into a losing contest; this creates a sort of "chicken-and-the-egg conundrum that Mississippi Democrats cannot escape at the moment," according to University of Mississippi political science professor Marvin King. (A spokesman for the Democratic National Committee declined to comment.)
In order to get those candidates to risk higher-office runs, party members say it's also critical that Democrats retake the state legislature.
State Rep. David Baria, a Democrat involved in recruiting, said they'd found 15 "quality candidates—not just a warm body"—for their 17 state House targets.
The lack of safe seats in the legislature for Democrats may be part of the reason it's difficult to entice lawmakers to leave their current jobs and risk being left out of office altogether, according to South Forward Executive Director Jay Parmley, a former Mississippi staffer for the Democratic National Committee under Howard Dean.
"I think for a while, until they regain the majority ..., you will see statewide candidates come from nontraditional routes," Parmley said. "Yes, there's a bench, but gone are the days where you had so many Democrats in the state where you kind of could all play musical chairs and know that if five legislators ran for governor, those legislative seats would be perfectly safe and fine."
Correction: This story originally misidentified Parmley's organizational affiliation. He's executive director of South Forward.