Democrats: Boehner Promised Us a Vote on a Clean DHS Bill Next Week
Deal or no deal, House leadership will be tested next week.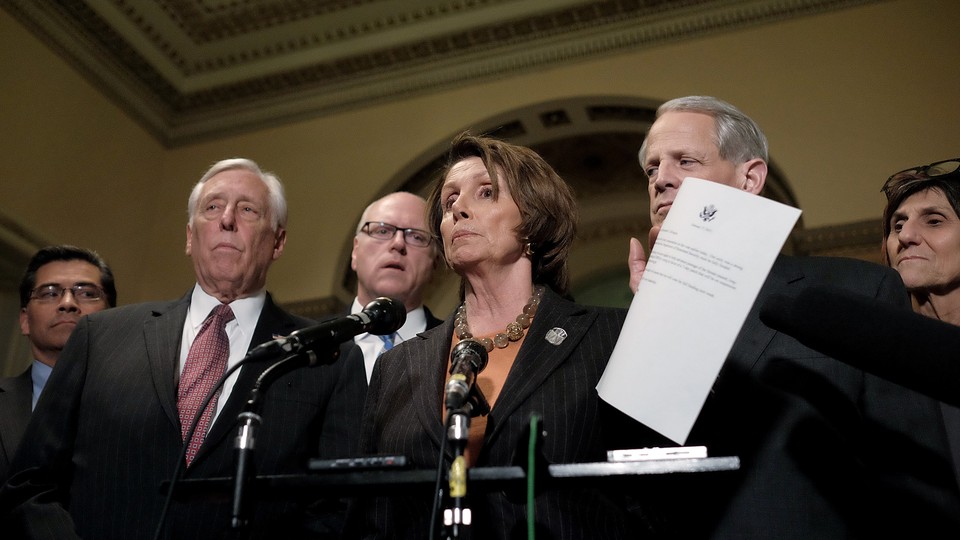 House conservatives were told a shutdown-averting vote last night bought them a week reprieve to strategize a new fight against President Obama's immigration orders. Democrats believe they've been promised a vote on a full-year funding bill by next Friday.
A week from now, one of those groups is going to be very disappointed—and likely irate at the deception of its own leadership.
House Democrats voted en masse Friday for a one-week continuing resolution to fund the Homeland Security Department, just hours after banding together to kill a three-week funding measure. Their votes switched at the urging of House Minority Leader Nancy Pelosi, who told members they would soon get a vote on the Senate-passed full funding bill.
"Your vote tonight will assure that we will vote for full funding next week," she wrote in a letter to colleagues. Just what is behind that assurance was left unsaid, but Democrats believe Pelosi extracted a promise from House Speaker John Boehner for a vote on full funding next week.
"I think what changed was there was a commitment given that if we passed the one-week extension, they would agree next week to bring up the Senate clean funding for DHS, so I believe there was an agreement that was made," said Democratic Rep. Janice Hahn. "We took [Republicans] at their word, so I hope it's true."
Multiple Democratic aides confirmed leadership had promised their bosses a vote on the Senate-passed full funding bill next week. Two senior Democratic staffers added that they had heard from both caucus leadership and the White House that Boehner had given them an agreement to allow that vote to take place.
Pelosi's office would not confirm or deny a deal with Boehner.
Reports of such an agreement were vehemently denied by the speaker's office. "No such deal or promise was made," said Boehner spokesman Michael Steel. Of course, confirming an arrangement to give Democrats the clean vote they want would surely draw outrage from Boehner's right flank.
Whether one leader is lying to their caucus or the two misunderstood each other, their respective caucuses went to vote Friday with vastly different ideas of what the next week would hold.
Even Democrats who were tight-lipped about whether Pelosi had told them of a deal said they had read—and believed—reports of the arrangement. Rep. Anna Eshoo, a Pelosi ally, was among many in the caucus who said the minority leader would not have switched course on short-term funding without earning the best deal she could. "This wouldn't have been accepted if that wasn't going to be the case," she said.
Still, Pelosi's strategy was not completely without Democratic skeptics. "She also assured Democrats who she whipped to vote no this afternoon that, in the event of the failure of the three-week clean [continuing resolution], Mr. Boehner would have 'no choice' but to bring up the Senate bill tonight. How'd that work out?" said Rep. Gerry Connolly. He called the promised deal "an awfully thin reed on which to decide to vote for a one-week extension after you whipped Democrats to vote against a three-week extension."
Meanwhile, Republicans, who have surely read those same reports, will be closely watching Boehner to see if he indeed brings a full bill to the floor. They were told the one-week extension would buy them time to force a conference with the Senate on the full-year funding bill, which they could then use to push for riders that would undermine Obama's immigration orders. Senate Minority Leader Harry Reid has already said his caucus will block any such efforts.
If the conference is indeed blocked and the House votes on full funding, it will surely provoke outrage from conservatives who believe Boehner's plan was to cave all along. Even Friday, 55 Republicans voted against the one-week measure, with many saying any "clean" funding that does not fight Obama on immigration is a concession they could not make.
And while the GOP's distrust of its leadership is well-documented, it's less clear what will happen if next week comes and goes without a vote on full funding. Democrats took a tough vote to block a three-week funding bill, only to turn around and approve the shorter plan. Members believed they were getting the vote they wanted in return, and if that doesn't materialize, they will be looking for answers. Whether they'll conclude Boehner lied to Pelosi—or that Pelosi misled them—is an open question, and one they're hoping won't have to be answered.
---
Daniel Newhauser and Rachel Roubein contributed to this article