Democrats Anointing Their Favorite Front-Runners
From Hillary Clinton to the key 2016 Senate races, Democrats are developing a reputation for clearing fields for their preferred candidates.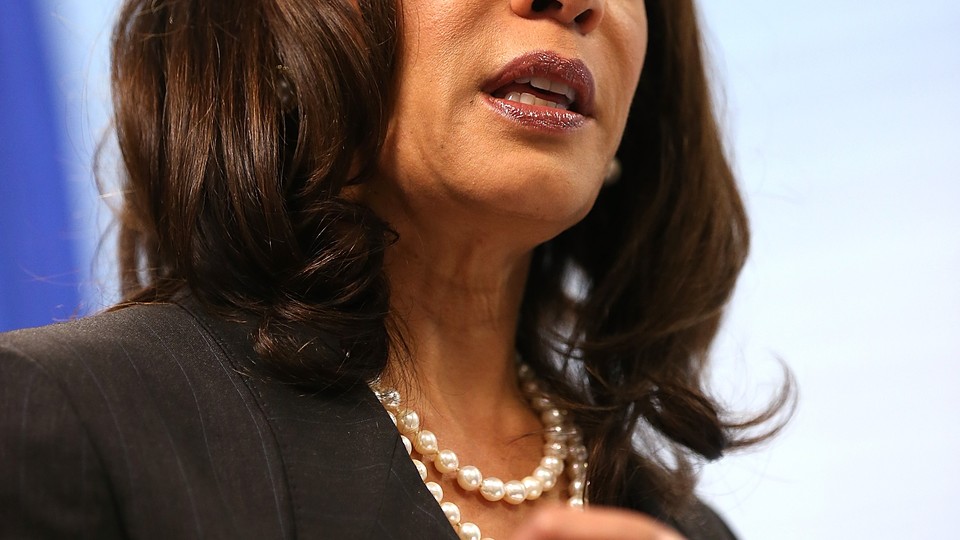 California was poised to host a major fight within the Democratic Party after Sen. Barbara Boxer announced she would retire at the end of her term. But in a state brimming with charismatic Democrats, Antonio Villaraigosa's unexpected decision to forgo a campaign means Kamala Harris may be on track to win her party's support without a serious challenge.
That should no longer be surprising. Nationally, Democrats like to talk about themselves as an unruly family that rarely agrees on anything. But in recent elections, the party has forcefully united behind a single candidate and left possible challengers to either drop out or become irrelevant. Truly competitive primaries for top offices have become a thing of the past. Hillary Clinton isn't the only prominent Democrat to avoid a serious primary; most of their down-ballot favorites are locking up pivotal nominations, as well.
In last year's Senate races, for instance, Democratic Senate candidates dodged major primaries everywhere except a parochial fight in Hawaii. Democrats are ready to repeat the trick next year: Harris has a free pass in California, and after Ted Strickland's announcement Wednesday that he's running for the Senate, most Ohio Democrats expect his younger opponent to step aside and take one for the team. And there's no better example of Democrats avoiding an intraparty battle than in their presidential primary, where despite misgivings about her hawkish viewpoint and close ties to Wall Street, Clinton is poised to escape a serious challenge from her left.
It's a far cry from the Republican Party, which has become accustomed to rough-and-tumble primaries—even against entrenched incumbents. Understanding why Democrats are so different has become a subject of debate within both parties, with explanations ranging from differences among rank-and-file voters to which side has the presidency.
"Primaries have an ebb and flow to them," said Charles Chamberlain, executive director of the liberal group Democracy for America. "There tends to be more primaries form both parties when you're out of power, and Democrats have controlled the White House and up until recently controlling the Senate."
Democrats cite the fact that they hold the presidency—at least for now—as a pivotal reason for dodging primaries. But the biggest difference among Republicans and Democrats might be the temperament of their voters. Polls show that the GOP's restive tea-party wing simply doesn't trust its congressional leaders and, by extension, the candidates they try to anoint in Senate and House races.
Democrats feel differently. A survey from the Pew Research Center in 2013 found that, by a nearly 2-to-1 margin, they approve of their party's leadership in Congress. Among Republicans, 51 percent said they didn't trust their leaders on Capitol Hill.
The difference manifests itself with how each party's political committee conduct themselves, with GOP groups like the National Republican Congressional Committee and the National Republican Senatorial Committee often forced to offer their support secretly or tacitly because an outright endorsement could backfire. Democratic leaders can afford to be much more muscular.
"Leader [Harry] Reid and Sen. [Chuck] Schumer should be given a lot of credit for keeping a diverse caucus," said Paul Tencher, now-Sen. Gary Peters's campaign manager in last year's Michigan Senate race. "They actively protect moderate senators from left-leaning fires by having direct conversations about the need for flexibility for these important members in the middle with progressive heavyweights."
Peters ran uncontested for the Democratic nomination after Sen. Carl Levin announced his retirement in 2013. In a GOP primary, that would mean passing muster with groups like the conservative Club for Growth—an independent-spending organization that puts big money behind conservative challengers to certain establishment-backed Republicans.
Groups like that exist among liberals, including Chamberlain's DFA. But they lack the same financial firepower and, consequently, clout within primaries.
"From a tactics standpoint, it seems to be that many of the groups on the left are much better at distributing bumper stickers and yard signs and bragging about grassroots supporters than they are about buying TV ads that end up making the difference in any high-profile races," said Barney Keller, a former spokesman for the Club for Growth.
But groups like the DFA also often find that they also like candidates who have the backing of establishment groups in Washington. Harris's speedy anointment for the Senate race in California doesn't bother the DFA's Chamberlain, who called her "fantastic." Harris, the state's biracial and telegenic attorney general, has received encouragement from the Democratic Senatorial Campaign Committee and Elizabeth Warren alike.
The party's populist wing has made a lot of noise about challenging the establishment, but to those inside the movement, the differences between them and the party's establishment are much smaller than those between conservatives and the GOP power brokers.
"Democrats have a much greater understanding of what it takes to govern," said Chamberlain. "We're way more pragmatic and have a greater understanding that reasonable compromise can be best way to move America forward."
What some see as a willingness to compromise, however, others regard as a fealty to the powers running the party.
"Today's Democratic Party is a top-down machine run by the very elite," said Brad Todd, a veteran GOP strategist. "They all take orders from headquarters and shut up when they are told to be quiet. It is a far cry from the Democratic Party of the '60s and '70s that thought primaries were healthy and that voters deserved choices."
Of course, Democrats don't avoid primaries entirely. Just this week, Chicago Mayor Rahm Emanuel failed to avoid a runoff against an underfunded but outspokenly progressive liberal opponent. Primaries in Senate races were once common: In 2006, Sen. Joe Lieberman won his election as an independent after losing the primary to the more-liberal Ned Lamont. Chamberlain said that in Florida, liberals could rally behind a possible candidacy of firebrand Rep. Alan Grayson against the centrist Rep. Patrick Murphy in a Democratic primary during the state's Senate race. If the party were to lose the White House in 2016, many of its strategists suggest they could become far more common once again.
"This is a snapshot in time in which there aren't currently a lot of primaries on the Democratic side," said Matt Canter, a former deputy executive director of the DSCC. "I would recommend caution in over-reading that, because I think primaries do come and they do go."
Scott Bland contributed to this report.