Another Philadelphia Convention
The City of Brotherly Love beat out Brooklyn and Columbus, Ohio, to host the Democrats in 2016.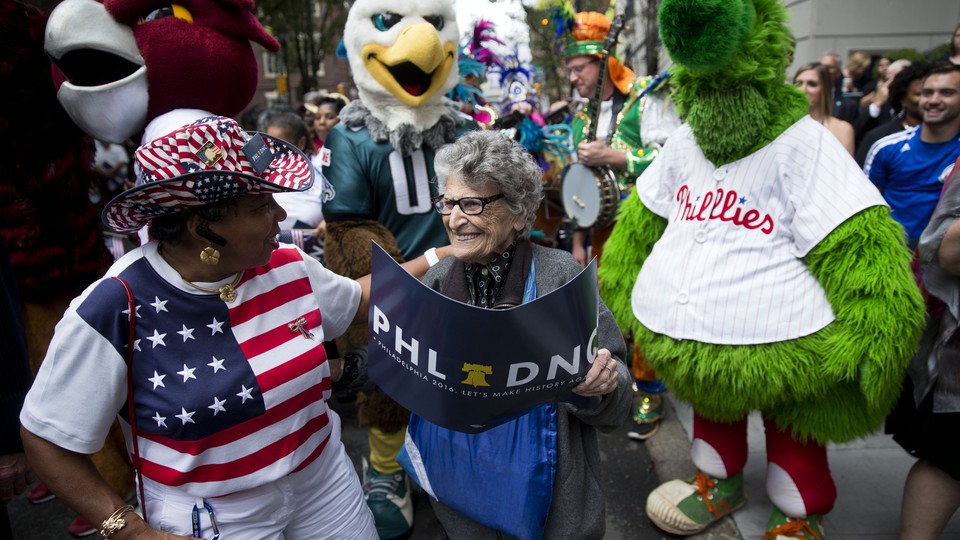 Democrats flirted with Brooklyn, but in picking a city to host their 2016 presidential nominating convention, they settled on a more, well, conventional choice: Philadelphia.
The Democratic National Committee on Thursday announced that the City of Brotherly Love had beaten out New York and Columbus, Ohio, in the quadrennial competition. In selecting Philly, the party went with a city that has hosted presidential nominating conventions six times since 1900, including the Republican National Convention in 2000.
It was a safe choice all around. While New York City had offered to host the convention at the relatively new Barclays Center in Brooklyn and show off the borough's revival over the last decade, there were concerns that Brooklyn's embodiment of urban cool—with its skinny ties and bearded hipsters—was a little too quirky for the rest of America. And the national party may have been leery of linking itself too closely with the city's proudly liberal mayor, Bill de Blasio, especially amid his clashes with police officers and lingering racial tensions. Democrats also passed on the possibility of a home-state coronation for Hillary Clinton, the former New York senator who could grab the party's nomination 24 years after her husband accepted it in Madison Square Garden.
Choosing Columbus would have sent Democrats to the same battleground state that is hosting the Republican National Convention. It would have been a unique acknowledgment of Ohio's all-important status in the Electoral College to have both Cleveland and Columbus in the national spotlight, but the latter didn't appear to have much more in the way of additional symbolism going for it.
Philadelphia, of course, has an easy story to tell as the cradle of American democracy, and while Pennsylvania has gone reliably Democratic in recent presidential elections, it's a competitive state that Republicans hope to swipe every four years. Debbie Wasserman Schultz, the Democratic Party chairwoman, cited the city's commitment to a "seamless and safe convention," and it seemed that was the priority for 2016.