Conservative Groups Won't Budge In Their Opposition to a Clean DHS Funding Bill
If Democrats push GOP leaders into a clean bill to keep DHS from shutting down this week, outside conservative groups fear it will be a long two years.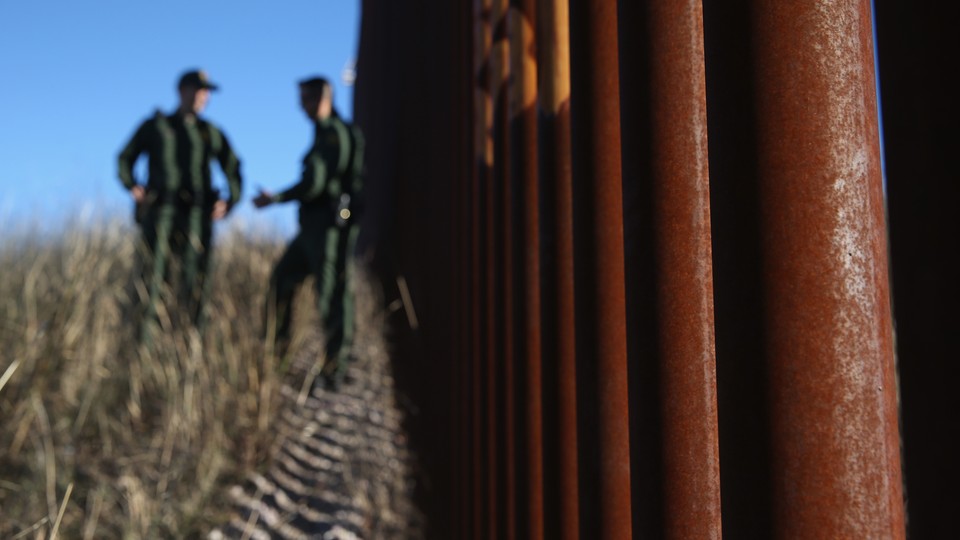 Time is running out to keep the Homeland Security Department open for business. If Senate Democrats continue to stand united against a bill that funds the agency but blocks Obama's executive action on immigration, Republicans have two choices: They can stay the course at the risk of a DHS shut down or fold to Democrats' demands and pass—at the very least—a short-term, clean funding bill.
With less than a week left before the money to operate DHS runs out, however, outside conservative groups contend that caving to the Democratic minority in the first two months of majority reign could have far more dire consequences for the GOP's congressional power than a partial government shutdown ever could.
"It's about more than immigration," says Dan Holler, a spokesman for Heritage Action for America, a conservative grassroots group that tracks members' voting records. "They are locked into this position ... If Sen. [Mitch] McConnell reverses course and pulls this bill, without forcing the Democrats to get on it, that is going to embolden Senate Democrats to hold out constantly on every single bill."
Not blinking first, he contends, is the only way Republicans can display dominance to Democrats in the new Senate. And last week's decision by a Texas judge to halt Obama's November action that would shield up to five million immigrants from deportation isn't changing that calculus.
With the Obama administration fighting for the immigration order in courts, Republican leaders could argue that it's now more important to fund DHS and move forward with a clean bill. But a clean bill, no matter the circumstances, likely will be met with strong opposition from conservatives.
"Nobody in the Republican Conference has faith in the court system," Holler says. "The individual mandate is proof, and it is seared into their minds."
Heritage Action for America has not decided whether it would negatively score members for voting for a clean DHS funding bill if Republican leaders bring it up, but Holler says his group stands firmly against the bill.
Senate Conservatives—a group that does not officially score members on votes, but has been a major player in ensuring candidates toe the conservative line or face primary challenges—also has been supportive of tying the unraveling of Obama's executive action to DHS funding and does not want to see McConnell back down now.
"The president's action was unlawful and Congress has a duty to use its power of the purse to make sure American taxpayers are not forced to pay for it," the group's president and former Virginia Attorney General Ken Cuccinelli said in an emailed statement.
With pressure coming from conservative groups to not back down, Republicans are running out of options.
Senate Democrats have blocked the House-passed funding bill repeatedly, backing Senate Majority Leader Mitch McConnell into a corner that his counterpart, House Speaker John Boehner, has not been eager to help him out of. McConnell has asked the House to send a bill that Democrats won't block, but Boehner's been clear: there is no back-up play on its way—the DHS fight is McConnell's problem now.
A DHS shutdown now appears possible, if not likely. And the optics, conservatives say, are not as bad for the party as some pundits have screamed about. Some Republicans believe that, if spun right, Democrats will get the brunt of the blame.
"DHS should not shut down for one day," Sen. Ted Cruz argued during a press conference before Congress left for last week's recess. "The only reason there is a risk that could happen is that Senate Democrats are putting partisan politics above the national security interests of this country."
Adding to their confidence, some Republicans have pointed out that the impact of a DHS shutdown might not even be that extreme. Unlike during the full government shutdown in October 2013, DHS is just a fraction of the government, and most of the things people care greatly about will continue to function.
Furthermore, during the 2013 shutdown, DHS was spared much of the pain. The Congressional Research Service estimated that about 85 percent of the employees at DHS kept working during those 16 days—although, CRS noted, some of them did so without pay until the end of the showdown. Significant parts of the Border Patrol and Transportation Security Administration are expected to continue to function even if DHS does shut down.
But that doesn't mean a partial shutdown won't be a risk. One Republican strategist, John Feehery, who worked as an aide in the House of Representatives, argues that a DHS funding shortage is not as much about impact as it is about optics. Sure, voters may not be kept from war memorials or national parks this time around, but a DHS shutdown is still a mark of congressional intransigence, and images of unpaid federal workers still could impact the American psyche. Meanwhile, a shutdown in an era where terrorism threats loom large could be a big gamble.
"There is great risk in a shutdown," Feehery says. "If Border Patrol does not get paid and there is some kind of terrorist attack, there is great risk."
Polling shows Republicans still could shoulder the brunt of the blame. A CNN poll finds that more than half of Americans think it is the GOP's fault if the government shuts down.
"Shutting down the government is always going to hurt Republicans," says Feehery.
But outside conservative groups have had an outsized impact on Capitol Hill in the past five years, and that isn't expected to change as uncertainty over DHS overshadows the next week. If Republicans let Democrats win this time, there is fear that they won't be able to regain control.
"You are going to be hard pressed to find better ground to confront this president on," Holler says.