Clinton's Greatest Political Strength May Be Hiding in Plain Sight
Early polls find Clinton improving substantially over Obama's lackluster 2012 performance among a key voting demographic.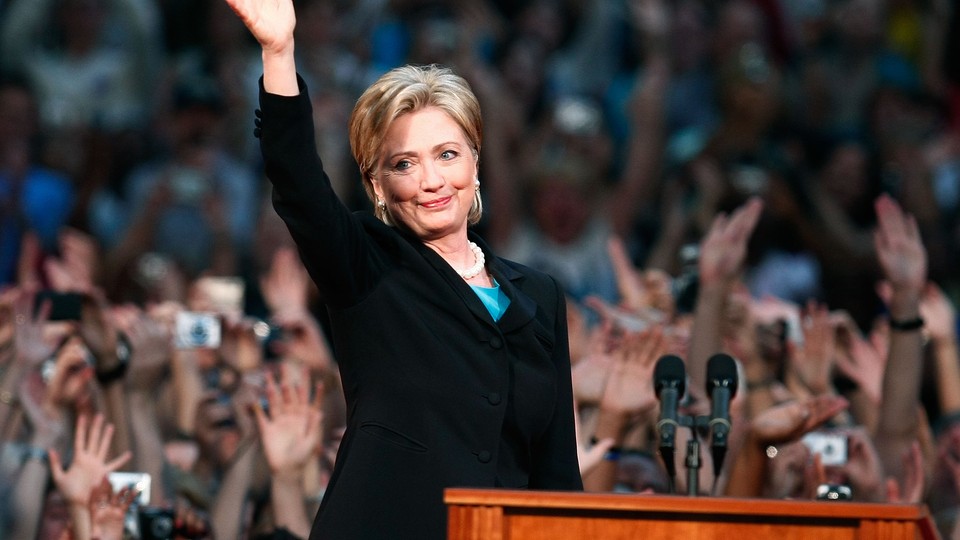 Much of the debate about Hillary Rodham Clinton's potential appeal to female voters may be focusing on the wrong group of women.
Probably the most frequently asked question about Clinton's possible coalition as a Democratic nominee in 2016 is whether she can win back the working-class white women who have moved away from her party since 1996. On that issue, the evidence is ambivalent in months of early polling that pits Clinton against potential Republican nominees.
But polls over the past year almost invariably have found Clinton improving—often substantially—over President Obama's lackluster 2012 performance among white-collar white women.
Those college-educated white women have been the fastest-growing part of the white electorate in recent years. If Clinton as a nominee could cement the gains she's shown among those women in most national and state polls over the past year, she would present Republicans with a formidable demographic challenge, even without improving among any other white voters. Her greatest potential strength, in other words, may be hiding in plain sight: her potential connection to the white-collar white women who most resemble her.
All polls of the 2016 race at this point are recording only distant impressions long before most voters have seriously focused on their choices. The actual campaign, and events yet to occur, will inevitably scramble the equation.
Yet, especially with a candidate as familiar as Clinton, these early soundings can be viewed as a kind of rebuttable presumption: They sketch the coalition that may naturally gravitate to her unless opponents present them with a case not to.
The contours of a potential Clinton coalition were sketched in the three Quinnipiac University polls released last week in the key swing states of Florida, Ohio, and Pennsylvania. Obama won all of them in 2012, and any Democrat who wins at least two of the three would be in a commanding position to assemble an Electoral College majority in 2016.
The Quinnipiac results reinforced other early surveys in showing the potential for Clinton to improve on Obama's 2012 performance among white-collar white women—and perhaps also notch some gains with their blue-collar counterparts. Despite all the focus on the gender gap, Obama won in 2012 while capturing only 42 percent of all white women, according to exit polls. That was the weakest performance for any Democratic nominee since Walter Mondale in 1984, leaving plenty of room for Clinton to grow if she wins the Democratic nomination.
The most consistent note in the new Quinnipiac surveys was Clinton's strength among college-educated white women. Those women—most of them liberal on cultural issues and many more open than most other whites to an activist role for government—have provided Democratic presidential candidates the most reliable support in the white community since Bill Clinton's first election. The Democratic presidential nominee carried them in 1992, 1996, 2000, and 2008, and essentially split them in 2004. But in 2012, Obama lost ground with them, falling back to 46 percent nationally, the weakest performance for any Democratic nominee since Michael Dukakis in 1988.
According to detailed results provided by Quinnipiac to Next America, the new surveys show Clinton notably improving on Obama's performance among those well-educated white women in each of these three key states. The Quinnipiac polls were conducted via landline and cell phone in each state from January 22 through February 1.
In Florida, Obama won 43 percent of college-educated white women in 2008 and 42 percent in 2012. The new surveys found Clinton drawing 50 percent of this group against former Florida Gov. Jeb Bush, 53 percent against New Jersey Gov. Chris Christie, and 55 percent against Kentucky Sen. Rand Paul.
In Ohio, Obama carried a 52 percent majority of those women in 2008, but slipped back to 47 percent in 2012, while Mitt Romney won 51 percent. Compared with Obama's 4-point Ohio deficit among the college white women, the Quinnipiac polls show them providing Clinton an edge of 7 percentage points over Bush, 17 points over Christie, and 22 points over Paul. (The Ohio poll produced a much larger undecided share among upscale women than the other two surveys.)
And in Pennsylvania, where Obama won 55 percent of those women in 2008 but tumbled to just 44 percent in 2012, Clinton displayed the most strength. The Quinnipiac polls showed her at 56 percent among them against Christie, 58 percent against Bush, and 62 percent against Paul.
By contrast, the Quinnipiac Polls show considerably less strength for Clinton among noncollege white women. Those so-called waitress moms have given most of their votes to Republicans in each election since Bill Clinton carried a plurality of them in 1996. Nationally, Obama carried just 39 percent in 2012.
In Florida, Obama won only 36 percent of the "waitress moms" in 2008 and 40 percent in 2012. The Quinnipiac polls place Clinton squarely in that range, at 36 percent among them against Bush, 41 percent against Paul, and 43 percent against Christie. But because large numbers of these women remain undecided in the survey, Clinton leads Christie with them, and only trails Paul narrowly while still facing a double-digit deficit against Bush.
In Ohio, Obama won 44 percent of these women in 2008 and 45 percent in 2012. That wasn't an overwhelming performance, but it was enough above his national showing to help him carry the state. The Quinnipiac surveys show Clinton settling exactly in that range, drawing 44 percent against Christie, and 45 percent against both Bush and Paul. Again, though, because of a large undecided contingent, Clinton leads against all three with those women.
The surveys showed Clinton making the clearest gains among blue-collar women in Pennsylvania. Obama posted nearly identical showings there with these women—47 percent in 2008 and 46 percent in 2012. Quinnipiac found Clinton attracting 49 percent of them against both Christie and Bush, and 53 percent against Paul. While Obama lost these women by 7 percentage points in 2012 and 4 points in 2008, Clinton leads with them against all three Republicans.
The results were similar in polls from NBC News and Marist College last summer in Iowa and New Hampshire. When Clinton was matched again against Christie, Paul, and Bush, those surveys showed her attracting just under half of noncollege white women in both states. But against all three men, she drew 52 to 54 percent of college white women in Iowa, and exactly 64 percent of them in New Hampshire. National Quinnipiac surveys last year testing Clinton against all three men also put her at 50 percent or more among college-plus white women, and generally at 40 to 45 percent among noncollege white women.
Veteran Democratic pollster Geoff Garin, a senior strategist for Clinton during her 2008 primary campaign, notes that she ran very well among working-class white women during that contest against Obama. "The question is whether she can reconnect to noncollege educated white women the same way she was doing at the end of her 2008 campaign," Garin says. "If she can, that has the potential to change the arithmetic. But I think that answer is yet to be determined." By contrast, he said, there's more evidence in early polling that college white women "are with her. We see that very clearly."
With other groups of voters, the new Florida, Ohio, and Pennsylvania Quinnipiac polls show Clinton largely tracking Obama's 2012 performance. The polls give her cavernous leads among African-Americans, though with a large undecided bloc, her support doesn't yet quite match Obama's 2012 performances in Ohio and Florida. (It's already close in Pennsylvania.) Her showings in the three states among white men without a college education are consistently weak, but not noticeably worse than Obama's numbers with them when he won each of these three states twice. In Ohio, for instance, Obama won 44 percent of blue-collar white men in 2008 and 39 percent in 2012. The Quinnipiac polls put Clinton at 39 percent of this group against Christie, 40 percent against Paul, and 42 percent against Bush, (Again, because a substantial portion remain undecided, Clinton's deficits in the polls among these men in all three states are much smaller than Obama's in 2012.)
Her performance among college-educated white men in the surveys also generally follows close to Obama's share in 2012. In Ohio, for instance, Obama tumbled from 47 percent with those men in 2008 to 33 percent in 2012; Clinton draws 34 percent of them against Christie, 35 percent against Bush, and 37 percent against Paul. The same caveat applies to these results: Because of large undecided populations, her deficits among these men are much smaller than Obama's in 2012.
Still, these polls present results that are largely consistent across the states, and also consonant with those other national and state polls measuring Clinton's early appeal. Almost everything could change once the campaign is actually joined. But for now, surveys like these Quinnipiac polls generally show some modest opportunities for Clinton to improve among working-class white women and little change relative to Obama's meager 2012 standing among both blue-collar and white-collar men. With minority voters, she remains in a very strong position, though Republicans argue it's unproven that African-Americans will turn out for her at the rates they did for Obama.
The big opening signaled by these polls is her opportunity to recover from Obama's 2012 trough among college-educated white women. That's an especially ominous prospect for Republicans because those upscale women have steadily increased their share of the electorate since the 1980s. If those trends continue, in 2016 they could cast more of the national vote than either college or noncollege white men, or the waitress moms. Clinton's biggest boost over Obama might come from nothing more complex than consolidating her most natural supporters.