Clinton's 2016 Gender Play
She will share stories meant to connect with working moms. Meanwhile, surrogates will attack.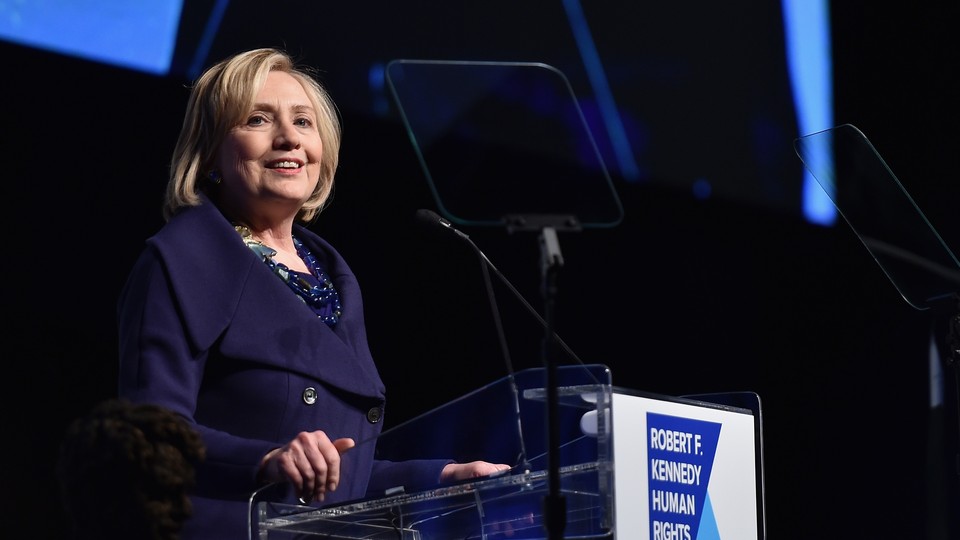 SAN FRANCISCO—It was in New Hampshire, in 2008, when Hillary Clinton momentarily let down her guard.
She was coming off a stunning loss in Iowa when someone in Portsmouth asked Clinton how she got herself out the door every day. At first, the candidate joked about it: "On special days, I do have help." But then she turned serious, the stress of the campaign showing in her voice and on her face. "You know, this is very personal for me," she said. "It's not just political, it's not just public."
That flash of emotion drove some pundits and operatives to wonder whether New Hampshire would find this crying candidate unfit for the presidency. Instead, voters—particularly women—rallied to her, rewarding the human they saw peeking out from behind the politician and giving her a victory just days after being down by double-digits in the polls.
That moment, in the moment, felt like a turning point. But it didn't change her team's approach in the remaining months of her candidacy.
This time will be different. As the former secretary of State and senator speaks Tuesday to Lead On, the women's leadership conference in Silicon Valley, Democratic strategists and Clinton backers say she will try to make direct connections with female voters on the trail, sharing personal stories and embracing a gender-based message that was largely avoided in 2008.
Already, recent words and actions hint at the ways she'll bring gender into the 2016 campaign—by talking about issues like pay equity, affordable child care, and paid family leave, referencing her past work for women and children, and gushing about her new granddaughter.
That soft approach will be coupled with a sharp-edged assault by supporting organizations outside of her camp. Some of them, including EMILY's List and the Democratic National Committee, have begun playing offense against the Republican field, painting many of the 2016 GOP hopefuls as anti-woman.
"A lot of things have changed since 2008, and I think that will elevate in some ways the gender aspect of her campaign," said Celinda Lake, an unaffiliated Democratic pollster who has done extensive research on female candidates running for office. "There are many ways in which there's a woman's lens to her candidacy even if she never mentions the word 'woman.'"
All of this underscores just how important Democrats think female voters, especially unmarried women, will be in determining which party wins the White House in 2016. In 2012, President Obama won women by a 12-point margin over Republican Mitt Romney—the largest gender gap in pollster Gallup's history, and a fact that played a big role in his victory that November. Democrats hope to maintain that edge among female voters in 2016, especially with a woman on the top of the ticket.
Clinton supporters expect her to incorporate gender into her message partially through tone and storytelling, opening up and sharing the kind of personal experiences that will help her connect with female voters.
Making that easier, Lake said, one of the important differences from the 2008 cycle is the rise to prominence of a concrete set of issues typically associated with female voters: health care access, abortion rights, pay equity, and paid sick and family leave. "It's not about simply being a woman—it's about a focus on women and families," said Marcy Stech, spokeswoman for EMILY's List, a group that backs candidates who support abortion rights. "There are no better candidates to talk about these issues than women themselves, who understand what women are going through day in and day out."
Plus, Clinton has held new roles since 2008 that give her an ample supply of anecdotes from which to draw, first as secretary of State, a job in which she emphasized improving rights for women and girls worldwide, and second as a grandmother. Clinton made frequent reference to her granddaughter in speeches on the midterm campaign trail last fall, saying the baby had helped her think more about what Charlotte "can look forward to" when she grows up.
"With the grandmother lens, I think you kind of talk about exactly that: wisdom, caring, holding people together, holding the family together, and holding the country together," said Adrienne Kimmell, executive director of the Barbara Lee Family Foundation, which conducts research on female candidates running for executive offices. "It evokes all sorts of those feelings and that kind of imagery."
Clinton's spokesman wouldn't talk about how the team plans to play gender in 2016. But both where Clinton has opted to speak and what she says when she's there indicate the former senator is turning a new page with this second bid for the White House. In addition to today's speech, Clinton speaks next week at the EMILY's List gala. Late last year, one of her final speeches of 2014 came at the Massachusetts Conference for Women, and she also appeared at a December event for "No Ceilings," the project she and Chelsea Clinton launched at the Clinton Foundation.
At the DNC Women's Leadership Forum last September, Clinton brought out an old personal story, recycled from her book It Takes a Village, on the issue of child care access for working mothers, harkening back to her days as a lawyer in Arkansas when Chelsea was still young.
"There was one morning where I was due in court at 9:30 a.m. for a trial. It was already 7:30 a.m., and Chelsea, just two years old, was running a fever and throwing up," Clinton said in that speech. "My husband was out of town, the normal babysitter called in sick with the same symptoms, I had no relatives living nearby. I called a trusted friend to come to my rescue, but I felt terrible that I had to leave my sick child at all."
And at a campaign rally for Tom Wolf in Philadelphia in October, Clinton gave one of her most forceful and political speeches since she left the State Department, talking about women's issues in the context of economic recovery and giving hard workers a fair shot.
"We have spent years now clawing our way back, out of the hole that was dug in 2008, but we have a lot more to do if we want to release our full potential and make sure that American families finally feel the rewards of recovery. And that's particularly true, in my opinion, for American women," she said. "Ask yourself, why do women still get paid less than men for the same work? Why, after American women have contributed so much to our economy over the decades, do we act as if it were 1955?"
New research shows that getting personal helps female candidates on the trail. Kimmell said the group's research has shown a big shift in those voter attitudes just since 2010. In interviews with candidates, staff, and political consultants, the Barbara Lee Family Foundation found that women can and should be "360-degree candidates"—in other words, that "using all of their expertise, background and personal experiences to connect with voters" is now an effective strategy.
"Prior to 2010, "¦ it wasn't necessarily something we would have advised candidates, to share all aspects of themselves," she said. "We saw a really big shift there. "¦ [Women] can use their life experiences to relate to voters in a way that, prior to 2010, we didn't see."
And for the tougher stuff, Democrats aren't waiting for an official Clinton candidacy to start leveling the anti-woman accusations. Former Arkansas Gov. Mike Huckabee's riff about "trashy" New York women who curse or the dangers of Beyoncé, for instance, have drawn sharp responses from the DNC and EMILY's List.
On Monday, for example, EMILY's List criticized GOP Wisconsin Gov. Scott Walker for his most recent comments on abortion. "Walker shifts back to extreme on abortion," the press release's headline read, calling him "completely out of touch."
Women Vote, the independent expenditure arm of EMILY's List, is planning for its biggest-ever campaign focused on the presidential election. Though representatives for the group say specific plans have yet to be ironed out, the group has been actively involved in advocating on the presidential level; it launched its "Madam President" initiative in spring 2013.
Perhaps the biggest benefit to Clinton of these gender-based messages is the fact that, done right, it could help her connect with voters in a way she only hinted at in 2008—and combat the out-of-touch image Republicans are seeking to build in the lead-up to her expected announcement.
"We hear all the time about the role of authenticity in politics and how important that is," said Tracy Sefl, a Democratic strategist and senior adviser to Ready for Hillary. "And for a woman to talk about her lived experience as a woman—that's as authentic as it gets."