Chris Christie's Complicated History on Vaccines
From "I will stand with" families with concerns over vaccinations to "there is no question" kids should be vaccinated.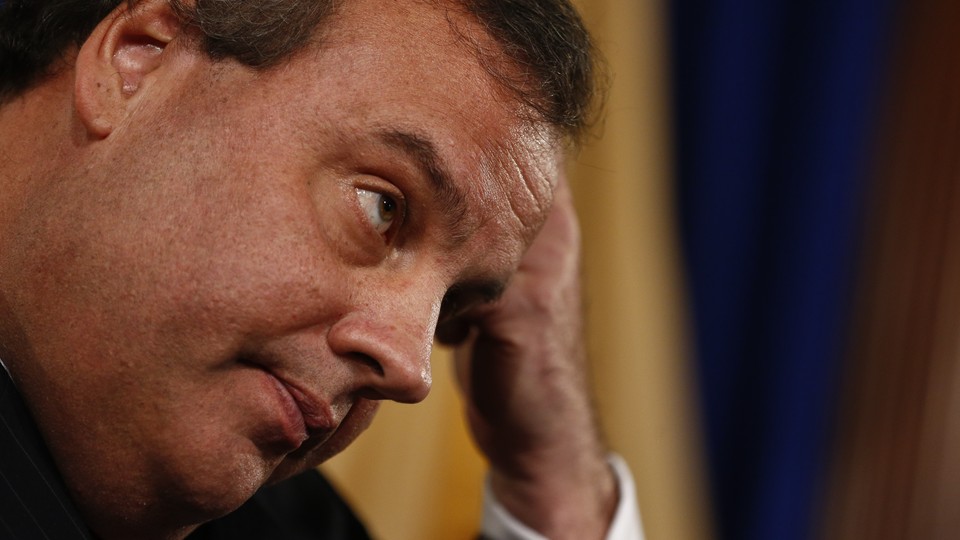 For a blunt, straight-talking politician, Chris Christie has had a messy history on vaccinations.
The vaccination debate, which centers on parents who want to protect the right not to vaccinate their children against deadly diseases such as measles for religious or "philosophical" reasons, has garnered attention because of a measles outbreak that started in Disneyland and continues to spread across 14 states. Monday morning, the New Jersey governor said that he and his wife had chosen to vaccinate their four kids, but he called for "balance" in the vaccine debate.
"It's more important what you think as a parent than what you think as a public official," he told reporters in England during a trip abroad to polish his foreign policy resume ahead of a likely run for president in 2016. "I also understand that parents need to have some measure of choice in things as well. So that's the balance that the government has to decide."
Hours later, his press office reframed his remarks, according to The New York Times, declaring that Christie thinks "there is no question kids should be vaccinated."
This isn't the first time Christie has weighed in on the vaccination debate. Sue Collins, the cofounder of the New Jersey Coalition for Vaccination Choice, told National Journal that Christie has generally had a good record on vaccination choice.
"He's always talked about the importance of choice," she said. Though she wishes he would "stay strong" on the issue and fully endorse a parent's right to choose whether to vaccinate, she said the governor has been "very cognizant" of parents' concerns. With Christie's Monday comments causing something of a furor, that's likely not the kind of political image Christie wants to have right now. But it reflects what the governor has said in the past.
In 2009, after then-New Jersey Gov. Jon Corzine mandated flu shots for young children and infants in preschool and day care, Christie expressed solidarity with the anti-vaccine movement, which seeks to shed light on the dangerous side effects of vaccinations—many of which aren't scientifically proven.
"Listen, I have real concern about a lot of these mandates," he told radio talk-show host Don Imus that October, just before winning his first election as governor. "I think, you know, in New Jersey, we need to take a whole look at that. Now, it's a real tough choice between protecting public health with vaccinations, but I have sat with a lot of these parents of children with autism who absolutely firmly believe that it was vaccinations that caused these problems in their children. And then they have additional children, and they are being required to go in there and go through that again, when they, in their hearts and in their minds, believe that this was the contributing factor to their children's condition."
He said that parents concerned about the side effects of vaccinations need to have "a seat at the table to talk about how we deal with these things."
"It's a complicated public health issue," he told Imus. "I understand that, but I do believe that these parents need a voice in these debates."
And in a letter he wrote while running for governor in 2009, dug up Monday by The Daily Beast, he noted the "incredible grace and courage" of families he'd met who have been "affected by autism."
"Many of these families have expressed their concern over New Jersey's highest-in-the-nation vaccine mandates," Christie wrote. "I stand with them now, and will stand with them as their governor in their fight for greater parental involvement in vaccination decisions that affect their children."
Last year, Christie used a "pocket veto" to kill a bill that would have required health care workers in the state to get annual flu shots or sign a waiver declining them. Rather than signing off on a veto, he let the bill expire, and it was automatically vetoed at the end of the legislative session.
But in controlling another deadly disease last year, Christie seemed not to be as concerned about "balance." As hysteria over the spread of Ebola grew last fall, he led the charge to protect New Jersey from the virus—despite overwhelming scientific evidence that it's incredibly difficult to contract.
In a controversial move that was criticized by the Obama administration, the Centers for Disease Control and Prevention, and others, Christie quarantined a nurse who had recently traveled to West Africa with Doctors Without Borders but showed no signs of Ebola, keeping her in a tent outside a New Jersey hospital—which she called a "private prison"—until she had cleared the 21-day incubation period. The nurse, Kaci Hickox, was eventually allowed to leave New Jersey without completing the full quarantine.
Louise Kuo Habakus, a vaccine-choice activist who runs the website FearlessParent.org, is eager to protect Christie from harsh criticisms of his nebulous stances on vaccination. Calling the governor a "courageous leader," she told National Journal that the harm vaccinations may cause—including the controversial theory that there may be a link to autism—"is not a closed book."
"He runs a state that has a lot of concerned parents," she said, being careful to emphasize his delicate diplomacy on the debate. "What he's saying is he wants to hear from parents."
Collins, who chose not to vaccinate her two children for religious reasons, said that although she wishes New Jersey permitted parents to freely opt out of vaccinations, she also thinks Christie is doing the best he can under the state's political realities.
"His hands are tied in the fact that if a bill doesn't make it to his desk, he doesn't have an option to sign it or not. And the Legislature right now has not been as supportive of vaccination choice as it could be," she said. "He's doing what he feels he can at this point."
This story has been updated with comments from vaccine-choice activists.