Chris Christie on His Bad Press: 'I'm Still Standing'
At CPAC, the New Jersey governor pushed back against recent headlines and low polling numbers in the 2016 GOP field.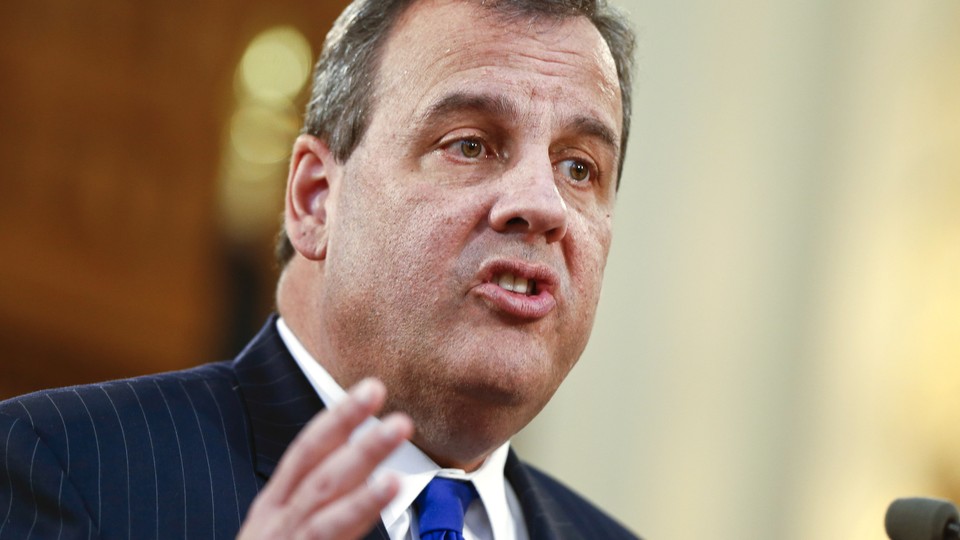 Chris Christie has one thing to say about the bad press he's gotten recently from "folks in the media elite":
"I have The New York Times in my media gaggle every day. And when you do things like I've done in New Jersey ... they just want to kill ya, and that's what they try to do to me every day," the New Jersey governor said Thursday at the annual Conservative Political Action Conference. "And here's the bad news for them: Here I am. And I'm still standing, I'm gonna continue to do it. Because what matters more is the fact that I wake every morning knowing how to fight for the people of my state."
Christie comes to CPAC this year with a souring image, and his recent polling has been unimpressive, both nationally and in-state. Former Florida Gov. Jeb Bush, who, like Christie, will be using this year's CPAC to drum up support for a presidential run, has managed to poach some of Christie's highest-profile New Jersey donors. Christie's appearance today was a chance to get back into the party's good graces, prove his worth to donors, and reset his image yet again—something he could use in what has been a series of rough weeks if he's building a presidential campaign.
And CPAC's moderator, conservative radio-show host Laura Ingraham, was certainly wondering about that run, asking Christie how he plans to overcome the polling deficit, that has him far behind Wisconsin Gov. Scott Walker and Rep. Rand Paul among likely Iowa Republican caucus-goers.
"Is the election next week?" Christie joked. He added: "I kind of remember, in February 2007, it was going to be Rudy Giuliani against Hillary Clinton. That's what the polls said then. So I feel pretty good."
The national electorate has so far been forgiving of Chris Christie. Or perhaps his perpetual cycle of misstep, rinse, repeat is instead a testament to his mastery of reinvention: Governors of New Jersey rarely inhabit the office untouched by controversy, but for a while Christie has managed to redeem himself after nearly every hugging or bridge-related scandal, dismissing them as unworthy of his—or anyone else's—attention. In his home state, though, his profile has steadily declined, with one recent poll showing that 53 percent of voters view him unfavorably.
Christie, who was the last presumed presidential hopeful CPAC announced to speak this year, will likely face difficulty with the conference's red-meat Republicans, even as his recent comments on vaccines and his antiabortion bona fides seem aimed to please that very faction. His more moderate ideology didn't hurt him last year when his speech touted his no-nonsense style and praised his fellow Republican governors, earning him a standing ovation.
That style was in full view Thursday at CPAC, where Christie emphasized that a successful president is one who is willing to be honest and transparent with voters: "What I'm saying is, everybody who aspires to the high position of leadership in their state or in the country should be willing to take unscreened, unrehearsed questions from the people who pay their salary."
When Ingraham asked the governor what he's giving up for Lent, Christie returned to his opening remarks. "The New York Times," he responded, to sustained cheers and applause from the audience. "Don't cheer. It's bad news. [My parish priest] said, 'Chris, that's not acceptable, you have to give up something you'll actually miss.' "