Cantor's Conqueror Avoids the Media Spotlight
Dave Brat is solidifying his place in Congress the same way he got there: Talk radio, the tea party, and little heed to the mainstream media.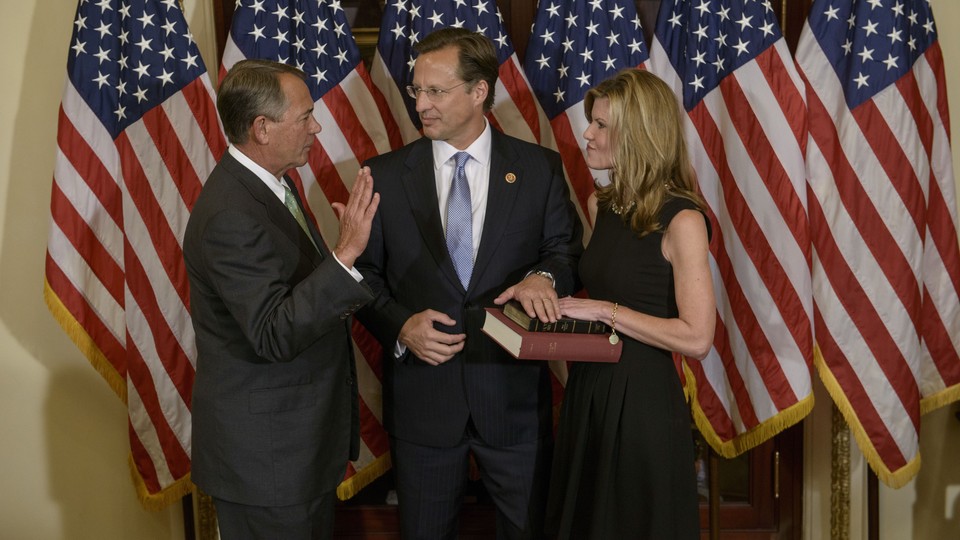 Eight months ago, Dave Brat was little noticed by the press but had local tea-party supporters on his side. Now that they swept him into Congress, Eric Cantor's successor is sticking with that under-the-radar strategy.
Brat, who unseated then-House Majority Leader Cantor in a primary last summer, has actively worked to get his message out in his first few months in Congress, traveling his district and frequently appearing on talk radio. It's a similar media strategy to the one that surprisingly propelled him into the national spotlight last June.
It's not that Brat avoids the national press, but he knows he can get along without it.
"Usually they're more concerned with the horse race—you know, the personality-driven stuff," Brat told National Journal while walking back from a House Republican Conference meeting this week. "And I'm not interested in that, so whenever they want to interview on that stuff, I'm not so interested. I want to talk about economics and education. And so if anyone calls me and wants to talk, I'll talk your ear off."
A longtime economics professor, Brat does indeed like to talk about the issues. When approached outside the Capitol, he talked animatedly about President Obama's budget and the shortcomings of Republican colleague Michael McCaul's border-security bill, which was pulled last week.
His office, meanwhile, cautiously vets requests for even just a brief phone call. A request for some time to talk about Brat's legislative priorities was met with trepidation and hours of negotiation—but no time on his schedule.
When told that the story would include interviews with political critics of Brat's, press secretary Julia Hahn wrote: "I work in the official office, not the campaign office, so this piece would need to focused on his official duties, not about the primary election." Another email read: "Do you not think it's rather premature to do a story now on the race for 2017 congressional seats?"
Six days later, and after the conversation with Brat, his office agreed to answer written questions but did not respond by the print deadline at the end of the next day. (In a statement provided later, Brat communications director Brian Gottstein said, "Congressman Brat is deeply immersed in policy issues and believes it's essential to study and discuss those issues openly with his fellow members and his constituents to get feedback and have a real dialogue. Our constituents have thanked us literally hundreds of times for him explaining his reasoning for voting the way he does.")
It's understandable that Brat's staff would be wary of media requests. For one thing, Brat was stumped during one of his first major interviews on MSNBC, when host Chuck Todd pressed him on the minimum wage. "I don't have a well-crafted response on that one," Brat responded, an honest but politically unusual line that received national attention.
Brat has generally not been afraid to share his views on those kinds of topics. Since winning his primary in June 2014, he has spoken regularly on talk-radio shows, including Laura Ingraham's. Her support was particularly helpful in driving Brat to victory over Cantor. But he has focused significantly more on right-leaning radio shows or communicating directly with constituents than on talking to the traditional media.
"I just view it transparently and rationally," Brat said. "If the national press wants to know something about my ideas, they're out there."
In his first few months in office, Brat has blasted the president's budget, criticized McCaul's border-security bill, and promoted term limits, even cosponsoring a resolution requiring them.
It's not that Brat has been staying below the radar on his issues; he's just sending his message directly to his supporters.
"My goal obviously is to share ideas on economics at the national level," Brat said. "But I'm not going out of my way trying to grab the TVs every day and that kind of thing."
"I would observe that he did not rely on getting good press to get elected, and I doubt he will rely on it to stay elected," said Chris Jankowski, a Republican consultant based in Richmond. "How you connect with the tea party and grassroots Republicans is not through the mainstream media."
Bruce Jaggard, chairman of the Richmond Tea Party, said he has been impressed with how frequently Brat has traveled the district, meeting with grassroots political groups, even after the end of campaign season. Supporters were also pleased with Brat's rebellious vote for South Carolina Republican Rep. Jeff Duncan for speaker, Jaggard said.
But Jaggard warned it might be difficult for a member of the Washington media to get much input from tea-party activists on Brat's first few months.
"A lot of the other tea-party people will be hesitant to talk to the press," Jaggard said. When asked why, he responded: "Because they can't control what they say."
Though there's been talk of an establishment-backed challenge since his shocking primary win, Brat's chances at reelection in 2016 appear solid, Jankowski said. He already beat Cantor last cycle despite a huge financial disadvantage, and he'll have far higher name recognition in 2016. Brat also represents a conservative district that may not be friendly to an establishment-backed primary opponent, Jankowski said.
Still, Brat said he "probably" will attract a primary challenge in 2016, hinting that he might butt heads with members of the business community.
"If you're a firm or an individual that wants favoritism, I'm not your guy," the lawmaker said. "So are there people in the world that want favoritism and unequal treatment? The answer to that question will be the answer to maybe whether I get a challenge. My prediction would be, yeah."