Can Jeb Rebrand 'Bush'?
Bush team eyes tough primary fight with social-media push and warning of "Our McGovern."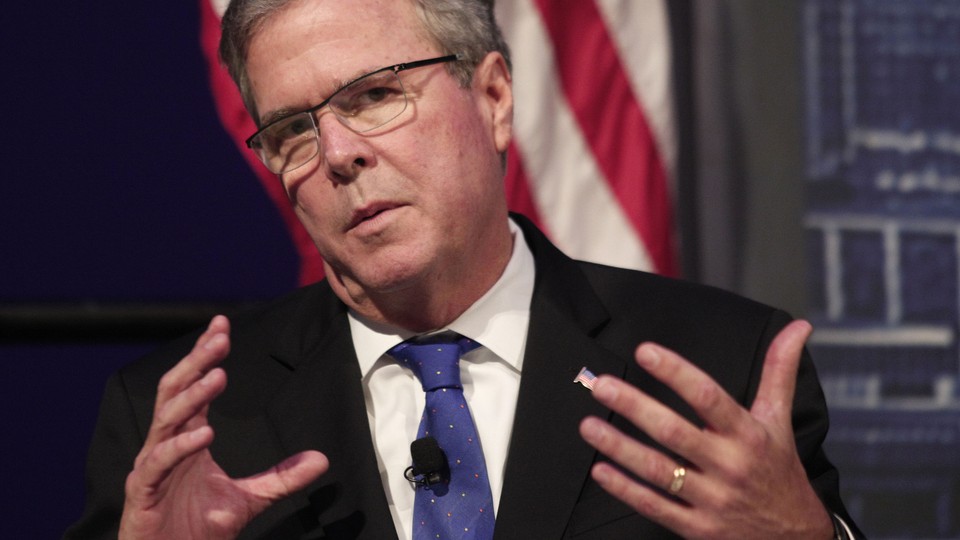 DETROIT—His father was a post-Cold War statesman, loser of his 1992 reelection bid. His brother was a "compassionate conservative," a two-termer who left office wildly unpopular. Now it's Jeb Bush's turn—he thinks—and he's scratching out plans to revitalize the family brand.
The former Florida governor wants to be known as a 21st-century conservative—a leader who applies right-of-center policies to traditionally Democratic issues: wage stagnation, income inequality, and declining social mobility.
Two weeks ago, President Obama offered a progressive prescription that included raising taxes on the wealthy to pay for tax cuts and programs for low- and middle-class Americans. Bush's retort: Economic recovery under Obama has been "very little and has come very late."
"The American Dream has become a mirage for far too many," Bush said in the first major speech of his unofficial presidential campaign. He called improving economic opportunity "an urgent issue."
As the epicenter of middle-class growth and decline in the 20th century, Detroit is an attractive metaphor for presidential candidates promising revival—even when the politicians, like Bush, carry old or vague ideas into the city and pander to the elite. Bush addressed the well-heeled Detroit Economic Club and toured a hot new manufacturing plant, Shinola, where expensive watches and bikes are marketed as part of Detroit's rebirth narrative.
"I know some in the media think conservatives don't care about cities. But they're wrong," Bush said. Everybody has a right to success, Bush added, "So let's go where the ideas matter the most, where the failure of liberal policies are the most obvious."
His message is aimed squarely at white working-class and middle-class Americans who, along with young "millennial" voters, are seeping from the Democratic Party under President Obama.
Many of these disaffected Americans are children and grandchildren of "Reagan Democrats," the term used for traditionally Democratic voters who defected to Ronald Reagan in 1980 and, in smaller numbers, to President George H.W. Bush (Jeb's father) in 1988. Identified by Democratic pollster Stanley Greenberg in the Detroit suburbs of Macomb County, these voters tended to be moderate Democrats who are more conservative than liberal on issues such as national security, immigration, and race.
The day before Bush's speech, I talked to a couple dozen voters at Macomb County Community College and found intense ambiguity. They are unhappy with the unfulfilled promise of Obama ("He was supposed to bring people together," said Charlotte Hurst, an 83-year-old black retiree waiting for her daughter and grandson to finish their classes) and alarmed by the harsh rhetoric of the Hard Right ("Some of those guys are just crazy," said Carolyn Pawlicki, a 20-year-old independent from Dearborn, Mich.).
Every voter I met spoke of two things. First, their frustration with the cost of higher education in an economy that virtually requires one or more degrees; they appreciate Obama's proposal for free community college, but worry about its cost to the federal treasury. Second, their disillusionment with the U.S. political system; neither party seems capable of reversing the decades-old decline of economic opportunity that is so palpable here.
"The way they go about it in Washington—one side against the other, bickering, and nothing gets done," said Mary Feighner, 21, of St. Clair Shores, Mich. "They argue like little children."
In his essay "The Emerging Republican Advantage," my colleague John B. Judis wrote:
The White House understands that Democrats have a problem with white working-class and middle-class voters and is now calling for a "middle-class tax cut" aimed squarely at them. Yet the Democratic nominee in 2016 will still have to shoulder the size-of-government and who-benefits-from-tax-dollars grievances created by Obama's initial spending programs and by the Affordable Care Act.
The Democrats' best chances in next year's elections will come if Republicans run candidates identified with the Religious Right or the tea party or the GOP's plutocratic wing. If Republicans are smart, they will nominate for president someone in the mold of George W. Bush in 2000 or the numerous GOP Senate candidates who won last year—a politician who runs from the center-right, soft-pedals social issues, including immigration, critiques government without calling for abolishing the income tax and Social Security, and displays a good ol' boy empathy for the less well-to-do. Such a candidate would cater to the Republican advantage among the middle class without alienating the white working class.
Bush wants to be that candidate—the sensible conservative who appeals to white working-class and middle-class voters. But he has to win the GOP nomination first—and that will be a far harder task for the former Florida governor than it was for his father or his brother, George W. Bush.
His team is worried about two things: Will fire-breathing conservatives bury his candidacy in its crib? Can the candidate and his team adapt to vast changes in electoral politics?
On the first challenge, people close to Bush freely acknowledge the potential for 2016 becoming what one called "our McGovern year—a reference to 1972 Democratic nominee George McGovern, an unabashed liberal who lost to Richard Nixon by nearly 25 percentage points. Early voting states Iowa and South Carolina favor the most conservative candidates in GOP nomination fights, and New Hampshire "is no no-brainer," one Bush source told me.
Michigan is an important piece of the nomination puzzle. Bush wants the state's primary and its moderate electorate to be his candidacy's early-voting firewall, but local party leaders are angling for a later primary or caucus date to preserve the state's convention delegates. Former GOP Gov. John Engler is close to the Bush team and may be counted on to lobby state officials on the candidate's behalf.
On the second challenge, Bush has directed his team to exploit social and digital media like no other presidential candidate. In December, Bush used a low-quality mobile phone video to announce that he was "actively considering" a presidential run. (Make no mistake: He's running.)
On Tuesday, a staff member toting a cutting-edge mobile video camera shot footage of Bush touring Shinola. The footage was being edited and posted online—the first of many day-in-the-life online videos that aides hope will go viral.
In a speech heavy on themes and light on substance, Bush called Washington "a company town" and described his economic philosophy as "growth above all," a phrase that will make conservative economists happy.
He called for fewer and modernized government regulations, government reform, and improved schools in both rich and poor neighborhoods.
In a question-and-answer session with club members, Bush said his family's legacy would be both a challenge and opportunity. He hopes to connect "on a human level with people" and offer uplifting policies "so when they think of me, they'll think that I'm on their side and the issues I care about will help them rise up."
Introduced as the father of Texas Land Commissioner George P. Bush, the former Florida governor didn't run away from the family name. "I'm pretty proud of 41 and 43," he said, referring to his father and brother by the numerical order of their presidencies. "I know that's hard for the political world to accept."
On America's relationship with the Bushes, Jeb is about to find out how much more people will accept.