At CPAC, Ben Carson Lambasts 'Purveyors of Division'
The surgeon-turned-likely-presidential-hopeful opened the conference Thursday morning.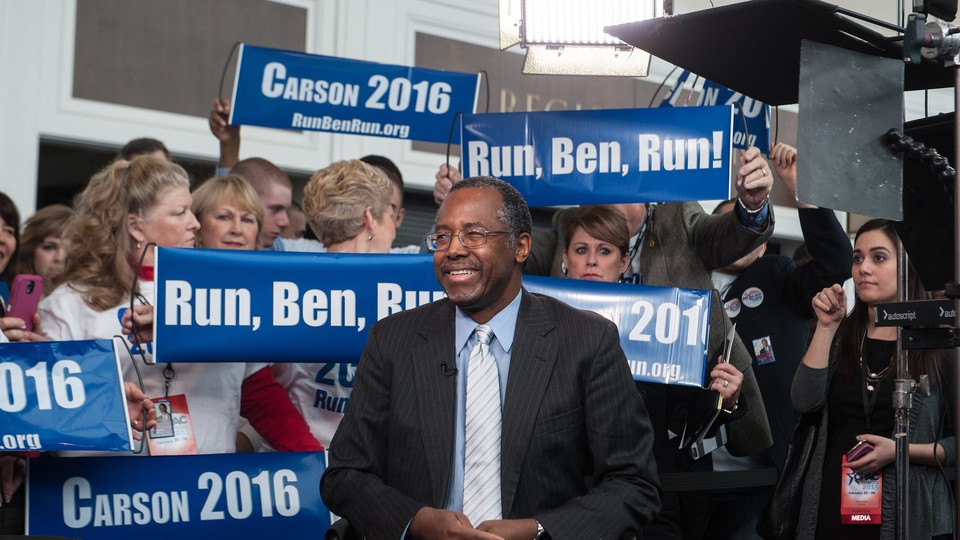 If the White House had not invited the neurosurgeon-turned-conservative star to the National Prayer Breakfast at Johns Hopkins, Carson would not have had his chance to call out the president while standing five feet away from him—a speech that lit a fire in many conservatives who saw it, and led Carson to the national stage.
Carson regained that stage on Thursday, when he gave the opening address in the Gaylord Nelson Convention Center in National Harbor, Md., the annual pilgrimage site for Republican activists attending the Conservative Political Action Conference.
In his speeches, Carson is known for harsh rhetoric—such as comparing the United States to Nazi Germany—delivered in the tone of a neuroscience lecture, or a lullaby. His delivery is reassured, but never histrionic. The CPAC crowd loved it.
"If you're pro-traditional marriage, then you're a homophobe. ... If you're black and you oppose the progressive agenda, then you're crazy. If you're black and you oppose a progressive agenda, and you're pro-life, and you're pro-family, they don't even know what to call you," Carson said Thursday. "You end up on some sort of watch list for extremists."
That last bit drew from Carson's personal experience. The Southern Poverty Law Center, a civil-rights advocacy group, added Carson to its "extremist watch list" for being "anti-gay." After drawing outrage from Carson's supporters, the SPLC removed Carson from the list and apologized.
But aside from a few jabs at the "purveyors of division"—a recurring theme in recent speeches—Carson's CPAC speech was fairly rhetoric-free. He expounded on the benefits of health savings accounts, and insisted that Republicans must first put forward their own health care legislation before repealing the Affordable Care Act.
"They need to grasp a health care alternative before they remove Obamacare if they really want to gain some traction," Carson said.
He also used his speech to riff on the true meaning of "compassion," saying that the welfare system often verges on condescension with a tone of, "There, there, poor little thing, I'm going to take care of all your needs."
"That's not compassion. That is the opposite of compassion. That is making people dependent," Carson said. "It is our responsibility to take care of the indigent. It is not the government's responsibility."
He even cribbed from one of Obama's oft-repeated lines on the campaign trail, calling on attendees to contact "Cousin Pookie sitting at home on the couch" and tell him to vote. In Carson's version, Cousin Pookie became "our uncle who hasn't voted in 20 years" and a grandmother who is "an invalid," but the message of reaching out to less politically active family members was the same.
In a question-and-answer session after his speech—a new feature at this year's conference—Carson pivoted to talking points on terrorism and education.
On Israel: "Let's not turn our backs on Netanyahu. Let's listen to what he has to say."
On managing the threat against ISIS: "We have two choices: We can wait and see what they're going to do and react to it, or we can destroy them first."
On making America less divided: "We have a nation now where we have people in the highest levels who exacerbate the division. They've created a war on women, race wars, income wars. ... You name it, there's a war on it," Carson said. "The real enemies are the people who are the purveyors of division ... and I think we have to call them out on that."
On Common Core: Carson claimed that children who are homeschooled perform the best, followed by those educated in private schools and charter schools, with public school students performing the worst. "That's why we need school choice. Common Core is not school choice," Carson said. "Our public schools need to learn how to compete with that, but they don't need some central government telling them how to do it."
On reaching out to minority communities: "I'm not interested in getting rid of the safety net. I'm interested in getting rid of dependency. And I want us to find a way to allow people to excel in our society, and as more and more people hear that message, they will know who is truly on their side, and who is trying to keep them repressed and cultivate their votes."
Carson has said he will decide about a run for president by May 1.