As Shutdown Nears, McConnell and Boehner Remain Far Apart
The two GOP leaders got together Wednesday, but unity remains elusive.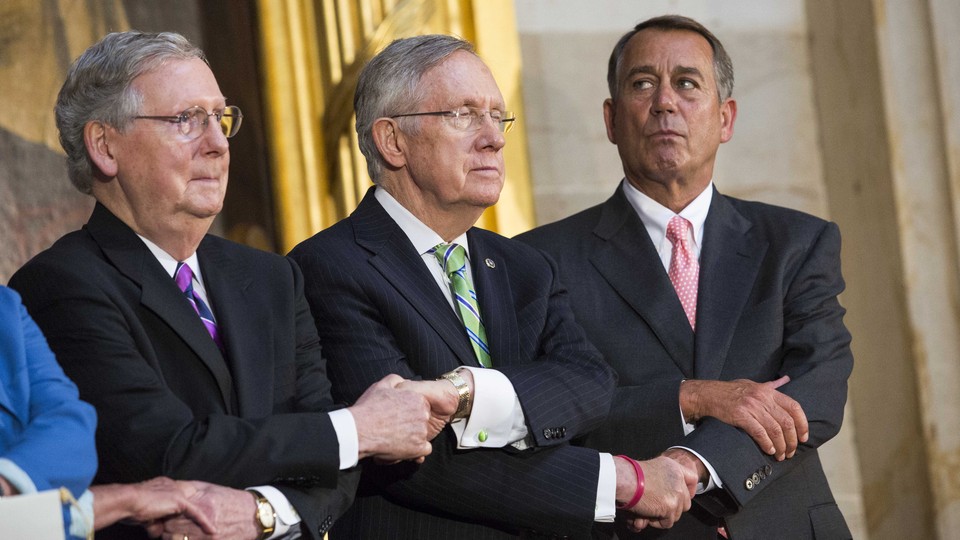 House Speaker John Boehner and Senate Majority Leader Mitch McConnell finally have nominal control of Congress. But actually governing—together—is proving to be far more difficult.
The two top congressional Republicans earned their leadership titles on the promise of competence and an end to brinkmanship, yet with just one day left until a partial government shutdown—the second in as many years—the two men do not seem to have a unified plan to avert it. And the gulf between the two chambers is so wide that Boehner actually found it useful politically to tell his members Wednesday that he and McConnell hadn't spoken to each other about the impasse.
Boehner and McConnell keep running into the same walls. Even though the GOP has the majority, the truth is that with just 54 Republicans in the Senate, and deep intra-party divisions in the House that have yielded embarrassing setbacks for the leadership, very little can actually pass both chambers. As a result, Congress has passed just three bills this year and President Obama has already vetoed one of them.
"Things are tough when you have split government and it still takes 60 votes in the Senate," National Republican Congressional Committee Chairman Greg Walden said. "Americans do expect us to govern. They expect us to govern responsibly. But there are a lot of Americans who think President Obama overreached. We need to have this fight."
The weeks of standstill culminated at a Wednesday morning conference meeting with the admission from Boehner—one that some members found startling—that he had not spoken with McConnell for two weeks. The two men met Wednesday afternoon, but not before the comment dominated Democratic press releases and talking points and set Sen. Chuck Schumer's eyes aglow.
In reality, the absence of a meeting over the last two weeks (one of which members spent at home in their districts) didn't mean the two men weren't coordinating. Both leaders' staffs insist they remained in contact constantly, and rank-and-file members said Wednesday they had little concern of a divide between Boehner and McConnell.
Instead, Boehner's statement sheds more light on the dueling political pressures the speaker and majority leader face, two Republican senators and numerous staff sources told National Journal. Boehner's distancing himself from the Senate leader could tamp down conservatives' fears that the two are colluding to block them out in the final throes of legislative wrangling over the Department of Homeland Security funding bill.
Yet the idea that Boehner has to distance himself from the person he should be working closest with underscores just how hard it will be for him and McConnell to set a path to governance. House Republicans increasingly view the Senate's procedural hurdles with frustration—and McConnell's latest gambit with skepticism.
"You've got to face it: There's nothing that we're going to be able to pass over here that they will give 60 votes to," Rep. Lynn Westmoreland said, calling, as many House members have done, for McConnell to change Senate rules to allow simple majority governance. "We put too much hope on winning the Senate. The reality of it is ... Republicans aren't probably ever going to get 60 votes in the Senate."
Some Republicans say they are unclear of what the messaging is exactly or how leaders plan to win a fight over DHS funding. Over the weekend, Rep. Tim Huelskamp said he counted five emails sent from leadership to outline the strategy on the Keystone XL pipeline, but none talking about DHS. Then, during the conference meeting Wednesday, Huelskamp said, Boehner failed to articulate the plan.
"You wonder whether there is a real strategy here," Huelskamp said.
Senate Republicans, on the other hand, said House Republicans still don't seem to understand the realities their colleagues in the upper chamber are dealing with.
"There's a disconnect between what people want to do and what we can do, given the procedural situation," Sen. Rob Portman said. "I'm very upset at what the president did and, you know, I totally get where the House is coming from on that. And the question is: How do we effectively stop him? ... We have to get 60 votes, so we have to rely on six Democrats. And they don't have to deal with that [in the House]."
Senate Republicans are pleased that McConnell's moves have given them the rare opportunity to dictate strategy to the lower chamber. Sen. Mark Kirk, who has for weeks publicly denounced McConnell's prior strategy of continuously voting on the House bill, said that the House needs to come to grips with the new reality.
"Having been a House member for 10 years, we're used to the Senate saying this is the way it's got to be to get through the Senate. So the House had better get ready to hear that kind of message," Kirk said.
Yet it is not clear that this is an offer Boehner can accept. Part of the problem is that conservatives' faith in Boehner remains unsettled, with some now warning of ominous repercussions should he allow a vote on a DHS funding bill that does not block spending to implement Obama's executive action on immigration.
"It'll be a dramatic time if that happens, and that's about all I can say about that," said Rep. Steve King, a staunch opponent of Democratic immigration reforms. He and others are advocating going through with a funding lapse for DHS if Democrats do not agree to block Obama's immigration measure. Boehner, so far, has been tight-lipped privately and in front of the cameras about his next move.
"If he has any alternate plans, or if he has a plan B, he didn't mention it at all," Rep. John Fleming said. "We also know that neither one of them, Mitch McConnell or John Boehner—they've made statements in the past that they wouldn't allow the government to shut down."
Walden defended the plan, noting that instead of risking a complete government standstill, leaders have isolated just DHS as the target of their brinkmanship.
"Part of what we did is minimize what we would deal with now to the issue of the president's overreach and executive orders," he said. "That was a difficult set of decisions, and bipartisan in the end."
By contrast with Boehner, the newly minted McConnell has a lot of good will left among his colleagues in the Senate. Even after he caved to Democrats' demands and offered no-frills legislation to stave off a department shutdown this week, most Senate Republicans—especially those facing potentially bitter reelections in 2016—are pleased with their pragmatic leader.
"These are some tough times. It looks like we are going to start getting some progress from our Democratic colleagues here," said Sen. Ron Johnson, who is up for reelection in Wisconsin in 2016. "It's a tough job, and I think we all understand that."
In private member luncheons, senators say McConnell has been frank and judicious with members as he has sought to quell conservative voices in his conference who would prefer to stop the president's executive actions on immigration at any political cost.
"Overall, he has shown some strength and some passion, which is unusual," Sen. John McCain said. "He usually is very steady, but he has shown a few passionate moments here in our discussions."
That's given McConnell an advantage over Boehner in the DHS stalemate; he has faced far fewer Republican adversaries. Several members said Sen. Ted Cruz, an architect of the strategy that led Republicans down the road to the 2013 government shutdown, has faded as a major face of the DHS funding showdown.
"[Cruz] is carefully picking his targets," McCain said. "I think he realizes Homeland Security has very special meaning to Americans now, and Ted is a very smart guy."
Sen. Jeff Sessions, who has also been highly critical of McConnell's strategy, declined to take any shots at the leader on Wednesday, telling reporters that he'd registered his complaints by voting against cloture on the DHS bill. Sessions wouldn't say, however, whether he'll continue to be a thorn in McConnell's side by holding up final passage of the bill through the weekend.
Despite the confusion that still dominates the House, Senate President Pro Tempore Orrin Hatch praised McConnell for finding a way out of the quagmire. "He's dealing in the art of the possible. And he's a terrific leader, there's no use kidding about it. There are very few people who can see the end result and how to get there as well as he can," Hatch said. "I have a lot of admiration for him."
---
Lauren Fox contributed to this article