Another of President Obama's Friends Heads for the Door
As Obama enters the fourth quarter of his presidency, almost all those who were at his side when he started his bid for the office have moved on.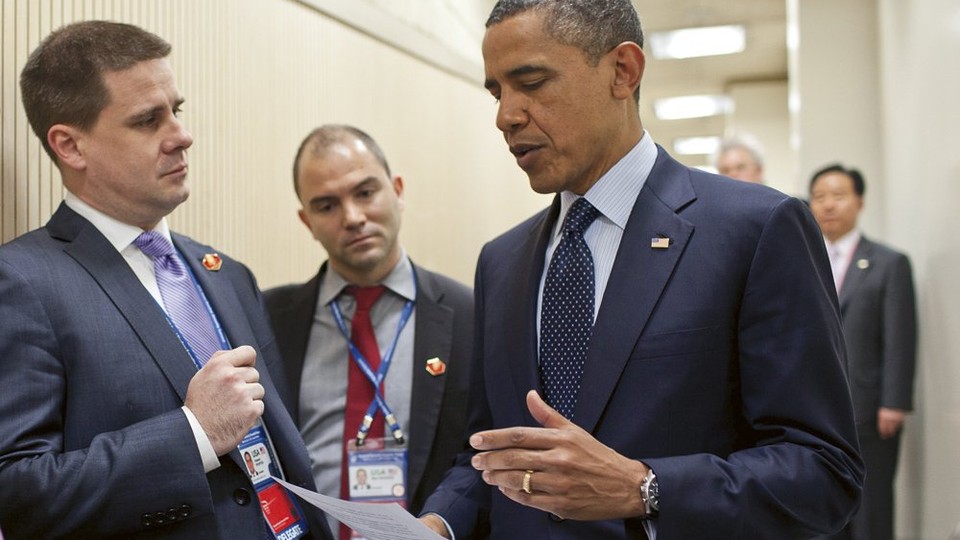 As President Obama enters what he's calling the fourth quarter of his presidency, his original teammates are nearly all gone. The latest to walk off the field: Dan Pfeiffer, the senior adviser to Obama long trusted by the president to shape his communications strategy and market his policies.
This happens to every two-term president: the day when he looks around and realizes that almost all those who were at his side when he started his bid for the office have moved on. Of the 16 senior White House staffers earning the top pay of $172,200 in 2009, only senior adviser Valerie Jarrett, a family friend of the Obamas back in Chicago before he came to Washington, remains in the building. As director of Central Intelligence, John Brennan has moved from the White House but is in frequent contact with the president. Another old hand is Chief of Staff Denis McDonough, one of the few remaining survivors from Obama's Senate staff.
But Pfeiffer joins a much larger group of senior staffers and friends weary of the 16-hour days, bureaucratic battles, and constant tension that go with such high-stakes positions. While classified as staffers, they were often more than that in reality. After all, they had, in many cases, schooled Obama on how to be a senator, guided him through two presidential campaigns, and spent untold hours on airplanes talking about their lives and families.
Most of those from the early days—once-familiar names of Gibbs, Axelrod, Rouse, Emanuel, Messina, Plouffe, Favreau, and Dunn—are gone, replaced by appointees who truly are more staff than friends. Some of the new staffers worked for other candidates in 2008, such as Communications Director Jen Palmieri, who also will soon exit the White House, according to The Wall Street Journal, which said she will join the Hillary Clinton campaign.
The departures of Pfeiffer and Palmieri are just "the natural order of things that people move on," said David Axelrod, Obama's chief strategist in 2008 and a senior White House adviser in the first term. He said they confirm what he was told when he first joined the White House staff. "The presidency is a marathon, but for the staff it is a relay race," he told National Journal. "When you are the president, you are still there, but the baton is being passed from staffer to staffer."
Many of the old hands remain in sporadic touch with the White House. But, especially since the 2012 campaign, that is too infrequent to replace the day-to-day, hour-by-hour contact when their offices were just down the hall from the Oval.
Axelrod said Pfeiffer's departure will be felt personally by the president but shouldn't change how the White House operates or communicates. "I'm confident that there will be folks cycled in, some old and some new, who will already have or will develop relationships with the president. Dan is leaving at a good time. I think they are doing as well now as any time I can remember in his presidency."
Having honed their communications strategy for the eight years since they launched their first campaign, the lessons of Pfeiffer will not be lost just because he is gone, said Axelrod. Staffers will continue to operate on Pfeiffer's belief, as outlined by Axelrod, that "there is no permanent bully pulpit. You have to sort of assemble it each time, piece by piece."
"Dan was there from the very beginning," said Ben LaBolt, a veteran of Obama's staffs in the Senate, at the White House and in both campaigns. "He was at the president's side on the road, on the plane as he traveled to those initial campaign events." Such campaigns, he said, "are intense, emotionally draining experiences in which strong bonds are formed."
Those bonds are even stronger because Obama appreciated that any staffers joining him in 2007 were bucking conventional wisdom. "There was a risk that people took in going to work for the Obama campaign in early 2007. Some people had called Senator Clinton the presumptive nominee," LaBolt said. "It was unclear before the first fundraising numbers were in whether there would be ... support. And there will always be a certain bond among the folks who took a risk and dove into that pool."
Pfeiffer isn't the only person Obama will miss. One longtime Obama intimate, who asked not to be named, said the resignation of Attorney General Eric Holder is particularly impactful because he was a friend before he was an adviser. He said that Obama's administration is entering a phase that befalls all second-termers. "I suspect Holder will remain a friend. No doubt, though, that the circle of close advisers is smaller now. Probably every president experiences that," he said. "Everyone else wants to get on with their lives, but the POTUS is there for the full eight." It is, he added, a "challenging" phase.
A White House official, speaking on background, hailed Pfeiffer as "the longest serving staffer from the 2008 campaign and last current White House official from the 2008 senior campaign circle." According to this official, Pfeiffer "told the president he was going to leave the day after State of the Union address, on Air Force One en route to Boise," after "thinking about [it] for a long time." The source said Pfeiffer "is now comfortable moving on" because he sees the White House in a "position of strength."
Pfeiffer was one of the staffers who set up the 2007 campaign headquarters and seemed to thrive on the long hours of the campaign and the first term in the White House. When other staffers were heading off to vacations in August 2009, Pfeiffer boasted to reporters that he had not had a vacation in two years and didn't think he needed one. He volunteered to stay on the job in that vacation month.
In his statement, the president cited that loyalty and willingness to work. "Dan has been beside me on every step of this incredible journey, starting with those earliest days of the campaign in 2007. And through it all, he's been smart, steady, tireless and true to the values we started with," Obama said. "Like everyone else in the White House, I've benefited from his political savvy and his advocacy for working people."
His legacy at the White House includes his command of nontraditional platforms to get out the president's message. Under his guidance, Obama has been the first president to use YouTube, Facebook, Google, Twitter, and other social-media platforms to push his programs. That advocacy has at times put Pfeiffer at odds with more traditional White House reporters who have felt ignored.
It also has had a decidedly mixed success rate, with criticism of the White House's ability to sustain a message. That has been particularly true on the Affordable Care Act, which the White House has only fitfully and sporadically sold while Republicans have maintained a consistent and often-brutal assault. Even with millions of Americans newly enjoying health insurance, the needle has never moved to show growing popularity for the act.
At the White House, they hail Pfeiffer as an innovator who early on understood changes in media. "To me, the big thing that changed during the Obama presidency is the number of sources and platforms where people are getting their information every day," said LaBolt. "And Dan was somebody who really understood that transition and really understood how to reach and persuade those folks."
The White House said Pfeiffer will wrap up a comprehensive review of the White House communications operation before he departs. As part of this, the statement said, he has been meeting with Silicon Valley experts "to develop recommendations for how we best communicate to audiences in the digital age."
"He's a good man and a good friend and I'm going to miss having him just down the hall from me," Obama said in a statement released by the White House.