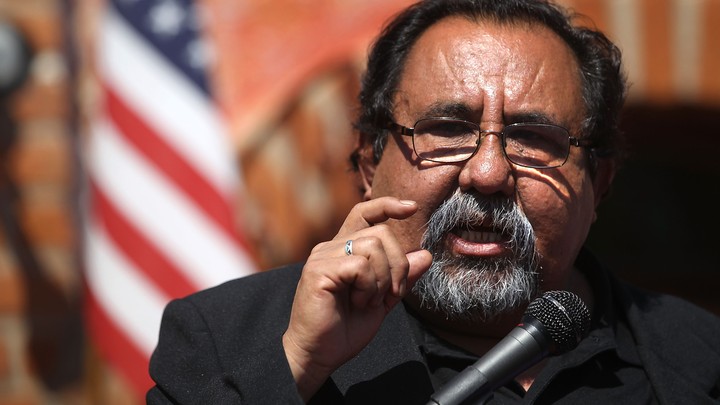 The American Meteorological Society is condemning a prominent Democrat's investigation of university professors who stake out skeptical or contrarian positions on climate change.
"Publicly singling out specific researchers based on perspectives they have expressed and implying a failure to appropriately disclose funding sources—and thereby questioning their scientific integrity—sends a chilling message to all academic researchers," the group wrote Friday to Rep. Raul Grijalva, the top Democrat on the Natural Resources Committee.
The letter marks the latest criticism of the Arizona lawmaker's search for ties between fossil-fuel interests and professors at several schools who have testified before Congress at the invitation of Republicans.
National Journal has much more on the controversy over Grijalva's inquiry here.
His probe follows revelations that Wei-Hock (Willie) Soon of Harvard-Smithsonian Center for Astrophysics, who disputes the scientific consensus that human activities are the main driver of global warming, failed to disclose research funding from Exxon, Southern Company, and other fossil-fuel industry sources.
The Smithsonian announced this week that it has launched an internal probe of Soon.
Criticism of Grijalva has focused on part on his effort to obtain professors' correspondence with funders in preparation of testimony.
"[R]equesting copies of the researcher's communications related to external funding opportunities or the preparation of testimony impinges on the free pursuit of ideas that is central to the concept of academic freedom," the AMS letter states.
A spokesman for Grijalva did not provide immediate comment on Friday.
The AMS letter shows the extent to which Grijalva has touched a nerve even with scientists and advocates who do not agree with the targets of the probe, who are generally professors who break with most scientists on the extent or risks of human-induced warming.
The AMS's formal position is that warming of the climate is "unequivocal" and that the dominant cause over the last half-century are human-driven increases in greenhouse-gas emissions.
Three Senate Democrats—Ed Markey, Barbara Boxer, and Sheldon Whitehouse—have launched a separate probe of the links between the fossil fuel industry and climate research. They wrote to scores of companies, trade associations, and conservative groups this week to ask whether they have funded climate-related research.
The Democratic probes on both sides of the Capitol drew pushback from Republicans on the Senate Environment and Public Works Committee on Friday. They wrote their own letters—like this one—to the recipients of the probes.
"Rather than empower scientists and researchers to expand the public discourse on climate science and other environmental topics, the letter could be viewed as an attempt to silence legitimate intellectual and scientific inquiry," the GOP letters state.
The letters rebutting the Democratic probes also state: "Above all, we ask that you continue to support scientific inquiry and discovery, and protect academic freedom despite efforts to chill free speech."
We want to hear what you think about this article. Submit a letter to the editor or write to letters@theatlantic.com.
Ben Geman
is an energy and environment correspondent at
National Journal