Abercrombie's Fashion Rules Land At the Supreme Court
A woman was denied a job at an Abercrombie store because of the headscarf she wears as a practicing Muslim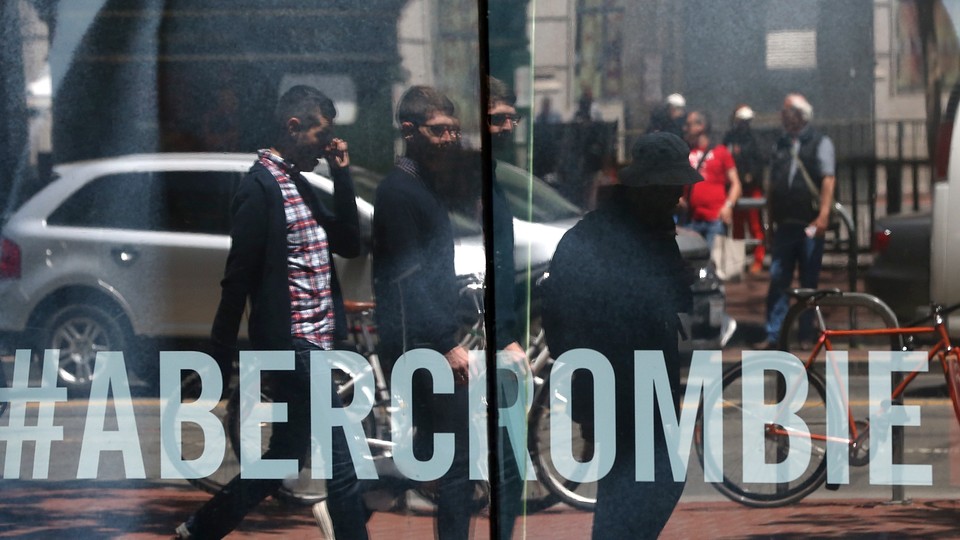 Abercrombie & Fitch takes its employees' looks seriously. Wearing black is not allowed, nail polish is discouraged, and flight attendants on the corporate jet even have to wear a specific kind of underwear.
But Abercrombie's "look policy" is more than a piece of shopping-mall micromanagement—it's at the center of a major Supreme Court case about religious discrimination in the workplace.
The court will hear oral arguments Wednesday in the case of Samantha Elauf, who was denied a job at an Abercrombie store because of the headscarf she wears as a practicing Muslim. Abercrombie says it didn't have to make an exception to its "look policy" for Elauf because she didn't specifically ask for one—while her lawyers say it shouldn't be up to job candidates to ask for religious accommodations.
Elauf applied for a job as a model at Abercrombie Kids—all the company's sales-floor personnel are hired as models—in 2008, when she was 17.
The assistant manager who interviewed Elauf was impressed and wanted to hire her, but wasn't sure whether Elauf's headscarf would violate the company's look policy. So she asked a more senior manager, who told her the scarf was a deal-breaker and not to hire Elauf.
The look policy is intense. It specifies appropriate hairstyles for employees, prohibits long fingernails, says that men cannot wear facial hair or jewelry, and requires employees to wear clothes that "fit the brand and set the example of the brand lifestyle." And at the time, it prohibited wearing hats—which the managers interpreted as also banning headscarves.
After Elauf found out why she didn't get the job, the Equal Employment Opportunity Commission sued Abercrombie on her behalf, saying the company was required to make an exception to its policy to accommodate her religious beliefs.
The primary question before the Supreme Court is whether Abercrombie had a duty to offer Elauf a religious accommodation to its policy, or whether she had a duty to ask for one.
A federal appeals court sided with Abercrombie. Elauf didn't tell the company that she wore the headscarf for religious reasons and that she would therefore need an accommodation from the look policy. And the company's handbook instructs managers not to ask potential job candidates about their religion. Therefore Abercrombie was just enforcing its look policy, with no intent to discriminate against Muslims, the court ruled.
"An applicant or employee should not be able to impose liability on an employer for failing to accommodate his or her religious practice on the ground that the employer should have guessed, surmised, or figured out from the surrounding circumstances, that the practice was based upon his or her religion and that the plaintiff needed an accommodation for it," the 10th U.S. Circuit Court of Appeals said.
But the EEOC says that interpretation would undermine the basic protections to which workers are entitled. Requiring employees to seek specific accommodations "reduces employers' incentives to come to the table when they become aware of conflicts between religious practice and work rules," the EEOC wrote. For example, if another employee mentioned that company policy conflicted with a colleague's beliefs, the company wouldn't have to do anything.
The ruling even could make it easier for employers to discriminate in their hiring, the EEOC argued, because inferences about someone's religion are pretty easy to draw: There's a good chance that an applicant wearing a yarmulke is Jewish, and someone with a necklace in the shape of a cross is probably Christian. Employers can assume that they would have to bend their rules for such an applicant, but the applicant doesn't know the employer's policies and therefore won't know to ask for an accommodation, the EEOC said.
"Permitting an employer to decline to hire job applicants based on their perceived religious practices, in these circumstances of informational asymmetry, would significantly undercut ... protections at the initial, critical stage of the employment process," the commission wrote in a brief to the high court.