Winners and Losers in the Senate's Keystone Pipeline Showdown
The floor fight produced ups and downs for both parties. And we're not done yet.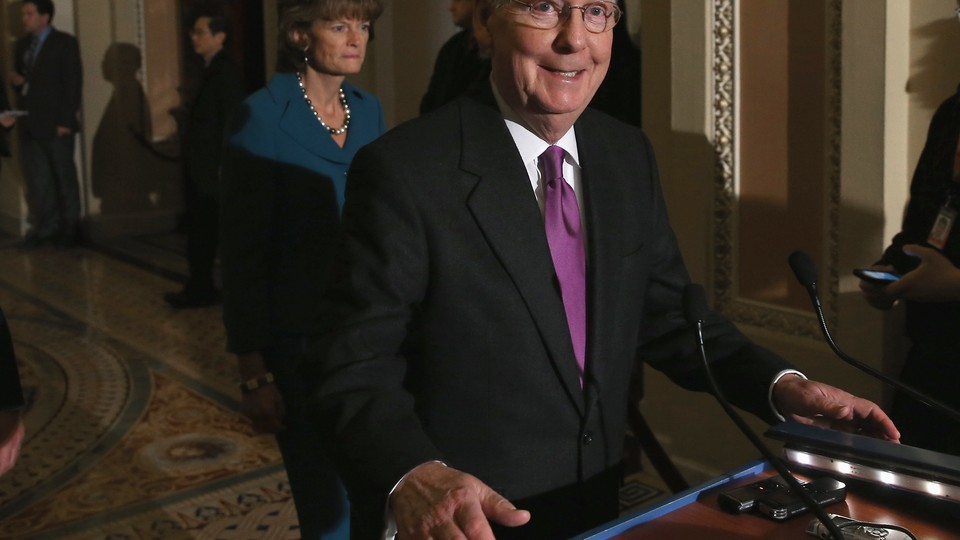 The Senate's approval Thursday of legislation approving the Keystone XL pipeline was about more than just that project.
The three-week floor battle gave lawmakers in both parties a chance to force votes and debate a broad array of topics, from climate change to fracking and much more.
Yes, the bill is largely symbolic because President Obama has threatened to veto it. But that doesn't mean it wasn't an important fight. Here's a look at the political scoreboard.
Winners
Mitch McConnell
The GOP majority leader promised to allow a wide-ranging floor battle. He largely delivered, at least by the constipated standards of the modern Senate. Yes, Democrats wanted more amendment votes (and got more by thwarting McConnell's first attempt to end the debate), but any way you cut it, it was the widest Senate energy fight in years.
President Obama's global climate push
Republicans are mad that Obama agreed to a climate deal with China that they call lopsided and that the big global accord coming into focus ahead of U.N. talks late this year in Paris likely won't need Senate sign-off either. But Obama avoided a bipartisan rebuke when almost every red- and purple-state Democrat (besides Joe Manchin) voted against a GOP amendment attacking the efforts.
Fracking
Sen. Kirsten Gillibrand's amendment to boost EPA oversight suffered a bipartisan defeat. The New York Democrat floated an amendment to overturn a 2005 law that largely exempts hydraulic fracturing from Safe Drinking Water Act regulation. It failed, 35-63, with 10 Democrats joining Republicans to kill it.
Bernie Sanders and climate advocates
Sanders got widespread press attention for his efforts to put Republicans on record on climate change, just as the lefty Vermonter is gearing up for a presidential bid. It started when he was the lone lawmaker to force an amendment vote when the Energy Committee took up the Keystone bill. More broadly, liberal Democrats went on offense. They aggressively pushed several amendments on the floor, putting Republicans on the defensive over widespread GOP rejection of the scientific consensus on human-induced global warming. But the effort got a little muddled too (more on that below).
Losers
Sheldon Whitehouse and Democrats
Whitehouse, a Rhode Island Democrat and outspoken climate advocate, made a suspect tactical decision that gave Republicans a political opening that they exploited. He offered an amendment to simply put the Senate on record saying climate change is real and not a hoax. But it didn't mention the human contribution. So GOP Sen. James Inhofe surprisingly cosponsored it shortly before the vote, and all but one Republican voted for the Whitehouse measure. And why not: Standard GOP talking points are that the climate is always changing, but they also say that either humans aren't to blame or that at least the cause is unknown.
Ted Cruz
The usually brash Republican freshman, who is contemplating a presidential run, looked indecisive as he wavered on whether to push for a vote on his amendment to end the crude-oil export ban. The Texan ultimately pulled the plug on the amendment, which pro-export oil industry lobbyists had urged lawmakers to shelve because they're still trying to corral support. His amendment to expedite federal approval of industry's natural-gas export plans did get a vote but lost.
Wind Power
Once upon a time, there was clear bipartisan support for wind energy tax credits. But Democratic Sen. Heidi Heitkamp's amendment calling for extension of expired incentives for building wind farms for five years drew just three GOP votes and failed.
Republican political strategists
The GOP put Keystone atop its list even as gasoline prices have fallen to their lowest level in six years, which erodes the political punch of oil-focused legislation. The bill took up valuable floor time even though it faces a certain veto. And for a symbolic bill, this week was a tough one for energy messaging on Capitol Hill as the Obama administration grabbed the spotlight with new proposals on Arctic preservation and offshore drilling.