Will Democrats Spoil Obama's Trade Initiatives?
New foreign deals may be the one legacy item Republicans will give the president, but he'll have to fight his party to get them.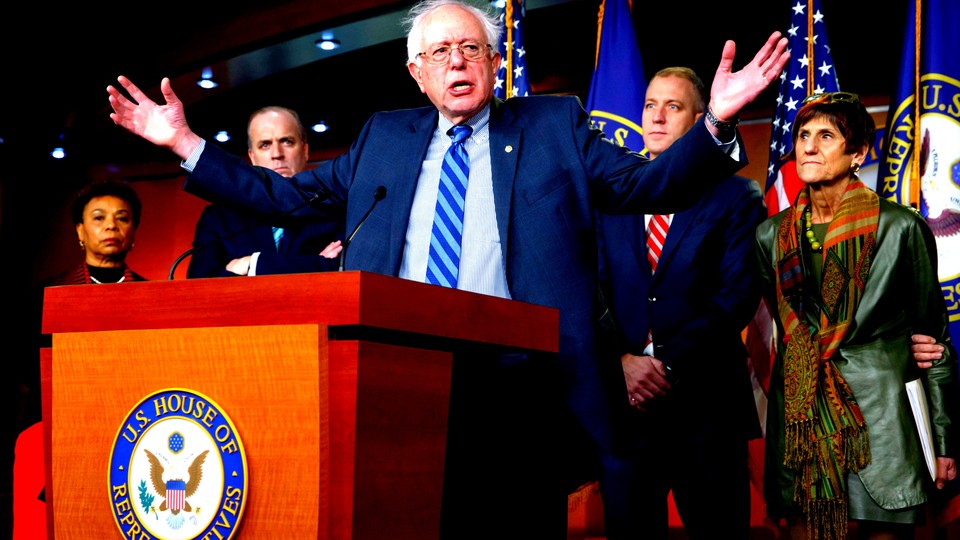 There's at least one big piece of President Obama's agenda where Republicans aren't his problem—Democrats are.
For years, GOP leaders have practically begged the president to make an aggressive push for new trade deals, a move that requires Obama to cajole progressives who believe the pacts ship jobs overseas and undermine American workers. During his State of the Union address, the president finally made a carefully-worded pitch. He called on "both parties to give me trade promotion authority to protect American workers, with strong new trade deals from Asia to Europe that aren't just free, but are also fair."
In an oddity for the night, it was Republicans who stood to applaud, while Democrats by and large stayed quiet. Afterward, Obama's trade mention drew glowing praise from the unlikeliest of conservatives: Paul Ryan, the 2012 GOP vice presidential nominee who will oversee the issue for Republicans in the new Congress. "I agree with every word he said in the speech with respect to trade," Ryan said on MSNBC's Morning Joe.
Known colloquially as fast-track, trade promotion authority allows the administration to negotiate deals with foreign partners knowing that they won't be picked apart by Congress, only subject to an up-or-down vote. It has been used for decades, but the Obama administration wants new permission to move ahead on complicated talks with Japan and other Pacific countries, as well as on a separate deal in Europe. The Pacific talks, known as the Trans-Pacific Partnership, would remove tariffs on U.S.-made goods exported to several Asian countries, and administration officials say any deal would include tighter rules than in previous trade agreements to ensure partner countries don't exploit workers or ignore environmental protections. Negotiations with the European Union would seek a similar elimination of tariffs and other trade barriers for goods shipped across the Atlantic.
The issue has created a fascinating inversion of the current political dynamic in Washington: Republicans who are literally suing Obama for overstepping his executive authority on healthcare (and maybe soon, on immigration) now want to shift even more power to the White House. And Democrats who have fiercely defended the president's unilateral actions on healthcare and immigration want to protect Congress's prerogative on trade. "I don't understand why this Congress would do it," Representative Brendan Boyle, a newly-elected Pennsylvanian, said on a conference call earlier this week. "Frankly, I don't understand why any member of Congress, Democrat or Republican, would give a president that sort of incredible authority."
On that point, Republicans and the White House have lined up the same talking points, arguing that Congress can still set parameters for trade deals, on crucial issues like labor and environmental standards, at the front end of the process, during the debate over fast-track legislation. Trade has divided Democrats for a generation, and many in the party remain rueful over what they view as the broken promises of NAFTA, the Clinton-era pact that a Democratic majority approved in 1993. Democrats also recall Obama's promise during his 2008 campaign that he would re-open that agreement, only to backtrack once he won the primary and then took office. "The administration has continued to pursue the same model of free trade that has failed in the past," said Representative Rosa DeLauro of Connecticut, another erstwhile Obama ally opposed to his trade push. "We cannot base our economic and our trade policy on how we, quote, 'hope' to boost jobs and wages."
The question now is, can Democrats stop the Obama-GOP alliance? They couldn't in 2011, when the Republican-led House and a Democratic Senate approved long-stalled deals with South Korea, Colombia, and Panama. This time around, the mobilization has started early, with Democrats in both the House and Senate trying to blunt any momentum from Obama's State of the Union call. "We will do what we can in the Senate to defeat this unfortunate proposal," declared Bernie Sanders, the Vermont liberal who is considering a long-shot bid for the presidency. American workers, he said, should not "have to compete against people in Vietnam who have a minimum wage of 56 cents an hour."
While Republicans are generally, as Ryan put it, a "pro-trade party," there is division within their ranks as well. Speaker John Boehner has said he'll need Democratic votes to pass the fast-track legislation in the House, and the Obama administration is now making lobbying calls to Democrats. It's an awkward conundrum for the lame-duck president. Big new trade deals may be one of the few legacy-building items Obama can extract from the Republican Congress in his final two years, but he'll have to fight with his friends to get them.