Who Is the Next Al Gore?
The lawmakers and advocates who are raising their profiles on climate change.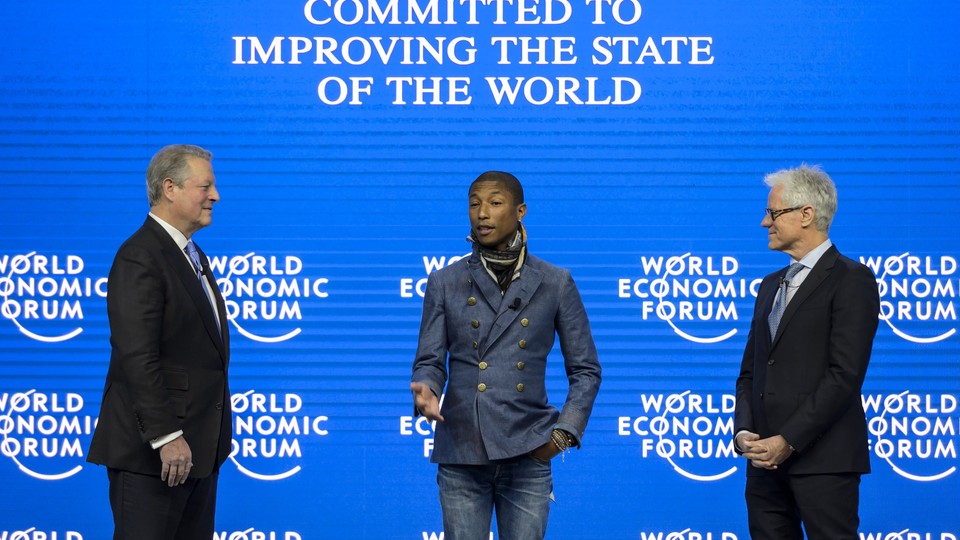 Al Gore spent decades sounding the alarm about global warming and how to fight it. He remains very active too. But there's also a public familiarity, fatigue even, with the former vice president. Gore is, to say the least, a known quantity.
And for his part, Gore's own interests and work roam beyond climate change. Consider that his 2013 book, The Future, looked at frontiers of digital communication, biotech and medicine, global markets—and, yes, environmental peril.
So here's a few people who could become the next Al Gore.
Barack Obama
Why not? The president wants achievements on global warming to be a big part of his legacy. It's a top policy focus of his second term. But with no chance of pushing new climate laws through Congress, Obama is relying on executive actions like carbon-pollution standards for power plants and a major climate pact with China that commits the U.S. to speeding up its emissions cuts. As a climate spokesman, he'd be leading the charge to prevent a future president from rolling them back.
Obama is clearly worried about the dangers of a heating planet. "No challenge—no challenge—poses a greater threat to future generations than climate change," he said in Tuesday's State of the Union speech. He's also showing relish for the fight, using the same speech to mock the "not a scientist" line that Republicans use to deflect questions about the human role in global warming. Oh, and Obama will be just 55 years old when he leaves office in early 2017, leaving plenty of time to advocate on the topic.
Neil deGrasse Tyson or Bill Nye, the Science Guy
Both of these very popular science educators have spoken out repeatedly on climate change. Check out Tyson, an astrophysicist who hangs his hat at the American Museum of Natural History, doing it here on the well-received reboot of the Cosmos TV series. Nye has frequently joined the fray too, whether it's signing a statement urging the media to use the term "deniers" instead of "skeptics" or debating GOP lawmaker Marsha Blackburn on Meet the Press last year.
Elizabeth Warren
There's no star burning brighter among progressive activists these days. But here's the obligatory "to be sure" caveat: Thus far, the senator from Massachusetts has focused her brief Capitol Hill career most heavily on economic justice and battling the big banks, not climate change. But she also snagged a seat on the Senate's Energy Committee this year, providing a platform to push green energy and battle fossil fuels. Warren, in short, has microphones and a big audience to work with on climate if she wants them. And that 2016 presidential run that she hasn't quite slammed the door on would boost her profile even more.
John Kerry
Like his boss President Obama, the secretary of State will be out of a job come 2017. Climate change was a big priority for Kerry during his decades a Massachusetts senator, and has been during his time at State too. His agency hopes to help strike a new global climate pact in crucial talks in Paris late this year. It's easy to envision Kerry making climate his top focus when he leaves government for good.
Tom Steyer
The billionaire activist and former hedge-fund manager has the resources and interest in the topic to make a big splash. He's also pondering his next move after begging off a 2016 run for the California Senate seat that Barbara Boxer is vacating. But Steyer has already had ups and downs on the climate-advocacy front. He poured $73 million into seven 2014 Senate and governors' races to elect candidates in favor of action on global warming, but four of the seven candidates he fought against won. Steyer says he's undaunted. "In the states we were in, we made climate a first-tier issue maybe for the first time ever. Candidates on both sides had to address the issue," he told the Los Angeles Times this month.
Gina McCarthy
The head of Obama's Environmental Protection Agency has an immediately interesting résumé: She has headed the agency during its most aggressive foray into climate policymaking. On her watch, EPA is writing first-time national carbon-pollution standards for power plants, the biggest source of unregulated greenhouse-gas emissions. For months McCarthy has been on a near-evangelical campaign to make the case that the nation's power system can be transformed into something much cleaner in the coming years without hobbling the economy. It's a fight that the folksy McCarthy might keep waging after the Obama presidency ends.
Sens. Bernie Sanders, Sheldon Whitehouse, and Brian Schatz
Sanders, the feisty Vermont independent, and Democrats Whitehouse and Schatz have been auditioning for alpha dog among pro-climate action senators this week. All three forced votes on amendments aimed at backing Republicans into a corner on denial of the scientific consensus on climate change. Whitehouse already gives a weekly climate-change speech on the floor. Schatz and Sanders—who may also run for president—last year made a splash by calling out the big networks for basically ignoring climate change on the Sunday talking-head shows. There's also an opening for all three lawmakers. With last year's retirement of Rep. Henry Waxman and Senate Environment and Public Works Committee ranking member Barbara Boxer retiring in 2016, there's a changing of the guard afoot in Congress when it comes to advocacy on climate.
But it can be tough to find footing in Congress. Case in point: Whitehouse arguably made a tactical mistake this week by offering an amendment that simply forced a vote on whether climate change is "real and not a hoax." Only one Republican voted against it, and it's easy to see why. A common Republican talking point is that climate change is occurring but, contra scientists, there isn't evidence that humans are causing it. Whitehouse's amendment lacked the human element, so it didn't force Republicans to vote on whether they agree with the scientific consensus on human-induced warming.
Finally, it's tough for a single senator, especially with Democrats from small states in the minority right now, to build a national power base to wage big policy battles.
Bill McKibben
The profile of McKibben, cofounder of the climate group 350.org, rose dramatically in recent years as he played a central role in shoving the Keystone XL pipeline into the heart of climate policy battles. He's also been a leader in the growing movement to push universities, cities, and other institutional investors to divest their holdings in coal and oil companies. Can McKibben keep the fires burning as brightly after the Keystone fight finally ends?
Al Gore
Second, third, even fourth acts are common in American political and public life, and Gore, at 66, shows few signs of slowing down. Gore has also done a lot to shed his famously wooden public persona. His work includes an annual 24-hour multimedia broadcast on climate through his Climate Reality Project group. Just this week he teamed up with pop star Pharrell Williams to announce concerts on every continent on June 18 to build support for reaching a new international climate pact in Paris late this year.