The American Absence in Paris
The U.S. sent its ambassador to a unity march that drew 40 world leaders and more than a million French citizens. The White House voiced regret for the slight on Monday.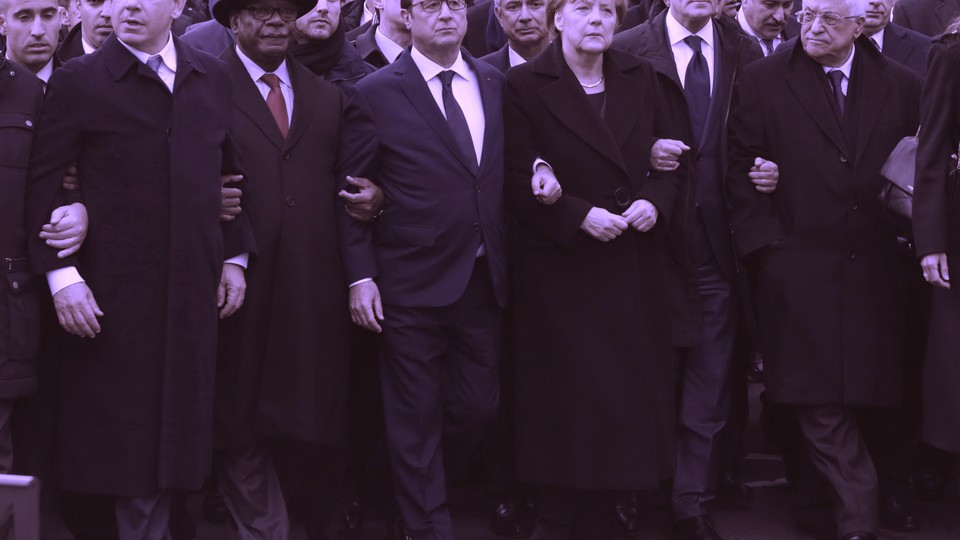 Updated January 12, 1:45 p.m.
The most conspicuous absence at Sunday's enormous anti-terror march in Paris, which drew some 40 world leaders and more than a million French citizens, was any high-ranking official from the United States.
President Obama did not join the likes of François Hollande, David Cameron, Angela Merkel, Benjamin Netanyahu, or Mahmoud Abbas for what turned out to be a historic photo of solidarity. Nor did he send Vice President Biden, Secretary of State John Kerry, Treasury Secretary Jacob Lew (the nation's senior-most Jewish official), or anyone else more notable than the U.S. ambassador to France, Jane Hartley. Attorney General Eric Holder had been in Paris for meetings earlier in the day, but he did not attend the march.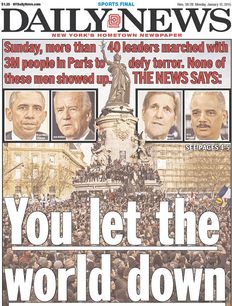 The decision to skip the rally drew a wave of scorn on cable news and Twitter, along with a stinging front page from the New York Daily News on Monday, which told Obama that he "let the world down." The White House initially dismissed the criticism as coming more from the media than from elected officials or foreign governments, although Senator Marco Rubio, the Republican and potential presidential contender, called the absence "a mistake" on CBS This Morning. And Ted Cruz, another White House aspirant, followed up with an oped on Time.com: "Our president should have been there." Yet it quickly became clear the complaints had gotten through. On Monday morning, Kerry made plans to travel to Paris later in the week. By afternoon, the chief White House spokesman, in a rare admission, voiced regret that the U.S. had not dispatched someone more senior. "It's fair to say that we should have sent someone with a higher profile to be there," Press Secretary Josh Earnest said. "Had the circumstances been a little bit different, I think the president himself would have liked to have been there."
Earlier, Kerry had told reporters traveling with him in India that he would be in Paris by Friday, which he said was the earliest he was able to break away from a long-scheduled trip to Indian and Pakistan, where he was set to visit a school where a Taliban massacre had taken place.
"I really think this is sort of quibbling a little bit," Kerry said, according to a State Department transcript. He also noted that in addition to Hartley, an assistant secretary of state, Victoria Nuland, had been at the march, along with other U.S. embassy staffers. "I don't think the people of France have any doubt about America's understanding of what happened, about our personal sense of loss, and our deep commitment to the people of France in this moment of trial," he said.
So if Kerry couldn't get to Paris on a moment's notice, why didn't Obama go, or make sure that Holder would stay long enough represent the U.S. at the march? And what about Biden, who, like the president, had no public events on Sunday? Isn't that what vice presidents are for, to represent America at solemn foreign events and moments of occasion? A White House official, explaining the decision on the condition of anonymity, wrote in an email Monday morning that the security requirements for sending either the president or vice president "can be distracting from events like this." The official listed a number of steps the administration had taken in public and in private to demonstrate its solidarity with France: Obama had made public statements, called Hollande personally, signed a condolence book at the French embassy in Washington, and directed officials across the government to coordinate with the French counterparts "on a minute-by-minute basis" to respond to the terrorist threat.
There was also the sense of letting Europe have its moment to heal and unite, of not injecting the U.S.—"indispensable" though it may be—into the middle of every remembrance. Republicans fault Obama for nearly everything he does, of course, but that criticism occasionally focuses on his penchant for placing himself near the center of historic occasions in which he played little or no part. "For once," the White House official wrote, "this event is not about us!"
Yet within a few hours, the White House came to a different conclusion: The president, or someone close to him, should have been there.