White House: Obama Won't Sign Keystone XL Pipeline Bill
The White House issued a veto threat for the controversial oil-sands project Tuesday.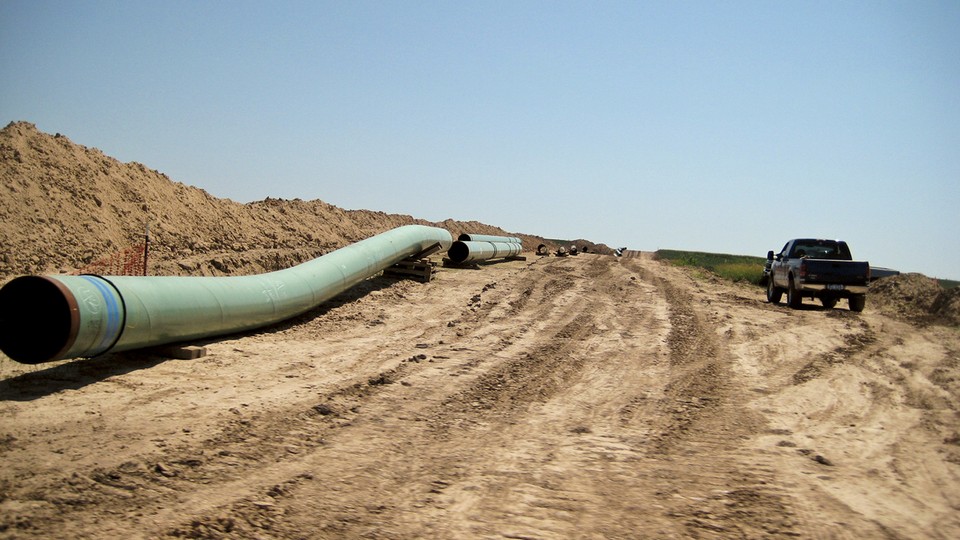 President Obama will not sign legislation that would force approval of the Keystone XL oil-sands pipeline, White House press secretary Josh Earnest said Tuesday.
"I can confirm that the president would not sign this bill," Earnest said at a White House press briefing when asked about legislation set to advance in Congress this week that would green-light the project.
"We indicated that the president would veto similar legislation considered by the previous Congress, and our position on this hasn't changed," Earnest said. "I would not anticipate that the president would sign this piece of legislation."
The administration wants to see its own review of the oil-sands pipeline play out without interference from Congress, the White House press secretary said. Earnest also commented that legislative attempts to force the president's hand would be premature, given uncertainty surrounding Keystone XL's legal route through Nebraska.
Earnest went on to criticize Republicans for seeking to pass the KXL bill. "It raises questions about the willingness of Republicans to work with this administration when you consider that the very first bill that [they] introduce is one that the president opposes," he said.
The House is expected to vote to approve the pipeline on Friday. Legislation to green-light the project was introduced in the Senate by Republican Sen. John Hoeven and Democratic Sen. Joe Manchin on Tuesday.
The Senate has a filibuster-proof majority of support for the pipeline, which would haul heavy crude from Canada to the Gulf Coast. And the House has voted nine times in the last four years to either approve or speed up a final decision on the project.
Keystone XL has been under review for more than six years. Environmentalists oppose the project, saying it would accelerate climate change and speed Canadian oil-sands development. The oil and gas industry, labor unions, and business groups support the pipeline, arguing that it would promote American energy independence and create jobs.
Supporters of the project reacted angrily to the White House veto threat.
"What a horrific disappointment that is; I'm very disappointed," Sen. Manchin said on Tuesday. Manchin said he had spoken to the White House legislative office this morning to discuss ways the bill could move forward, but was given no indication of a veto threat. "They haven't even seen the bill, they haven't seen the amendment process," Manchin said, adding that sponsors would continue to work the bill and attract palatable amendments in the hopes of building more support.
Sen. Hoeven also vowed to keep pushing for legislative approval. "The president has undermined this process with endless delays. I will continue to do all I can to work in a bipartisan way to advance this and other legislation important to the American people and our country," he said.
Democratic opponents, however, pledged to block pro-Keystone legislation. Sen. Dick Durbin, who is serving as minority leader while Harry Reid is out with an exercising injury, said Tuesday that Democrats still have the votes to sustain Obama's veto if he issues one.
And on Capitol Hill, Democrats and Republicans are already scuffling over the Keystone legislation before the floor battle even begins.
An Energy and Natural Resources Committee hearing on the bill, scheduled for Wednesday, has been canceled, according to a spokesman for new Committee Chairwoman Lisa Murkowski, an Alaska Republican. It was scuttled after Durbin objected on the Senate floor. Durbin noted that a formal organizing resolution for the committees in the new Congress has not yet been offered. He said he anticipates that it will happen tomorrow, according to a transcript.
Robert Dillon, the Senate Energy and Natural Resources Committee spokesman, said it's unclear whether a separate Thursday committee meeting to vote on the Keystone legislation will proceed. He said it depends on whether Democrats allow the committee to formally organize in time. "If they organize tomorrow, we can go ahead with the business meeting Thursday," Dillon said.
However, the bill is heading to the Senate floor in coming days, regardless of whether the committee acts Thursday. Republican leaders plan to use the Senate's Rule XIV, which which allows legislation to bypass committees. Then, eventually, the committee product will be substituted for the bill that's making a beeline to the floor under Rule XIV. "With a new Congress, to get the wheels moving, we'll need to [Rule XIV] a base bill. But the committee product, produced through regular order, will take its place," said Don Stewart, a spokesman for Majority Leader Mitch McConnell.
Obama has long said that he will not approve the Keystone XL pipeline if it significantly adds to the amount of carbon dioxide in the atmosphere. A State Department assessment concluded that Keystone XL would have a minimal environmental impact. But the president has sounded increasingly skeptical of the project's merits in recent weeks.
"We've got to make sure that it's not adding to the problem of carbon and climate change," Obama said during an appearance on Comedy Central's The Colbert Report last month. "These young people are going to have to live in a world where we already know temperatures are going up, and Keystone is a potential contributor to that."
The president also threw cold water on the argument made by KXL supporters that it would be a major job creator. "We have to examine that, and we have to weigh that against the amount of jobs it's actually going to create, which aren't a lot," Obama said.
This story is breaking and has been updated. 
---
Jason Plautz, Ben Geman, and Sarah Mimms contributed to this article