What's Behind Rand Paul's Staffing Strategy?
The senator from Kentucky is quietly building a formidable 2016 campaign team.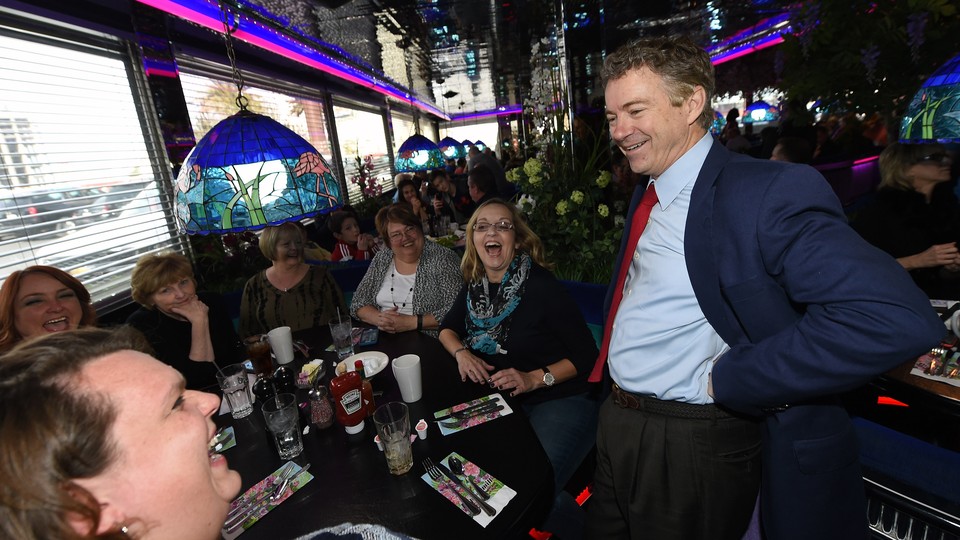 A good political campaign is a lot like Megazord, the giant super-robot from the popular '90s TV series Power Rangers.
If you grew up watching TV in the '90s, you will recall that the Megazord was constructed from the five individual robots operated by the Power Rangers. With their forces combined, the Rangers could conquer pretty much any foe the evil Rita Repulsa threw at them.
Political campaigns benefit from a similar diversification of talent. If you have a great media team but your ground game is terrible, that's no good. Similarly, if you have a stellar volunteer base but your senior staff is a bunch of incompetent legacy hires, that doesn't work either. The Megazord must be kept in balance.
If you accept this (wildly off-kilter) theory of political campaigns, then Sen. Rand Paul's impending 2016 campaign should intrigue you. While potential Republican presidential candidates like Rick Santorum and Mike Huckabee have been out working crowds, Paul's political shop has been quietly snatching up talented Republican operatives.
On January 12, The Wall Street Journal reported that Paul had retained Chris LaCivita—who recently worked for Sen. Pat Roberts, former Rep. Allen West, and failed Virginia gubernatorial candidate Ken Cuccinelli—as a senior adviser for Paul's likely campaign. LaCivita is probably best known for engineering the Swift Boat Veterans for Truth ads that plagued John Kerry during his 2004 presidential campaign. LaCivita is expected to head up Paul's ground game in South Carolina, an early primary state.
In addition to LaCivita in South Carolina, Paul has secured senior advisers in Iowa, New Hampshire, and Michigan, and has plans to open an office in Silicon Valley this year. It's a degree of organization at the state level that is (so far) unmatched by other likely Republican contenders.
On January 13, The Washington Post reported that Paul's camp had hired Chip Englander, a "youthful outsider" with a history of reaching out to different demographic groups, as Paul's likely campaign manager. Doug Stafford—Paul's chief political guru—told The Post that Englander will manage the nascent campaign's "day-to-day execution." Englander just worked to elect Republican Bruce Rauner as governor of Illinois, a blue state. Part of his strategy was reaching out to traditionally un-Republican groups, like younger and less affluent voters.
"Some politicians run campaigns from television studios. That's not the way I do things, and that's not the way you win," Englander told The Post.
But perhaps the most interesting hire Paul's team has made so far is Vincent Harris, a 26-year-old digital strategist whom Bloomberg Politics has hailed as "the man who invented the Republican Internet."
After helping Sens. Ted Cruz and Mitch McConnell with their campaigns' digital strategy, Harris left a job in Cruz's office to join Paul's super PAC, RANDPAC. Since joining, Harris has used Google search words to troll Paul's potential competition, singling out Jeb Bush and Mike Huckabee for their more moderate views on education and taxes, respectively. It's a tactic we're sure to see more of in the primaries.
"On any team, just like in any campaign, there are people who have talents that are in short supply," one Republican strategist told National Journal. "Your data operation, your research operation, your digital operation—those are areas oftentimes that take a lot of planning. There's a lot of work and research and testing that goes into those components of a campaign."
With their forces combined, Englander, LaCivita, and Harris represent a sort of triumvirate of political staffing: senior advisers, ground-game makers, and digital strategists. The three hires underscore Paul's ability to attract a diversely talented pool of operatives.
And while it may still seem early, Ryan Williams, a Republican strategist and two-time Romney presidential campaign veteran, told National Journal that now is the time for campaigns to start scooping up talent.
"You want to get your senior staff filled out first," Williams said. "There's only a certain amount of people in politics who can do senior staff work and work like advertising, fundraising, strategy at a high enough level. So they're a hot commodity at this point, and campaigns want to get the best people they can right now before they go to a different campaign."
Scott Jennings, a veteran of George W. Bush's and Mitt Romney's presidential campaigns, called Paul's hires "intriguing," and indicative of a political mind.
"He personally possesses pretty solid instincts when it comes to political maneuvering," Jennings told National Journal. "He's someone that inherently has the kinds of instincts for timing and communication that some operatives possess."
That seemingly innate knack for politics may be easily explained: Paul has been working on political campaigns on and off since he was 21 years old, when he left college for a semester to work on his father's Senate campaign. You could say that not just politics, but the attendant day-to-day grind of political campaign operations, is in his blood.
That doesn't mean everyone is scrambling to work for Paul's solidifying campaign. Ward Baker, who runs the National Republican Senatorial Committee, turned down an offer to be Paul's campaign manager late last year.
And—despite the Iowa caucuses being a year away—other Republicans are making moves on the staffing front, too. On Tuesday, Jeb Bush met with Washington power players as part of an effort to lure top-tier talent. Sen. Ted Cruz, by contrast, is building up a team of relatively green campaign operatives, albeit ones with strong conservative ties. Wisconsin Gov. Scott Walker recently retained Rick Wiley, who worked on Rudy Giuliani's 2008 presidential campaign. And Mitt Romney, should he decide to run, will have hundreds of former staffers to hire from, though some of those staffers—and Republicans in general—may have moved on to another candidate.
Of course, there are downsides to being a political newcomer as well. Just harken back to the 2012 Republican primaries, when each candidate—from Michele Bachmann to Newt Gingrich to Herman Cain—took turns as Flavor of the Week before the party finally settled on Romney. If you want to attract real political talent, you have to have substance that operatives can believe in.
"At the end of the day, operatives should go with the candidate they truly believe in, because the presidential campaign is so grueling and taxing that it's hard to work for somebody who you may not believe in," Williams said. "It's an all-consuming effort that will potentially control your life for two straight years, so you need to really believe in the candidate."
So in 2016, Paul will hope to spin his conservative realist, semi-outsider status into campaign gold.
"Rand is attracting the top political talent in the country because people understand that America's nearly intractable problems will require a bold reformer who will shake up the system," Stafford said in a statement to National Journal.
In other words: Megazord, assemble!