What the State of the Union Was Like Inside the Chamber
Some members of the audience were a lot more engaged than others.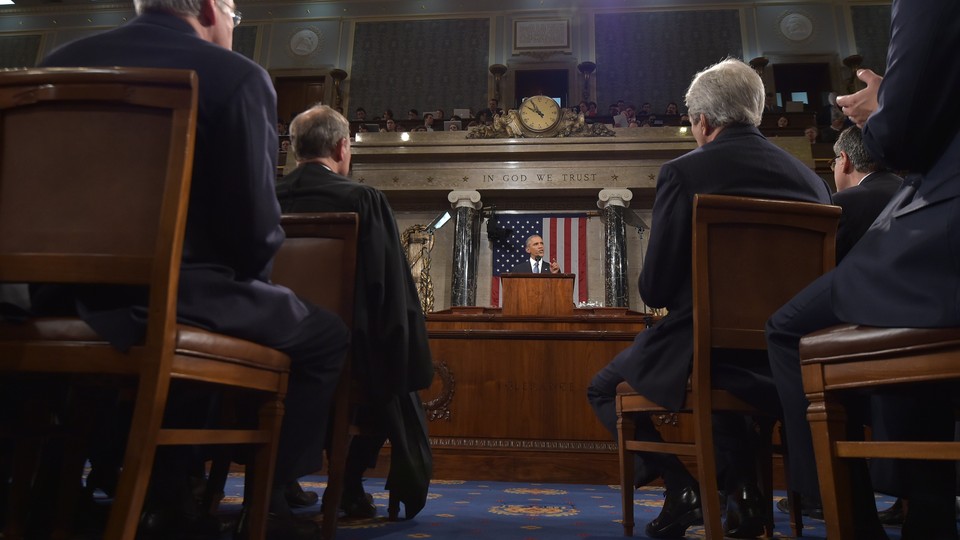 Tuesday's mostly predictable, made-for-TV State of the Union held little in the way of surprises. But inside the House chamber, a few candid moments from a captive audience—one that was alternately excited, distracted, even sleepy—added up to a more interesting scene.
Long before the arrival of President Obama—and his penultimate address before Congress—the chamber was filled with chattering lawmakers, some clearly more eager than others to spend a Tuesday night at work.
As senators filed in, a handful of new members received warm greetings from their former House colleagues. A smattering of Democrats stood to applaud Sen. Gary Peters. House Minority Whip Steny Hoyer found Sen. Shelley Moore Capito and put his hands on her shoulders.
Soon after, Obama made his way down the aisle to shake hands with lawmakers—mostly Democrats—who had long before staked out the plum seats in his pathway. Rep. Cheri Bustos, said to be considering a bid for Obama's old Senate seat, leaned in to give the president a kiss.
Eventually, Obama quieted the gallery and started his speech. A handful of members quickly occupied themselves with their smartphones. Others, like Sen. Bill Cassidy, studiously took notes.
Reps. Paul Ryan and Fred Upton—who chair two of the House's most powerful committees—leaned in to share commentary and jokes with each other, trading banter throughout the night.
On the Democratic side, members occasionally supplemented their applause with props. Rep. Bill Pascrell, a member of the Congressional Ukrainian Caucus, waved small Ukrainian and American flags at a mention of support for that country. Rep. Al Green waved a notebook over his head throughout the night during standing ovations, and Rep. Loretta Sanchez waved some papers to support Obama's message on voting rights.
Republicans were mostly more subdued, but they did burst into applause at Obama's request for trade promotion authority. A few Democrats stood in support, while Rep. Rose DeLauro—among Obama's many Democratic opponents on trade—smiled and slowly shook her head.
The frequent applause wasn't enough to keep everyone awake. At one point, Supreme Court Justice Anthony Kennedy had to rouse colleague Ruth Bader Ginsburg with his elbow.
Positioned between Sens. Marco Rubio and Jeff Flake, Sen. Kirsten Gillibrand found herself standing alone more often than not, but she made sure to lean down and whisper to each one during sustained periods of clapping. She also urged Capito to stand during a call for equal pay for women, but the Republican was firm in her chair.
Midway through the speech, at a mention of the terrorist attacks in Paris, 25 to 30 lawmakers—mostly on the Democratic side—raised pencils to show solidarity with the slain Charlie Hedbo cartoonists. A handful raised them again at a mention of free speech.
As the speech wound down, Obama called for unity. "I still believe that we are one people," he said, and Rep. Louie Gohmert, perhaps Obama's most vocal critic in Congress, was the first to stand and applaud. When he spoke out for gay rights, at least a pair of Republicans—Reps. Carlos Curbelo and Ileana Ros-Lehtinen—applauded quietly in their chairs.
With a few minutes remaining in the speech, Rep. Tim Huelskamp made a dash for the exit. Before the applause for Obama's final line had died down, dozens of his colleagues were right on his tail, beelining for the waiting TV cameras in Statuary Hall.
Plenty of others stayed behind to get a moment with Obama as he worked his way out of the chamber. Even veteran members like Reps. Joe Crowley and Virginia Foxx were not shy about requesting autographs. And minutes after Obama wound down his speech by saying he had "no more campaigns to run," Sens. Marco Rubio and Ted Cruz lingered in the aisle to share a laugh, each no doubt having contemplated what the State of the Union would look like from the president's perspective.
CORRECTION: An earlier version of this story incorrectly described House Minority Whip Steny Hoyer's reaction to President Obama's call for trade promotion authority during the State of the Union address. Hoyer applauded, but did not stand up while doing so.