What Obama Can Do if SCOTUS Cripples Obamacare
Experts say the White House couldn't easily restore subsidies in every state.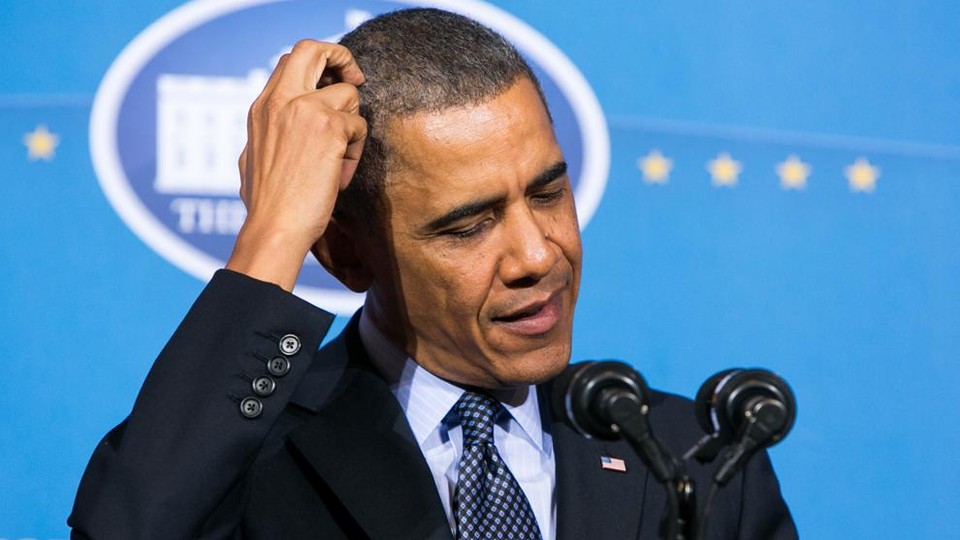 If the Supreme Court tears apart Obamacare this summer, the president won't be able to put it back together all by himself.
Executive action is all the rage in the White House these days, and it's hard to imagine a better candidate for unilateralism than fixing the Affordable Care Act in the wake of a crippling Supreme Court decision. That scenario would check every box: Republican intransigence; a top priority for Obama; and severe disruption in real people's lives.
There's just one problem: A good administrative solution might not exist.
"There are no administrative fixes that are realistic," said Neera Tanden, president of the liberal Center for American Progress. "We don't believe there's any administrative fix."
The high court is expected to rule this summer in a lawsuit over Obamacare's insurance subsidies, which more than 80 percent of enrollees are receiving. The challengers argue that the Affordable Care Act authorizes subsidies only in states that set up their own insurance exchanges, not in the 36 states that punted the task to the federal government.
A ruling in the challengers' favor would devastate Obamacare—millions of people could lose their coverage—and could wreak havoc on the non-Obamacare insurance markets in those 36 states. The repercussions would be severe enough to demand a fix. But a fix would be hard to come by.
The goal for the White House would be to simply and cleanly restore the law's subsidies, nationwide. But Congress wouldn't be willing to do that, and the White House wouldn't be able to on its own, health care and legal experts said.
"If the government loses this case, there will be considerable pain, and theres no easy, clean, quick fix," said Nichols Bagley, a law professor at the University of Michigan who has written extensively about the case.
Without a fix in Congress or a good administrative option, the only solution would be to convince the states to set up their own exchanges. That would involve convincing Republican governors and Republican-controlled state legislatures, all of whom have already refused to set up their own exchanges once, to cooperate.
"Given the political composition of most of the states that are not operating their exchanges, that's going to be a problem," said Timothy Jost, a law professor at Washington & Lee University and an Obamacare supporter. "There's nothing the administration can do to change that dynamic."
What the administration could do, though, is make it easier for states to take control of their own exchanges. That's the biggest policy lever the White House would have, experts said, but it comes with serious limitations.
The case before the Supreme Court centers around a section of Obamacare that described the subsidies flowing through "an exchange established by the state." So, if the Court invalidates subsides in federally run exchanges, the best chance to restore those subsidies would be to transfer those exchanges to their respective states.
"The administration won't just be able to wave a magic wand and make the problem go away. States will still have to do something to establish an exchange "¦ it's just not clear what that will be," Bagley said.
The logistics of that switch wouldn't be easy, but they're not the hardest part. Several health policy experts said the Health and Human Services Department could probably figure out a way to keep running most of the exchanges' technical systems, most likely as a contractor.
"States are going to have to establish exchanges, whatever that means. But whatever it means, it probably means the state would have to take some kind of affirmative action," Jost said.
The Affordable Care Act sets certain rules for what an exchange has to do—such as certifying that insurance plans meet the law's standards, operating a program to help people navigate their coverage options, and covering its own administrative costs. But it doesn't specifically define what constitutes an exchange "established by the state." Most of the details were left to HHS.
So, if HHS does end up needing to transfer federally run exchanges to the states, it could probably hang on to some of the work. But it would be difficult to argue that an exchange is state-run unless the state has taken some action to authorize the marketplace.
"I hope that there are solutions. I expect that HHS is giving that some thought. But in the end, HHS can't create state-operated exchanges." Jost said.
Because HHS had considerable flexibility in certifying state exchanges, it might be able to soften some of its standards to make it easier for states to take control of their marketplaces after a Supreme Court decision. It could ignore or loosen the requirement that states give six months' notice before taking over their exchanges, for example, and make it easy for states to contract with the federal government to run complicated computer systems.
But those steps would only go so far.
"I just don't know how far they could go with that," Jost said.
A handful of state legislatures have passed laws prohibiting their governors from setting up exchanges through executive orders, so they're unlikely to take any sort of affirmative steps, however loosely defined, toward setting up their own marketplaces. Several more state legislatures aren't scheduled to be in session by the time their residents would start losing coverage.
And setting up a new system for regulating insurance plans isn't free. States that initially set up their own marketplaces were eligible for unlimited planning and establishment grants from the federal government, to help them get off the ground. But that funding has expired; states would now have to spend their own money.
Furthermore, the looser the standards HHS adopts, the more likely they are to draw another legal challenge.
"It could just become a never-ending series of lawsuits," Jost said.