What It's Like to Be a Nonwhite Lawmaker Representing a White-Majority District (And Vice Versa)
This might be the most diverse House in history, but most progress is limited to minority-majority districts.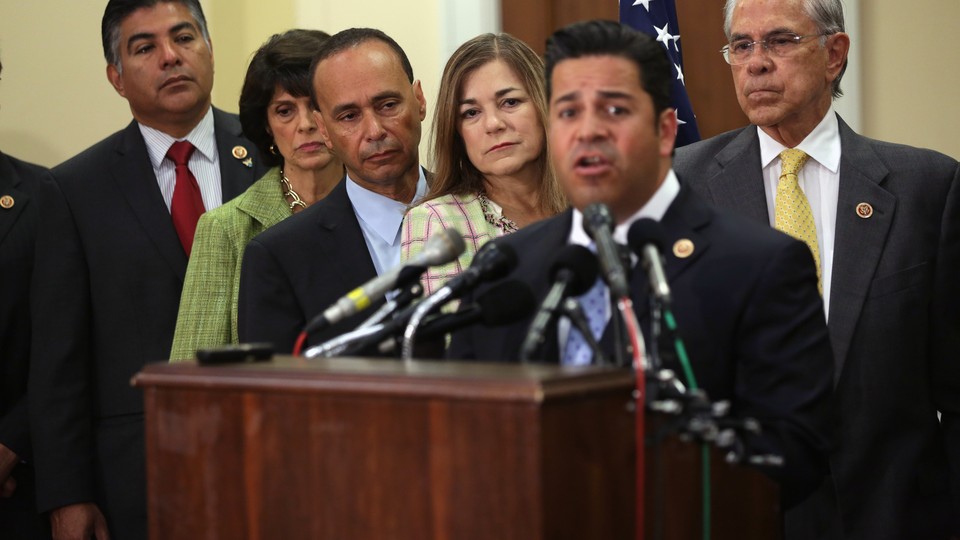 It's an enduring contrast in Congress: Minority legislators are much less likely to represent districts where whites constitute a majority of the population than whites are to hold districts where racial minorities comprise the majority.
In the new Congress, white representatives hold 44 of the 117 House seats where minorities equal a majority of the population, a Next America analysis has found. That's 38 percent.
By contrast, minority lawmakers represent only 15 of the 318 districts where whites represent a majority of the population. That's just 5 percent.
That vast difference underscores the continued limits on the progress of minorities in the House, even as their overall numbers increase within the United States. All 11 of the incoming minority freshmen represent districts with a high proportion of minorities, often including sizable Latino populations.
"An African-American representing a district like mine is unusual, but it should not be," says Rep. Emanuel Cleaver, an African-American Democrat from Missouri who is one of the 15 minority members representing majority-white districts. "I don't want to be so Pollyannaish to think that an African-American can be elected from any district or a Latino has an equal chance of winning any of the 435. But I think that ought to be our goal."
Experts say many factors contribute to this imbalance. One is that minority politicians themselves often feel most comfortable seeking congressional seats in districts with sizable minority populations. The power of incumbency reinforces that inclination. As long as incumbents, most of whom today are white, can prove they are responsive to their constituents and win the trust and support of their minority communities, minority politicians often see little opening to launch a challenge. As more white incumbents eventually retire, Arturo Vargas, executive director of the National Association of Latino Elected and Appointed Officials, says he expects nonwhite politicians to take advantage of those opportunities, especially in majority-minority districts.
"When Rep. Gene Green out of the Houston area decides to retire, there are a lot of potential Hispanic candidates in the Houston area who would jump at the chance to run for Congress," Vargas says. "But no one is challenging him, because he has been so responsive to the community and he has so much support among Latino voters and leaders in Houston. When vacancies come up, that's when you see lots of movement."
But the disparity between whites holding majority-minority districts and minorities representing majority-white seats can't help but underscore the challenge facing many minority candidates in attracting substantial numbers of white voters. "If you look at who the Latinos are in Congress and where their districts are, the vast majority of them represent Latino majority areas," Vargas says.
The evidence suggests it may be easier for minority Republicans to attract support from white voters than it is for minority Democrats. Only 14 of the 88 minority members in the House are Republicans. But they are eight of the 15 minority House members holding majority white seats. They especially have an edge in districts that are at least 70 percent white. Of those eight seats held by minority Republicans, six are in districts that are 70 percent or more white.
Vargas said the Republican Party has done a considerably better job than Democrats at recruiting and supporting minority candidates in mostly white districts, using a strategy that emphasizes what Vargas calls "crossover appeal"—their ability to appeal to voters outside their demographic. Republicans also tend to fare better in majority-white districts in general, securing 199 of 263 such districts in the new House, as a recent Next America analysis shows.
"They are high-quality candidates who weren't running as Hispanics," Vargas says, citing Hispanic Republican Reps. Raul Labrador (Idaho), Jaime Herrera Beutler (Washington), and Alex Mooney (West Virginia) as examples. "They were running as strong Republicans in election years where Republicans had big gains. You have good candidates who are running in districts that represent their values."
Crossover appeal
Cleaver's experience encapsulates the challenges and opportunities that face minority members in majority-white seats. His district is now 65.5 percent white, a slight uptick from 64 percent before the redistricting that followed the 2010 census. Since then, Cleaver has retooled his constituent outreach after a bipartisan redistricting commission added a slice of more white, rural communities to the district.
As a former mayor of Kansas City who went on to represent that congressional district in 2005, Cleaver had a reputation as an "urban politician." He wanted to make sure his new constituents felt they had a voice and that they could rely on him to be an advocate for farmers as well as for city- and suburb-dwellers. He set up roundtable meetings for his constituents with both EPA Administrator Gina McCarthy and Agriculture Secretary Tom Vilsack, who met with farmers and other constituents in small Missouri towns, Oak Grove and Odessa, respectively.
Cleaver also fought to include retroactive disaster protection in the 2013 farm bill after the 2012 drought—the worst in 30 years, according to the Agriculture Department—ravaged crops and increased costs for farmers in the district. Cleaver voted against the House version of the farm bill that included cuts to the SNAP food-stamp program, but he voted for the final version negotiated with the Senate. Cleaver also coordinated with Vilsack to allow more flexibility in the Livestock Forage Disaster Program to evaluate farmers on a case-by-case basis so that more families would be eligible for aid to recover losses. In the last election cycle, he won the endorsements of Missouri's soybean, cattlemen, and pork associations.
"To have a person represent Kansas City and also represent Orrick, Mo., is a healthy thing," Cleaver says. "Are there people in those areas who will never vote for me? Absolutely, but I have won over a lot of people in that area. Frankly, the nation is better when members of Congress are forced to listen to the entire choir rather than a soloist. That's what I do."
Cleaver says he has learned a lot from the experience of representing a more diverse district across political, geographic, and racial lines. More than anything, he said it's crystallized his belief that Congress would be far better off if every district, where possible, had similar diversity.
"I have come to believe that every district should look like mine," Cleaver says. "I don't think people realize what we are doing to the country when we gerrymander the districts to the point where this political homogeneity incapacitates us in many ways, including progress on race relations."
Reaching out to minorities
Crossover appeal is crucial not just for minorities to win majority-white districts, but also for white members representing majority-minority districts. Reps. Blake Farenthold (R-Texas) and Janice Hahn (D-Calif.) both make it a point to hire diverse staff members, including Spanish-speaking staffers. Farenthold says about one-third of his staff embers self-identify as Hispanic.
Farenthold says that for him, "it's about going to where your voters are," whether to community events or appearing on Spanish radio and television programs.
"It's about being there or having people there," Farenthold says. "It's really important. I get 8-to-10-page reports a week from my field reps about where they went, who they talked to, and what was on people's minds. I don't know of a lot of offices that are as aggressive at that as we are."
Hahn represents the third-most-diverse district in the country and the least-white district of all those represented by white members of the House. California's 44th district is located in southern Los Angeles and includes the cities of Carson, Compton, and San Pedro. About 70 percent of Hahn's constituents are Latino, and 16 percent are black, while Asians and whites each only represent 6 percent of the district, according to 2013 Census data.
Hahn hails from a political family and is the daughter of Kenneth Hahn, famous in California politics as a leading civil-rights supporter. A longtime member of the Los Angeles City Council and County Board of Supervisors, he was nicknamed the "pothole politician" for his willingness to connect with individual voters and advocate for even the most minor of his constituents' needs.
Hahn has made it a point to carry on her father's style of public service, embodying his values as she provides services to her district, and focusing on issues that her constituents care about, especially education, immigration, jobs, and income inequality.
"I had this long-honored legacy of a white family who is very accepted in the African-American community, so I think I have a leg up in terms of trust and with my constituents believing me and knowing what my family history is," Hahn says. "We're seen as really being the champions of minorities in our district."
A key aspect of maintaining a strong relationship with her constituents is being both visible and accessible while providing direct benefits to her district. Part of that means coming home "every single weekend" and only heading back to the capital on Mondays.
"They know I'm not going to go to Washington, D.C., and stay there, getting into a bubble. They see me all the time," Hahn says. "They see me at church, they see me in the grocery store, they see me at Starbucks. They take those opportunities to tell me what they need or what they think."
Hahn and her staffers host workshops on financial literacy and home loans, help small businesses secure capital, and help file paperwork for DACA. Most of all, Hahn has worked with cities in her district to come up with other funds for large-scale public projects. In the last election, Hahn helped Compton Community College add a measure to the ballot to issue $100 million in bonds to upgrade its facilities. The measure passed with almost 80 percent approval. She is also working on similar ballot initiatives to raise funds for the cities of South Gate and Lynwood.
"That's what they want from me—they want to know that they can provide better services in their communities, better schools, more police and fire, better services on streets," Hahn says. "If I can help lend my political skill and influence to help them pass ballot measures, it will actually fund a lot of the services that are right now underfunded. That's a way I can be particularly helpful for my minority communities."